Langtang trekking or trekking in langtang region is the third most popular trekking region in Nepal. Langtang trekking, Langtang Gosainkunda trekking, Langtang valley trekking, Langtang and Helambu trekking, Helambu valley trekking, are the major are
Active Adventure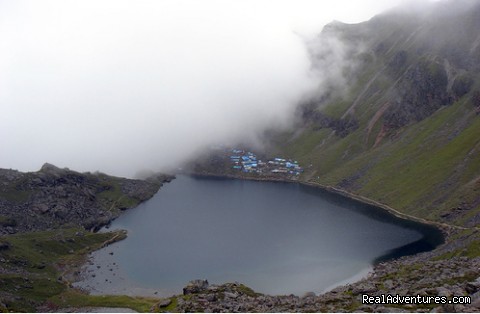 Langtang Helambu and Gosaikunda
trekking
Langtang trekking or trekking in langtang region is the third most popular trekking region in Nepal. Langtang trekking, Langtang Gosainkunda trekking, Langtang valley trekking, Langtang and Helambu trekking, Helambu valley trekking, are the major areas are situated in the north of Katmandu. The trekking offers a multitude of trekking destinations. Langtang is a narrow valley that lies at the south of the Tibetan border. It is sandwiched between the main Himalayan range to the north and a slightly lower range of snowy peaks to the south. Langtang Lirung (7246m) lies to the north; Gang Chhenpo(6388m) and Naya Kanga ri (5846m) lie to the south and Dorje Lakpa(6966m) at the East of the Valley.
Langtang trekking begins from the lower Langtang valley, through the forests and along with the Sherpa villages and farmlands of the people. Many villagers are originally from Tibet. Once this route was an important trading route with Tibet, therefore, most of the villagers and peoples here still are involved in trade. On the way of trekking, one can have a trek through Langtang National Park. But, wildlife is not easy to spot in a forest setting, we also have chance to see some wild animals and birds. Among them are the monkeys, musk deer, Pika and the national bird of Nepal, the colorful Danphe. We continue our Trekking to Kyangjin Gompa (3,740 m), which is the site of the Yala Cheese Factory. There is an airstrip at Chhaldang to Kathmandu, a short distance east of Kyangjin. While our visit to the Yala Cheese Factory, we can have a view of small lakes beyond Yala, where we reach within half a day walk from Kyangjin Gompa.
There is Kyangin Gompa located on the top of the valley, where we stop overnight and visit the local yak cheese factory and have a view of the glaciers, which is also a gateway to Tibet and we return back to Syabru village and make a trip to Sing Gompa, a place where the holy lake Gosainkund is situated and we cross the Llaurebena Pass (4610m), and continue south leaving the Langtang region and reach at Helambu valley and subsequently at Chisapani and return back to Kathmandu.

Typical Day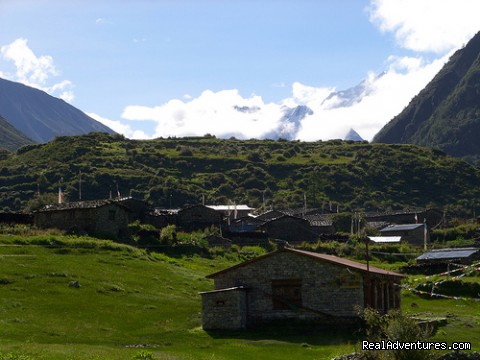 Day 01: Arrival at Tribhuban International Airport and pick up you by our private vehicle and transfer to the Hotel. (D)
Day 02: 7 hrs drive from Kathmandu to Syabru Bensi (1450m / 4757ft) a typical roadhead. (B.L.D)
Day 03: Syabru Bensi to Lama Hotel (2480m / 8136ft).5 ½ hrs (B.L.D)
Day 04: Lama Hotel to Langtang Village (3480m / 11,417ft 5 hrs (B.L.D)
Day 05: Langtang Village to Kyangjin (3900m / 12,800ft). 5 ½ hrs (B.L.D)
Day 06: Rest for acclimatization. (B.L.D)
Day 07: Kyangjin to Lama Hotel. 6 hrs (B.L.D)
Day 08: Lama Hotel to Syabru Bensi. 5 hrs (B.L.D)
Day 09: Drive to Katmandu Or Alternative return route through Gosainkund & Helambu (B.L.D)
Day 10: Syabru to Sing Gompa (3350m / 10,992ft). 6 hrs (B.L.D)
Day 11: Sing Gompa to Gosainkund (4385m / 14,346ft). 6 hrs (B.L.D)
Day 12: Gosainkund to Gopte. 6 hrs (B.L.D)
Day 13: Gopte to Mangan Kharka (3285m / 10,775ft). 5 ½ hrs (B.L.D)
Day 14: Mangan Kharka to Gul Bhanjyang (2125m / 6,972ft). 5 hrs (B.L.D)
Day 15: Gul Bhanjyang to Chisopani (2194m / 7200ft). 5 ½ hrs (B.L.D)
Day 16: Chisopani to Sundarijal (1500m) 4 hrs & 1 hr drive to KTM/Hotel (B. L. D)
Day 17: Transfer to KTM airport back to your own destination (B)
for this listing.