Luxury Calypso Cruiser 2 Day Halong bay Vietnam Normal Price: 125usd/person Discounted from Realadventures: 110usd/person inclusive Mini bus transfer Kayaking Share cabin 2 Lunches 1 dinner 1 breakfast All entrance fees to Halong bay
Starting at
USD $
110
per Trip
---
Activity/Tour
DAY 1: HANOI - HALONG BAY
08h00 ' 08h30 Pick-up at hotel and start the 3 hour-and-a-half drive to Halong Bay
12h00 ' 12h30 Embark on Calypso Cruiser followed by cruise briefing
13h00 ' 15h30 Savor a delectable lunch as Calypso Cruiser cruise further along the limestone islands ,
of Fighting Cock, Dog Rock and Incense Burner, to name a few
15h30 ' 17h30 Visit Amazing Cave
17h30 ' 19h00 Stop at Titop Beach. Go swimming, snap photos the overview of Halong Bay
19h00 Enjoy dinner. Partying, fishing or just lazing. O/n on board.
DAY 2: HALONG BAY - HANOI
Sunrise breakfast and cruise around the clear & emerald water to another part of Halong bay with a close up view of stunning limestone peaks. such as Drum cave , Man's head Islet….Heading to Van Gia fishing village, you will have the opportunity to understand more about the fishermen's daily life. Having lunch on board with a variety of local foods, enjoying the rest of the boat trip before back to Halong dock. Have a short break before en route to Hanoi . Trip ends around 4h30 pm. (Breakfast, Lunch)
PRICE PER PERSON: 165usd per person (based on twin/double sharing basic)
Inclusions
Meals as mentioned
Accommodation on board (on twin /double basis)
Pick-up and transfer by A/C vehicle.
English speaking tour guide
Entrance fees
Kayaking,
Welcome drink, fresh fruit.
Exclusions
Drinks
Gratuities and personal expenses.

What to bring:
Original passport, swimming suites, sun glasses, insect repellent

Attention:
Special requests on food (diet or vegetarian) please inform us before departure.
The itinerary may be subject to change due to the bad weather condition.
Typical Day


daily departure from halong
daily transfer from hanoi
Age range, type of group


couple
Sleeping and meals


twin share
double
family suite
Policies & Restrictions


must check for availability before
Rates


Promotion from at 105usd/person
please email now
Discounts Offered

Special Price for group from 4 cabins
contact sales at asianatravelmate dot comGet More Information or Make Your Reservation »
Map Legend
113 C Bui Vien str Pt Ho Chi Minh ( back packer area)
Bui Vien, phường Phạm Ngũ Lão, District 1, Ho Chi Minh City, Vietnam
Asiana Travel mate Hue office 40 le loi str tp hue
Lê Lợi St, Hue, Thua Thien - Hue, Vietnam
7 Dinh tien hoang, hanoi Vietnam
Cầu Gỗ, Hoan Kiem, Hanoi, Vietnam
92- 96 Nguyen Hue, Ho Chi minh city
Nguyen Hue, phường Bến Nghé, District 1, Ho Chi Minh City, Vietnam
21 Luong Ngoc Quyen Hanoi
Lương Ngọc Quyến, Hoan Kiem, Hanoi, Vietnam
| Description | Distance |
| --- | --- |
| Kayaking | |
| Description | Distance |
| --- | --- |
| swimming | |
Get More Information or Make Your Reservation »
| | Low | High | Notes |
| --- | --- | --- | --- |
| July 1 - Dec 30 -2012 | $125 | $135 | online and offices |
*Please
contact advertiser
for rates & availability for your travel dates.
Andy Nguyen
(View My Profile)
OUR VISION
Leading Travel Management Companies in Indochina
OUR MISSION STATEMENT
To care for our travelers in a professional, yet personally sensitive manner, providing the highest quality of services and best values possible always delivering our promises and acting responsibly for the integrity of the natural environment and local communities.
VALUES STATEMENT
Innovative: – creative, unique and evolving travel ideas
Transparent: – upfront, honest, act with integrity
Reliable: – in service and product offering
Responsible Travel: – promote & practice eco and sustainable tourism
Quality: – high quality service, products and partnerships
Travel & tour Operator
Asiana Travel Mate focusses on individual, inbound travel into Vietnam, extending to Cambodia and Laos. Our tours differ from most other operators in the Indochina region with our services geared towards customization for the individual, families and small groups although we also offer regular, scheduled tours. From the very first contact via the internet, or face to face over the counter, our consultants assist you in planning and budgeting your travel, paying special attention to your personal needs and preferences.
Considering the possible routes and modes of travel options between Vietnam, Laos and Cambodia, as well as available flights, overland terminal points, border crossings and comparative costs, Asiana Travel Mate makes it easier to understand the logistics of traveling through Indochina, to plan and customize your tour, saving time, money and redundant backtracking. The basic options are organized into several modules to cover the northern, central and southern zones of Indochina, allowing for combinations and detailed customization according to the timeframe, budget, activities and destinations preferred.
A unique feature of our operations is our commitment to the ethic of operating and traveling in a responsible manner and of sharing the benefits with the communities living in the destinations we visit. We are sensitive to the impacts of tourism on the natural and social environment and expect that our travelers will share our concerns.
Our priority is always to deliver our services as promised and we endeavor to exceed expectations in terms of the quality of facilities, the competence of our guides, attention to details of your personal needs and every aspect of your itinerary... that you may have a fulfilling experience with the best values available within your budget. The range of our travel products include the following and does not exclude other possibilities within our versatile capacity to customize and personalize your tour.
Tourist centers
The Truly Halong Center, Hanoi.
In Vietnam's capital Hanoi, besides our sales offices, our staff are also based in the Truly Halong Center, primarily set up to promote Halong Bay as a destination besides providing a centralized point of sale for the services of passenger cruisers plying the waters of this Unesco world heritage site. The center has the highest rate of repeat customers in the business, testimony to the uniquely spectacular seascape and serene, ethereal experiences that our staff facilitate. Asiana Travel Mate also manages the luxury passenger cruisers the Valentine and Calypso operating in the bay.
The Tourism Information Center.
Asiana Travel Mate is the exclusive, partner of choice for tour and travel services of the Tourist Information Center (TIC), Vietnam's first multi-service travel and leisure information provider. Our role is to provide and ensure the quality of travel and tour operations offered at the center. Located in the main tourist districts of Ho Chi Minh City and Hanoi, the plush centers provide a restful and comfortable environment where an average of over 500 daily visitors at each center freely receive assistance on destinations, activities and facilities available throughout the Indochina region.
The founders of Asiana Travel Mate
Nguyen Dinh An (Andy) Founder
Managing Director
Mr.AndyNguyen Dinh An (1972) is the father of six children with the distinction of having both twin sons and daughters. He lives with his family in the ancient citadel city of Hue. Andy, as he is also known, was born in the village of Tiên Điền in Hà Tĩnh province on the north central coast. The village is nestled deep in the literary heart of Vietnam, the home of the celebrated 18th century poet Nguyễn Du, author of the epic poem, The Tale of Kiều.
Andy began his career in the tourism industry in the mid-nineties. In 1998, he guided Martin and Annie Coudeville from Oostende, Belgium on their first visit to Vietnam. It was the beginning of an ongoing relationship that changed his life, giving him direction and opportunities he otherwise might never have had.
Andy's integrity, competence and natural qualities of leadership soon brought him into the ranks of management in some of the industry's leading companies. In 2006, tempered by a decade of experience, Andy, together with his friends Chi and Quyet, founded Asiana Travel Mate, establishing the fledgling company's first office in Ho Chi Minh City that year. Bonded by a common vision of a company that would deliver on it's promises and operate in a responsible manner, the trio formulated the principle of "Responsible Travel and Sharing", with customized inbound travel and personalized services as the cornerstone of its operations. Asiana Travel Mate's clientele base soon began to grow beyond expectations.
Andy is an intrepid photographer and is personally committed to the ideals of social responsibility, expressed through community outreach initiatives, now embedded as part of the company's operations. He is gifted with a knack for strategic marketing initiatives and his visionary, egalitarian style of management has engendered a well motivated and competent work force that has vitalized the company's growth and direction.
"Tourism changed my life & I believe It in making other possible."
Quote: Nguyen Dinh An
Bui Van Chi, Founder
Hanoi Branch Manager
altBui Van Chi (1977) was born in Nghe An, the home province of Hồ Chí Minh in the north central coast of Vietnam. He majored in English and French at the University of Foreign Studies and in International Business Administration at the University of Economics in Hanoi where he now lives with his wife and daughter.
Prior to the founding of Asiana Travel Mate in 2006, Chi traveled extensively throughout the northern territories of Vietnam as a tour guide, leading classic and adventure tours. These included kayaking, cycling and trekking, activities and special assignments for film crews as well as location surveys. He later extended his travel into Laos and Cambodia as a tour leader. In the course of his early career, Chi had worked with Andy and their common experiences led to a convergent outlook and shared vision for the founding of Asiana Travel Mate.
Chi has a talent for logistics management with a pragmatic and candid approach to operational concerns, keeping the company's tour operations on an even keel, in close liaison with the marketing team to deliver the scope and quality of services promised. His even tempered character and professionalism is an inspiration to staff based in Hanoi where the company has realized significant growth since it opened it's offices in the capital city.
Nguyen Ngoc Quyet, Founder
Nguyen Ngoc Quyet (1977) was born in the northern countryside of Ha Tay, one of Vietnam's cultural repositories to the west of Hanoi in the Red River Delta. The region's famous sites includes Vietnam's venerated cave temple, the Perfume Pagoda. Quyet is a graduate of the Columbia Southern University, Saigon, with an MBA in Hospitality and Tourism Management. He now lives with his wife and daughter in the southern, commercial hub of Ho Chi Minh City.
Quyet 's deep passion for his homeland and his penchant for travel, led him to join Andy and Chi to establish Asiana Travel Mate in 2006, Quyet was focusing on Asiana Travel Direct sales in Ho Chi Minh city until 2009, as perosnal desire that made him to change to another route that he personally make his own decision.
Support Services
Additional services & special needs.
Asiana Travel Mate provides a range of supporting services to make your holiday memorable and free of inconveniences or problems. These include online visa applications, airline reservations, car, motorbike or bicycle rentals and on special request, health caretakers, chaperons or child-minders. Travelers who require other services that we may not undertake are redirected to the best alternative providers within our extensive
Sharing with local communities
Local communities are very close to our hearts. Some destinations and their people may have special significance, evoking poignant memories, challenging or inspiring the soul. Asiana Travel Mate acknowledges local communities as the custodians of their culture and traditional lands and is sensitive to the evolution of their way of life. We are committed to sharing the economic benefits of tourism in their localities, to promote equitable access to education, vocational training, career development and healthcare within our ability to do so. However, we believe that intervention should not be imposed upon any community inspite of benevolent intentions, but rather developed in true partnership with the community towards improving the quality of life.
Sales & marketing
Marketing & Sales Policies
Asiana Travel Mate's fundamental approach to marketing and sales is built on the principles of integrity, providing accurate information, continual product development and optimal values. Our priority is to deliver our marketing promises, address and rectify any grievances and continually anticipate our traveler's needs and orientations. We believe in building a trustworthy brand and in growing individual, corporate and communal relationships for the longer term, rather than mere marketing rhetoric, gimmicks or short term gains. These ethics guide our sales team and are embedded in every aspect of our operations as part of our corporate culture of "Responsible Travel and Sharing."
Sales & Customer Service Offices
To serve our travelers and potential customers better, we have established a total of 06 offices in the principle cities of north, central and south Vietnam, besides Cambodia and Laos. Our Vietnam offices are located in the major tourist districts of Hanoi, Hue and Ho Chi Minh City (Saigon) for greater visibility and access, as well as in the Cambodian capital of Phnom Penh and Vientiane in Laos.
Extended Service Features
These modern and comfortable sales offices are staffed by our travel consultants for extended hours, (from 08:30 hrs to 21:00 hrs local time), and for the convenience of travelers, cash dispensers (ATM) and currency exchange counters are located in several of our premises. As an added convenience, high quality mountain bicycles with safety headgear are available at all our offices.
Internet Sales & Consultancy Services
Extending our information, planning, and customization and reservation services globally, Asiana Travel Mate maintains an interactive presence on the Internet to provide free, spontaneous consultancy across differing time and geographical zones. Travelers may spontaneously communicate with our consultants through the free, downloadable text and voice messaging software SKYPE. In matters of extreme urgency, crisis or emergencies, telephone hotlines connect our travelers directly to management or the company's directors
Responsible to Travelers
Asiana Travel Mate assumes responsibility for the services and facilities it delivers, as committed to travelers in a validated, personalized itinerary. We are committed to delivering what is promised in writing and will address any issues arising in the course of a tour towards an amicable settlement. The scope of our responsibility is complete and specific to all services and facilities we provide directly, over which we have complete control.
We extend our responsibility in an intermediary role to address grievances in the case of service or facility providers over whom we do not have complete control but whom we have contracted or officially endorsed. We are very selective in our choice of strategic partners that are an integral part of our operational or logistical capabilities and feedback from our travelers is appreciated and acted upon. We are implementing a system to set the criteria, evaluate performance and award a strategic partnership status that will carry our branding.
Additionally, our travel advisory personnel are committed to providing unbiased, accurate and timely information, to guide potential travelers in deciding on their choices. They are expected to have the traveler's best interest at heart and refrain from any form of sales manipulation or verbal promises beyond their scope of ensuring its fulfillment.
Responsibility to empower employees
Asiana Travel Mate is committed to provide a conducive physical and intellectual working environment for its employees with opportunities for training, career development and stake-holding. We encourage an emergent leadership based on personal and professional integrity, a consistent record of competent service, as well as interpersonal and communicative skills. We expect that our travelers will be considerate of their sense of dignity and self esteem, and will appreciate their varied personalities and special gifts while being patient with their limitations. We believe in an egalitarian style of management, strong teamwork bonded by a common vision and ultimately the empowerment of the individual to realize their potentials and achieve fulfillment.
Responsibility for the natural environment
Operating in sensitive natural environments inhabited by people poses special challenges. Although local communities may traditionally have been custodians of their lands, they may often have limited control over development or may also inadvertently be responsible for environmental degradation. Our approach is to totally avoid or minimize any detrimental impacts of our operations in these areas, while promoting an awareness and action for the integrity of the ecosystem. Drawing upon the intimate knowledge of its people and expert sources, we try to be informed about the relational dynamics between the community, their environment and external factors, the status of flora and fauna and community livelihoods and resources. Our criteria for evaluating our impact is ultimately the outcome of our presence in contributing towards a better quality of life for the community and towards maintaining the integrity of the ecosystem.
In wilderness areas with no permanent settlements, we are committed to the best practices of wilderness travel and living, with the objective of maintaining its original nature. These standards prohibit the exploitation or damage to flora and fauna, the introduction of foreign biological species, threatening intrusions to breeding, feeding or watering sites, disposal of inorganic, non-degradable materials or substances, fire or chemical hazards and unnatural noises.
Besides the observation of these guidelines in wilderness areas, Asiana Travel Mate cultivates the corporate and individual practice of the 4 R's: Reduce, Reuse, Recycle, Rethink and is actively seeking collaborations with organizations and individuals involved in conservation and community livelihood initiatives in Indochina
No reviews yet, be the first to
write a review
for this listing.
Andy Nguyen
Luxury Calypso Cruiser of Halong bay 115usd person
Asiana Travel Mate
7 Dinh Tien Hoang street, hanoi, Vietnam
Vietnam, Viet Nam 10000
Get More Information or Make Your Reservation »
Show Filter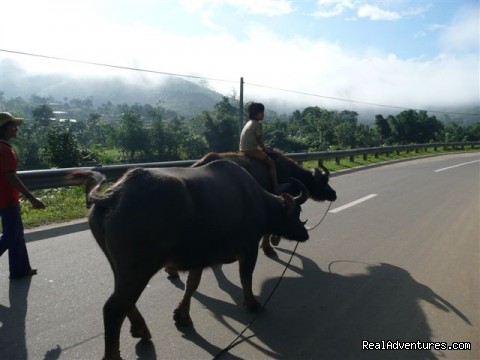 Motorbike Tour Of The Real Vietnam...
0.0 mi away
Central, Viet Nam Motorcycle Tours
From

USD $120

per Night
Show Filter

Great Vacations & Exciting Destinations Listing
Add a multi-page listing promoting your accommodations, tours or travel services to customers on our network of travel sites. Your listing page can have up to 26 images, unlimited text, interactive map, availability calendar, ecards, photo-gallery and more.
Rates From US $17 Per Month
»
View Details
Free Travel Ideas Newsletter