Snorkeling with Manatees in Crystal River
Crystal River, Florida Eco Tours
Hey, I brought a friend (#4 of 12)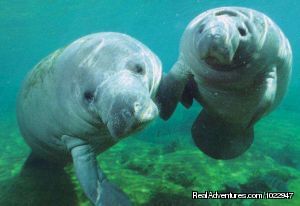 Hey, I brought a friend (#4 of 12)
|
Send A Postcard
Manatees are very gentle mammals and spend a lot of their time grazing on water plants. For every 10 pounds of their weight they have to eat one pound of plants. This is how they help keep plants from clogging the waterways.
Advertiser Info
Diane Oestreich
Snorkeling with Manatees in Crystal River
Bird's Underwater, Inc.
320 N.W. Highway 19
Crystal River, Florida 34428

View Larger Map
Phone: 1-800-771-2763
Phone: 352-563-2763
Website:
Bird's Homepage
Current Selection
---
Hit Like To Stay Updated



Free Travel Ideas Newsletter