Snorkeling with Manatees in Crystal River
Crystal River, Florida Eco Tours
Altogether now... (#8 of 12)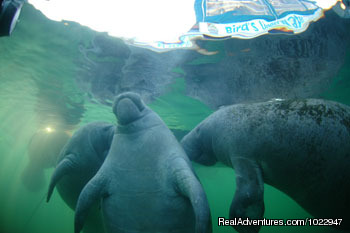 Altogether now... (#8 of 12)
|
Send A Postcard
Manatee are solitary creatures except for a mother and calf pair. Here in Crystal River we are the exception to that in the winter months when we get hundreds of manatees who come into the warm water springs in our rivers and bays.
Advertiser Info

Diane Oestreich
Snorkeling with Manatees in Crystal River
(
Map
)
Bird's Underwater, Inc.
320 N.W. Highway 19
Crystal River, Florida 34428
Phone: 1-800-771-2763
Phone: 352-563-2763
Website:
Bird's Homepage
Reservations
Check Out All The Options
Free Travel Ideas Newsletter
Travel Companies & Advertisers