Azure Sky - 4 Bedroom Villa (#2 of 8)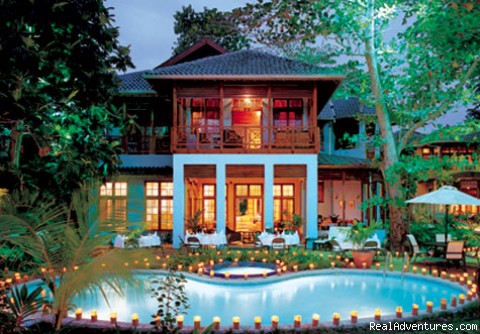 Azure Sky - 4 Bedroom Villa (#2 of 8)
|
Send A Postcard
The finest of the Moon Dance Villas, Azure Sky is a mansion overlooking the water. The living room features high ceilings, breezy floor to ceiling windows, and sumptuous furnishings. The fully equipped wet bar and full size pool table guarantees fun. An indoor/outdoor dining room can comfortably seat up to 14 and has beautiful views of the water. The king-size bedroom downstairs offers an en-suite bath and verandah with beautiful garden views. Upstairs, one king-size bedroom has an immense en-suite
bath and veranda with beautiful garden views. The other king-size bedroom features a large en-suite bath and an ocean view verandah with a private Jacuzzi. The master bedroom features grand, vaulted ceilings, a writing desk, and two separate seating areas. The master bath features a roman soaking tub,
while the verandah is equipped with a Jacuzzi and matchless views of the Caribbean. Outside, guests of Azure Sky enjoy a sun-soaked, private, beach front pool and Jacuzzi, along with an outdoor living room that's perfect for escaping the heat.
Azure Sky comes fully staffed with a gourmet chef, bartender, housekeeper, and concierge.