Kenya Safari,Joining up Camping ,Masai Mara Safari
Nairobi, Kenya Wildlife & Safari Tours
WildeBeest Migration,Masai Mara Safari (#1 of 19)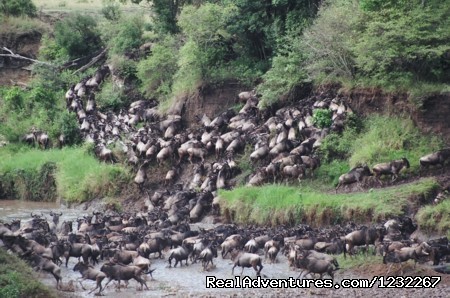 WildeBeest Migration,Masai Mara Safari (#1 of 19)
|
Send A Postcard
The Great Migration,The Eighth Wonder of the world.
No where in the world is there a movement of animals as immense as the wildebeest migration over two million animals migrate from Serengeti National Park in Tanzania to the greener pastures of the Maasai Mara National Reserve in Kenya during July through to October.
The Migration has to cross the Mara River in the Maasai Mara where crocodiles will prey on them.This is one of the highlights as the animals try and cross the Mara River alive.
Advertiser Info

Flight and Safaris International Ltd
Kenya Safari,Joining up Camping ,Masai Mara Safari
(
Map
)
9052-00200
Nairobi, Kenya, Kenya 254
Phone: +254-20-2212645
Phone: +254-722-862920
Website:
Flight and Safaris International Ltd
Reservations
Check Out All The Options
Free Travel Ideas Newsletter
Travel Companies & Advertisers