No Frills Ephesus Tours
Selcuk, Ephesus, Turkey Sight-Seeing Tours
Terrace Houses, Ephesus (#2 of 5)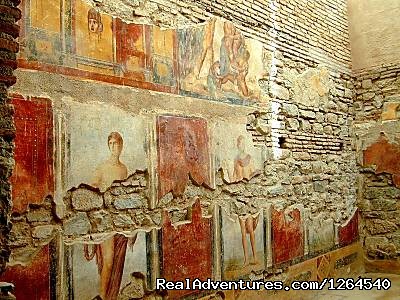 Terrace Houses, Ephesus (#2 of 5)
|
Send A Postcard
Behind the shops on the south side of Curetes Street near the Library of Celsus are luxurious private houses, known as the Slope Houses for their location on the slopes of Mt. Coressus (Bulbuldag). Occupied from the 1st century to 7th century AD, the Slope Houses have been compared to the 1st century villas of Pompeii in importance.
The Slope Houses are also known as the Terrace Houses and Hanghausen (in German, because the archaeologists are Austrian).
Advertiser Info
No Frills Ephesus Tours
No Frills Ephesus Tours
Ataturk Mah.
Selcuk, Ephesus, Turkey 35920

View Larger Map
Current Selection
---
Hit Like To Stay Updated



Free Travel Ideas Newsletter