Join us on a fantastic cruise with snorkeling and island hopping in Maldives. We invite you to unforgettable holidays in this true paradise on earth.
Active Adventure
Itinerary of MV Aisha:
The Captain and crew of MV AISHA will do their best to make the trip a memorable one for everyone on board. The aim of our team is to take and show guests, various reefs, sandbanks, local islands and Virgin Islands; serve international and few local dishes onboard.
Day 1 - Sunday
Receive and welcome at Velaanaa International Airport ( Male)
Transfer guests to MV AISHA, which stays in the lagoon of Hulhumale'.
Welcome drinks served on board, registration cards filled and settle in rooms.
Depart to Embudhu Village lagoon, serve afternoon tea onboard.
Anchor the boat and take guests to snorkeling by Dinghy.
Dinner and overnight in the lagoon.
Day 2 - Monday
After morning Snorkel, serve breakfast and cruise to Guraidhoo corner.
Snorkel in the Guraidhoo Corner followed by lunch onboard.
Cruise to Rihiveli Sandbank for Snorkeling, Sun Tanning and relaxing.
Dinner and overnight near Rihiveli Island Resort.
Day 3 - Tuesday
After breakfast, cross Felidhoo Cahnnel to go to Vaavu Atoll.
Sonrkeling at Vashugiri Island followed by lunch on board.
After lunch, take anchor, cruise to Ambara Island's Lagoon for Overnight.
Swim & Snorkel around Ambara house reef followed by Dinner on the beach of Ambra.
Overnight in the lagoon of Ambara Island.
Day 4 - Wednesday
Serve breakfast and cruise to Keyodhoo Island, where guests can see locals' life, culture, some historical places and buy some souvenirs.
Return to boat for Lunch, followed by afternoon Snorkel in the house reef of Keyodhoo.
After the rest onboard, go for an afternoon snorkeling around and nearby Keyodhoo.
Dinner to be served and overnight at Keyodhoo Island's lagoon.
Day 5 - Thursday
After breakfast cruise to Alimatha Sandbank for swimming, snorkeling and tanning.
Return to boat from snorkeling for lunch and rest.
Cruise to nearby Dhiggiri Island Resort house reef or nearby sandbank.
Serve afternoon tea and cruise to Fulidhoo island lagoon.
Visit Fulhoo Island, see local culture, islanders' life and buy some souvenirs
Overnight in the lagoon of Fulidhoo Island.
Day 6 - Friday
After breakfast, cross Fuldhoo Channel and cruise back to Male', Atoll.
Stop Nearby Maafushi Island Reef or Visit to a Sandbank aroud that area.
After lunch, visit to Vadhoo Island Resort to experience a local Island Resort.
Dinner served onboard, relax and overnight in the Vadhoo lagoon.
Day 7- Saturday
After breakfast, go for morning snorkeling around Vaadhoo house reef or nearby reef.
After lunch, cruise to Hulhumale lagoon.
Visit Male', the capital city of Maldives for site seeing and shopping.
Return to boat for Dinner and overnight in the Hulhumale, lagoon.
Day 8- Sunday
Check-Out, say farewell to boat crew and go to Velaanaa Airport for departure.
Restrictions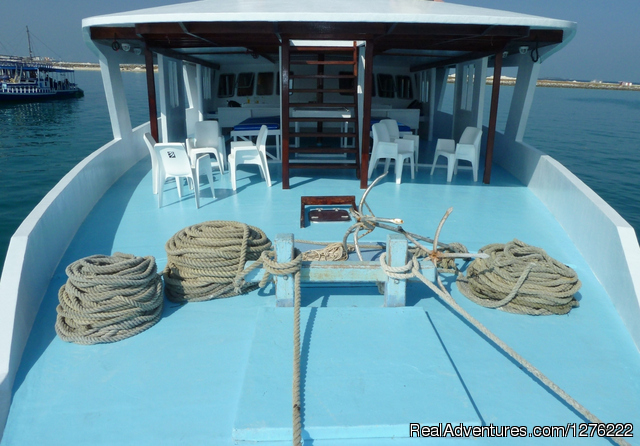 Terms & conditions:
*The Captain has the right to change the Itinerary according to weather conditions and islands availability.
*In case, any island or Sand bank mentioned above is unavailable in a particular day, we shall make alternatives arrangements.
*Entrance Fees, Taxi charges, Ferry tickets are not included in the price. Such charges will be briefed in advance so that customers can decide whether to enjoy such events or not.
*Staff and Management of MV AISHA wish you a memorable Holiday in this Tropical nature, that we used to call our home!no pets.
No smoking inside.
Cruise will commence with minimum 6 passengers ( conditions apply)
for this listing.