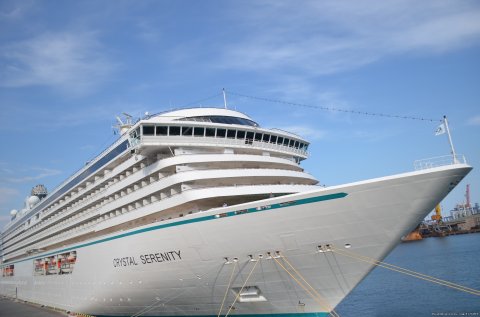 Odessa Tours
Sight-Seeing Tours | Odessa, Ukraine
Odessa, Ukraine tours. Odessa Jewish Heritage tours for travelers and cruisers. Certified interpreter and translator in Odessa
USD $15 per trip
Activity/Tour

Being in Odessa on a business or tourist trip you need to have a good information support. Odessa tour is the best way to enjoy your travel. If you are in Odessa on vacation you will really enjoy one of the best resort areas of Ukraine. Your Odessa tour will be tailored according to your requirements. You will enjoy the private tour offered by me or constructed by you. Everyone will find here Odessa tour according to any special demands.
Typical Day

*Odessa Jewish heritage

This tour shows you all the Jewish places of Odessa. You will visit Holocaust memorial, synagogues, Jewish cemetery, Jewish hospital and many other Odessa Jewish sights.

*Odessa Greek heritage

The tour takes you to Greek square, Greek street, Marazli street and monument. You will visit archaeοlogical museum with Greek excavations, Filiki Etaireia and other places.

*Observation city tour

During the tour you will get acquainted with Odessa different regions. You'll visit Potemkin Steps, Opera House, Passage, City Garden and many other sights.

*Catacombs (undergrounds)

You'll visit underground world of Odessa. The tunnels of more than 200 years old and 2500km long became a museum of partisan glory now. You will see the places where the partisans lived and experience their real living conditions. Don't forget to take jackets. The temperature is 12-14 C.

*Odessa Palaces

You will enjoy the most beautiful architectural constructions of the city. The palaces of Russian and Polish aristocrats are waiting for you. You will visit 4 of them and observe the exterior of others.

*Belgorod Dnestrovsky

Belgorod Dnestrovsky is a small ancient town 81km away from Odessa. During the tour you will visit its ancient Gennovese fortress built in XIII th century AD. It is the strongest existing fortification of the territory of Ukraine.

*Vilkovo

Vilkovo is a natural preserve. It is called Ukrainian Venice. The village is covered with channels and it has boats instead of cars. You will enjoy the great flora and fauna here.

*Pushkin in Odessa

The tour includes the visit to Pushkin museum and the observation of all the places Pushkin visited in Odessa.

*Odessa off the beaten track

During this tour you will be a part of Odessa every day life. You will see what real Odessites look like. You will see Soviet residential buildings and compare them with modern Odessa architecture.

*Odessa of the 19th century

The most beautiful buildings of baroque, classical and rococo style are waiting for you.
Map & Directions

23, Masiakoina Street, Odessa, Ukraine 65000

Points of Interest

Odessa Tours

23, Masiakoina Street, Odessa, Ukraine
Nearby Attractions and Services

| Distance | Description |
| --- | --- |
| 70 km | Belgorod-Dnestrovsky |
| 70 km | Belgorod-Dnestrovsky |
Age range, type of group

All types of tourists! All ages!


Sleeping and meals

You will get recommendations on everything!


Policies & Restrictions

Smoking is prohibited in public places in Ukraine
Pets can't stay in some Ukrainian hotels


Advertiser Info

GuideInOdessa (View Profile)

Odessa, Yalta, Sevastopol tours for travelers and cruisers. Jewish heritage tours and thematic excursions.

GuideInOdessa

Listing # RA-1276069