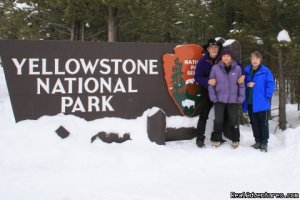 "Have you lost your mind?"

When I first broached the subject of a winter Yellowstone adventure my wife Jeni seemed excited. After all we had been there in the summer and the fall and we know Yellowstone to be a magical place.
It was when I told her that we were going to stay in Yurts that she began to become suspicious.
"You want me to stay in a tent with the outside temperature sometimes reaching forty degrees below zero? What is wrong with you Jake?"
It took some convincing on the part of Yellowstone Expeditions Erica Hutchings to change Jeni's mind. I was determined to go with or without her.
Great food, warm "yurtlets", superior guides, and beautiful scenery combined to make this trip one of the most memorable trips ever for the three seniors from Hideaway, Texas that decided to step out of their comfort zone and into a winter wonderland.
X-County skiing, showshoeing, and photography were a part of the daily routine in the Yurt camps.
It's true that I love adventure. But what good is an adventure unless you can share it with someone you love. At least that is the way I feel. I wanted Jeni to go on this trip. She had passed on the five day whale watching kayak trip in the San Juan Islands and I was determined that this was a trip she would thoroughly enjoy.
I just had to get past the cold weather image she had. Erica helped with that. She explained that the "yurtlets" where we would sleep had insulated walls, a thermostat, and a propane heater that would "run you out." She also helped by discussing the heated shower and sauna. Finally Jeni bought in...but conditioned on a new down filled jacket, new boots, and warm mittens were needed. Oh well!
Discussing the trip around our little community was interesting. Everyone thought we were crazy. (They knew I was and now it must be rubbing off on Jeni). Everyone but one person, Nancy Motley who had lived in Alaska for some fifteen years. It was right down her alley and she signed up to go with us. (Now there three crazy people in Hideaway)
Next came the swarm of about 900 earthquakes that the news reported near where we were going. If we heard that once we heard it a thousand times.
We also knew that there are over 2000 earthquakes in Yellowstone each year and that it is long overdue for a big one.
YELLOWSTONE EXPEDITIONS FOUNDER AND OWNER ARDEN BAILEY GOT IT RIGHT
"I wanted something that had personal service but a way to experience some of the wildness and remoteness of the back county of Yellowstone and not just the same sort of thing that every one else does." said Bailey. "After twenty-six years of having this business and thirty years of taking folks into Yellowstone I can tell you that every day I get to vicariously experience Yellowstone again for the first time through other people's eyes. That's the exciting thing for me."
I remembered myself being a much better x-country ski person than I showed with four face plants. I am thankful neither Jeni nor Nancy had their camera at the ready when I was stuck upside down. Jeni reminded me that it has been eleven years since we were on those skinny skis. Where does the time go?
My camera was always at the ready and I have the picture of both Jeni and Nancy to prove it.
About the only thing Nancy, Jeni and I didn't see on out trip was a wolf. We saw lots of coyotes and everything else you can imagine. And pictures. Wow. We have them. Yellowstone in the winter is a photographers disneyland and a nature lovers delight.
Want something wonderful, warm, and fun? We recommend Yellowstone Expeditions. They can be reached at: YellowstoneExpeditions.com or 800.729.9333. Arden or Erica are truly wonderful people.










About the author of this article:

Jake Billingsley, the most popular contestant on the award winning television show "Survivor Thailand", is an avid outdoorsman and an award winning photographer. He has appeared on "The Late Show with David Letterman", "The Early Show", and numerous other television shows. He played Sheriff Jimmy in the movie "After Sundown" and his book "Shaping My Hat" is in its second printing.
972.523.8366
Availability & Reservations
Also of Interest Near
West Yellowstone, Wyoming
Featured Adventures Nearby (See All)
Featured Accommodations Nearby (See All)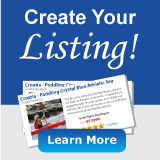 Add Your Travel Services and Accommodations
Add a multi-page listing promoting your accommodations, tours or travel services to customers on our network of travel sites. Your listing page includes an interactive map, availability calendar, reviews, photo-gallery and more.
Create Your Listing