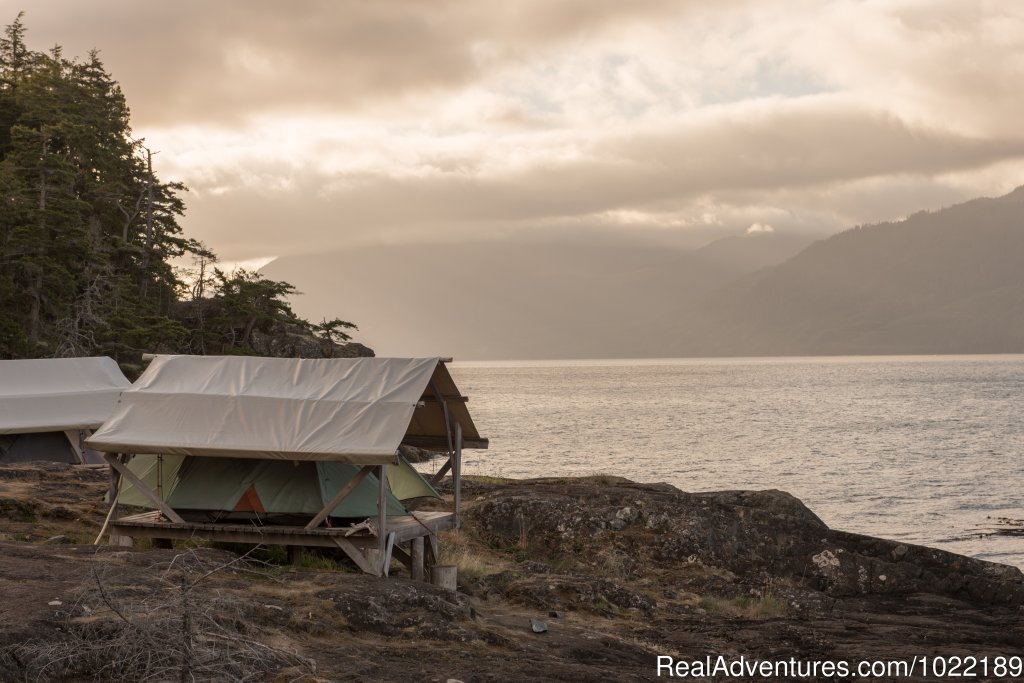 Heriot Bay, British Columbia Kayaking & Canoeing
Sea kayaking in Johnstone Strait, home of orcas, dolphins, bears & eagles is one of life's greatest adventures. We offer unique tours to great areas around Vancouver Island incl. the Broughton Archipelago, Desolation Sound & Great Bear Rainforest.
From $791.52 / trip
Active Adventure

This is our most popular tour and your best opportunity to sea kayak in the realm of the killer whales, also known as orca. Our base camp is located in the heart of Johnstone Strait, off Vancouver Island, British Columbia directly across from the Robson Bight Ecological Reserve.

Your three exceptional guides will take care of you every step of the way. They prepare delicious hearty meals featuring local seafood and organic ingredients. Our guides have extensive training and experience in sharing with you the natural and cultural history of the area. All guides are certified in advanced wilderness first aid and of course have extensive kayaking experience and certifications.

Typical Day

On a typical day we paddle between 3-5 hours with plenty of breaks to get out and stretch our legs. Our campsite is considered to be one of the most beautiful on the British Columbia coast with great paddling opportunities and abundant wildlife. On one of our days we will walk to a viewpoint overlooking the strait where we will speak with researchers observing the whales as part of a long-term study. At the end of the day relax in our hot tub or in a hot shower while gazing out at the spectacular BC scenery.

Map & Directions

1313 Cramer Road, Heriot Bay, British Columbia V0P 1H0

Points of Interest

Kayak the realm of the Orcas - Spirit of the West

1313 Cramer Road, Heriot Bay, British Columbia

Johnstone Strait. Location of our Orca basecamp

Telegraph Cove, BC V0N, Canada

Rates & Availability

The Johnstone Strait Ultimate is $1269 CAD.

The Johnstone Strait Ultimate is $1269 CAD.

Group rates are available.

*Please

contact advertiser

for rates & availability for your travel dates.