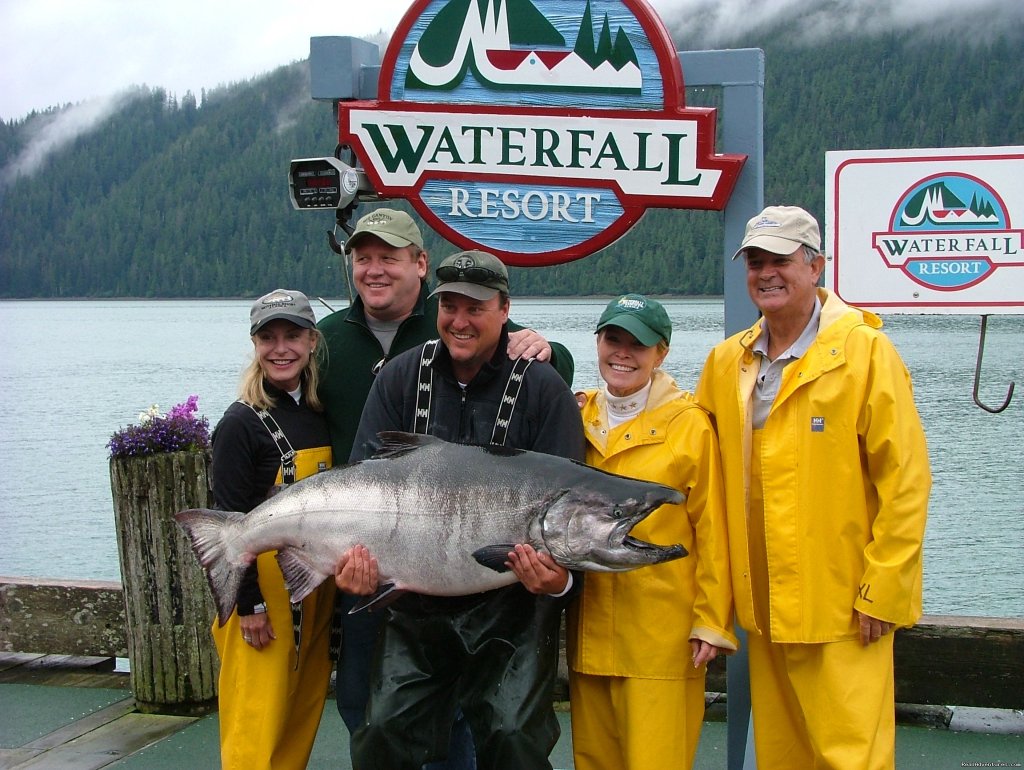 Santa Barbara, Alaska Fishing Trips
Historic salmon cannery turned world class saltwater sportfishing resort. Guided fishing for salmon, halibut, ling cod, and red snapper aboard 25ft. heated cabin cruisers. Located on western shore of Prince of Wales Island.
5/5 Stars --
From $3075 / trip
Active Adventure

Nothing about Waterfall is ordinary. Your adventure begins with a breathtaking flight aboard a float plane. This unforgettable journey takes you over the unspoiled Tongass National Forest, and straight towards the richest fishing grounds in North America.Before you know it the plane banks and turns and there in front of you is Waterfall Resort, on Prince of Wales Island. No other resort in Alaska offers such a rich blend of wilderness beauty, civilized pleasure, and historic heritage. From the moment you arrive you feel welcome.The neatly painted white buildings are the very same that housed the rugged crews that worked at Waterfall Cannery from nineteen-twelve to nineteen seventy eight. Now beautifully restored they provide a wealth of fine accommodations. Everything here is designed for your comfort. Instantly you start to relax. Its time to go fishing.

Typical Day

You don't have to be a fishing expert to love the fishing at Waterfall Resort. The whole family will enjoy the fresh air, spectacular scenery and the thrill of landing the biggest fish they have ever seen.The abundance of fish in these waters made the original Waterfall Cannery the most productive in the region. Today fishing for King Salmon, Cohos, Halibut, Ling Cod and Red Snapper is still second to none.Waterfall offers the largest private fleet of custom built Almar cabin cruisers in the state, all equipped with Volvo Penta diesel engines, heated cabins, air suspension seats and the latest Furuno marine electronics including fish finders, radar, and GPS. Stepping aboard your assigned boat you'll be greeted by your personal guide. It doesn't take long to get acquainted. After a short, scenic ride you reach the ideal fishing spot.The guide baits your hook and in no time the calm is broken by excited shouts of "fish on". The thrill of the catch is exhilarating and heightened even more knowing you have entered Waterfall's $100,000 King of Kings Salmon Tournament. With each cast of the line you could be the one to take home a big prize.

Map & Directions

4925 Cervato Way, Santa Barbara, Alaska 93111

Points of Interest

Waterfall Resort, Alaska

Prince of Wales, AK, USA

Nearby Attractions and Services

| Distance | Description |
| --- | --- |
| 50 miles | Misty FjordsNat'l Monument |

Rates & Availability

RETAIL RATES FOR 2010:

3 nights - $3,975 (includes the float plane)

4 nights - $4,975 (includes the float plane)

Additional Nights $1,000.00

DATES FOR 2010 AND SPECIAL RATES FOR YOUR GROUP:

6-11 to 6-14 $900 off per person / Jackpot Challenge, includes bonus fishing time on 6-11 (This is a $3075 net rate including the float plane).

6-14 to 6-17 $900 off our normal rate. (A $3075 net rate that includes the float plane).

6-23 to 6-26 Call 800-926-2477 for great deals.

6-29 to 7-3 Pay for 3 nights and get the 4th night free, $3975 net rate

(a $1000 savings)!

Kids under 17 get 50% off the land potion of our 4 night rate, $2675 net

(a $2300 savings)

7-3 to 7-7: Pay for 3 nights and get the 4th free! (a $1000 savings)!

Kids under 17 get 50% off on a 4 night rate (a $2300 savings)

7-11 to 7-15 Peak for Kings, with silvers too. Take $225 off!

7-27 to 7-31 4 nights in the heart of the best fishing time.

8-3 to 8-7 4 nights at $700 off pp

8-10 to 8-13 Silver, Silvers, an occasional King and lots of bottom fish too!

8-13 to 8-16 Silver Salmon Special, a $900 savings, Net rate = $3075 pp

*Please

contact advertiser

for rates & availability for your travel dates.