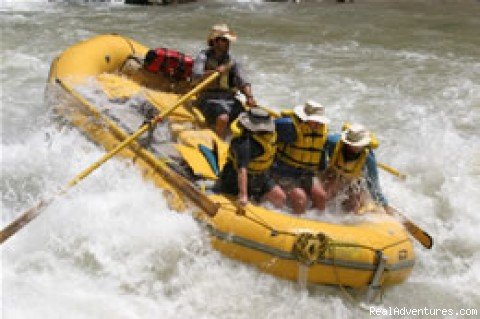 Flagstaff, Arizona Rafting Trips
Grand Canyon whitewater rafting trips on the Colorado River. 5 to 15 day non-motorized river rafting vacations with experienced professional guides, delicious food, side hikes, & swimming holes. Authorized concessionaire of Grand Canyon National Park
5/5 Stars --
From $265 / night
Active Adventure

Whitewater rafting is the most intimate way to experience the majestic Grand Canyon. A rafting trip with Outdoors Unlimited allows for plenty of time to take in the phenomenal variety of vistas, camps, waterfalls, rapids, side canyons, archaeological ruins, and other attraction sites to enjoy and explore. Outdoors Unlimited offers paddle and oar powered trips from five to fifteen days. Trips are either on the the full 240 miles of the Canyon, or they can be on just the upper or lower section of the river for those who have less time.

Typical Day

Wake up early and eat a delicious, freshly prepared breakfast. Take down camp, load the gear, and raft down the Colorado River. Many days we stop for side hikes to waterfalls, swimming holes, archaeological sites, Native American pictographs, and incredible vistas. In the middle of the day, we stop for lunch (prepared by the guides) and take a short break from rafting. In the evening, everyone enjoys dinner and drinks, laughing and campfire stories. Camp activities vary depending on your interests. Some guests love playing games while others prefer a quiet evening of reading or reflection by the river.

Map & Directions

Colorado River, Flagstaff, Arizona 86023

Points of Interest

Lee's Ferry

Arizona, United States

South Rim Village

Arizona, United States

Pearce Ferry

Arizona, United States

Rates & Availability

| Date | Low | High | Notes |
| --- | --- | --- | --- |
| Lee's Ferry to Lake Mead | 3295 | 3655 | 13-15 Days |
| Lee's Ferry to Phantom Ranch | 1665 | 2045 | 5-7 Days |
| Phantom Ranch to Lake Mead | 2415 | 2620 | 8-9 Days |
| All Trips | 10 | | Paddle Option |

*Please

contact advertiser

for rates & availability for your travel dates.