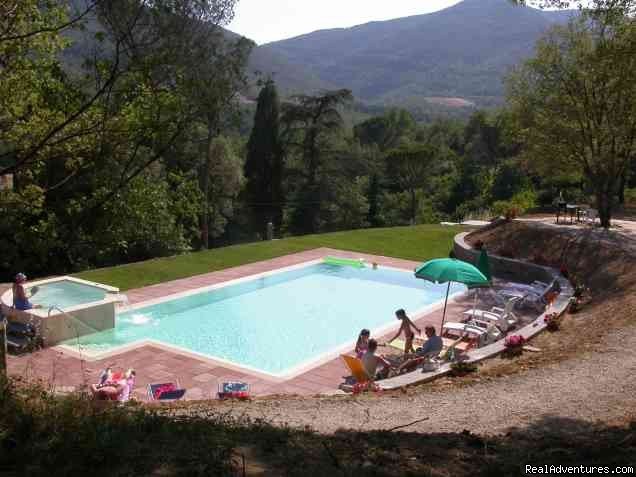 Arezzo, Italy Ballooning
he farm is situated in Val di Piele, a small valley next to lake of Trasimeno, between Toscana and Umbria. Here you can spend a beautifull time full of nature. You can also visit the most important towns and places of the two countries (es. Cortona
5/5 Stars --
Active Adventure

The farm is situated in Val di Piele, a small valley next to lake of Trasimeno, between Toscana and Umbria.Here you can spend a beautifull time full of nature.You can also visit the most important towns and places of the two countries (es. Cortona, Assisi, Firenze, Siena etc...).Pilari apartments are in the ancient village that is the farm heart and its origins are lost in the past. The oldest part of the village was built as awatch tower of Pierle castle near the XIII century. This castle was a very important fortress for Pierle valley and now it is a very important sign of thehistory valley. The watch tower basis was chiselled in the rock and you can still see this hard work in the wall of the cellar. During the time the tower became afarm house and the owner added other rooms so the house "grew". The last part was bulit in the 1922 and it is our house.The house restored is the rear of the village and since some years ago one part was the house of the last farm worker. This apartment is calledCASTAGNOLO because this is the nic name of this person. The other two apartments are: one was the stable (STALLA) and the other was a TABACCAIA(a big oven for dry tobacco leaves).In the garden, that surround the apartments, there is the swimming pool (12 metres x 6 metres 1,5 metres deep) with jacuzziThese three apartments are on three differt levels because the house was built as a stears to follow the path of the soil.

Map & Directions

Arezzo, Italy

Points of Interest

Agriturismo Pilari farmhouse near Cortona

Italy

Nearby Attractions and Services

| Distance | Description |
| --- | --- |
| 1 km | village with all shops |

Rates & Availability

| Date | Low | High | Notes |
| --- | --- | --- | --- |
| 1 january to 16 may & 27 sept. 20dec | | €500 | per week |
| 17 may to 20 june & 6 sept to 26 sept | | €700 | per week |
| 21 june to 5 sept | | €850 | per week |

*Please

contact advertiser

for rates & availability for your travel dates.