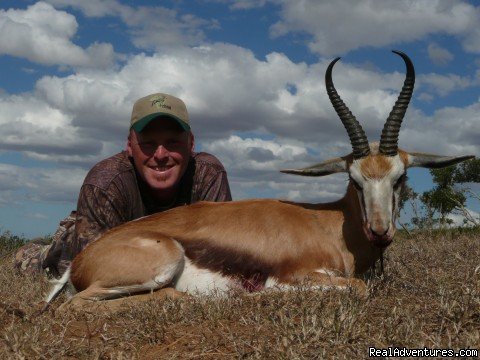 Uitenhage District, South Africa Hunting Trips
Induna Safaris is a hunting outfitter in the malaria free Eastern Cape of South Africa.Located 100kms from PE airport, offering exciting plainsgame hunting over an area of 20 000 hectares of varied South African bushveld.
5/5 Stars --
From $130 / trip
Active Adventure

Induna safaris is a hunting outfitter situated in the malaria free Eastern Cape of South Africa. We utilize 20 000 hectares of varied South African bushveld, ranging from open plains, rocky hills and dense vegetation, for the hunting of plains game.We offer approximately 27 different species for hunting.Examples of some species are, Kudu, Cape, White and Black Springbuck,Impala, Duiker, Blue and Black Wildebeest, Waterbuck, Nyala and lotsmore!!!Induna Safaris aims to deliver an unforgettable and challenging huntingexperience. We promise an exciting walk and stalk style hunt and will endeavor to fulfill our client's needs and requests.Induna Safaris compromises of two farms 100kms from Port Elizabeth. It is run by two professional hunters with years of experience between them. A wealth of knowledge of the Malaria free Eastern Cape country side ensures the highest standard of service at all times, focusing on quality and maintaining a rustic African experience.

Typical Day

Waking early, having a quick coffee, a light breakfast, and then we go into the bush for the hunt. The day outdoors in the African bush, where you are surrounded by spectacular scenery, and various species of game. A professional hunter is there to guide you, through the bush, and assist you with animal selection and tracking the animals.

Map & Directions

Cauchassie Farm, Uitenhage District, South Africa 6230

Points of Interest

Plainsgame Trophy Hunting in South Africa

Rates & Availability

It ranges from $148 per day per person to $ 376 per person per day.

We run specials with large discounts througout the year, please contact us and we will quote with an unbeatable price.

*Please

contact advertiser

for rates & availability for your travel dates.