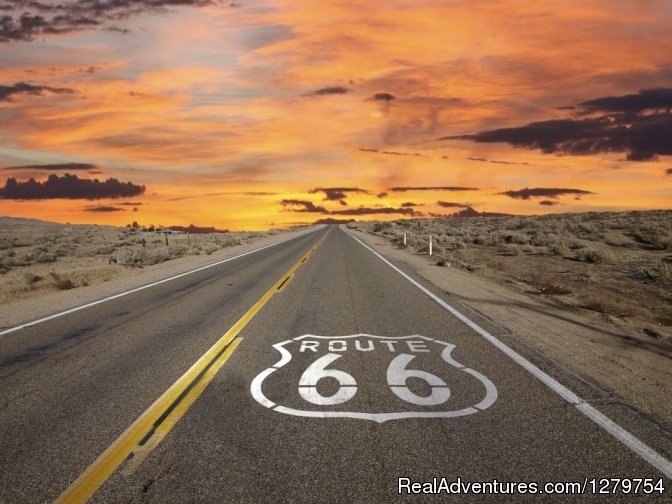 Los Angeles, California Motorcycle Tours
California Sunriders was voted "Best US Motorcycle Touring Company 2013". Besides guided and self guided tours we also offer motorcycle rentals in over 180 US locations and are directly tied into the Harley-Davidson Authorized Rental Program.
From $2415 / trip
Active Adventure

At California Sunriders we specialize in motorcycle vacations. Over the past 15 years we have built an excellent reputation in the motorcycle tour industry and since then got thousands of riders on the road and safely back home.Although taking up a great part of the journey, we don't consider your holiday to solely be a bike riding experience. We deliver a unique vacation adventure that you'll treasure for a lifetime and hopefully never forget.

Our guided and self-guided motorcycle tours are considered the best Harley Davidson tours in the USA. Especially our guided Route 66 tour is known to be the number one available guided Route 66 tour among all U.S. tour companies. Since there are many outlets that offer guided or self-guided motorcycle tours in the USA it is critical to carefully compare what each operator offers. Don't base your decision on the cheapest offer as it usually lacks one or more amenities that should be included in the tour package.

Typical Day

You start the day by taking some time for a coffee and stroll up and down Ocean Ave, looking at some of the several art galleries and do some window shopping at the cute but expensive little shops. After spending a few thousand imaginary dollars it's time to get back on the road. What lies ahead is some of the best and most magnificent scenery the Pacific Coast has to offer. Today is Big Sur day! The scenery in Big Sur, California cannot be done justice by film or secondhand account. Riding the tremendous road through Andrew Molera and Pfeiffer state parks represents cliffs, rocks, redwoods and effervescent surf which create an epic backdrop for recreation and relaxed exploration. Stopping at your personal favorite spot, you stare at the ocean for a while and see an eagle draw circles high above the cliffs. As she flies out over the ocean you get back in the saddle to continue your own journey through incredible Big Sur. Now the road drops down to sea level and we stop at the ever lazy sea elephants that are dozing in the afternoon sun. After such an amazing day it's just adequate that you check in at an exclusive oceanfront hotel. During dinner at the hotel's great restaurant you're overlooking the Pacific Ocean where the beginning sunset dyes the vast, gigantic sea. Watching its reflections in every wave concludes another extraordinary day of your tour.

Map & Directions

355 South Grand Ave, Suite 2450, Los Angeles, California 90071

Points of Interest

California Sunriders

355 South Grand Ave, Suite 2450, Los Angeles, California

Rates & Availability

Rates are split into SGL / DBL room occupancy or two riders sharing one room. Triple occupancy rooms are available upon request

Please contact us for group discounts and Early Bird Specials.

*Please

contact advertiser

for rates & availability for your travel dates.