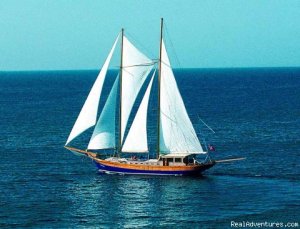 Starting at
USD $654.50
per trip
Turkey Sailing Blue Voyages & Blue Cruises
Bodrum, Turkey | Sailing
Weekly departures from Bodrum, Marmaris or down the coast of Turkey on a traditionally built wooden Turkish gulet saling yacht. We offer cabin charters and full ship charters. We offer a half week sailing from Bodrum and full service sailing cruise.


Starting at USD $654.50 per trip
Availability & Reservations

Turkey Sailing Blue Voyages & Blue Cruises - Starting at USD $654.50 per trip
Sailboat

Sail the Turkish Coast in a blue voyage and visit many historic sites on a one two, or three week sailing. Bodrum to Antalya sailing ship cruise. These are leisure cruises with swimming, diving, snorkeling, hiking, exploring, hot springing, ruins tours and fantastic eating along the route.Our yachts have wooden hulls and are built to an ancient design. They range from 22-28 meters. Cabins have their own shower and water closet. Our yachts actually sail. We don't like to spend money on fuel. All food and beverages ( bar ) are included except Friday evening when you will dine ashore.
Destinations

Note: We offer several itineraries. We usually sail from the Bodrum area. Late in the season we move further down the coast to warmer waterhs. There are three popular ones. Bodrum - Gulf of Gokova- Bodrum The first over night in Bodrum harbour provides a gentle introduction to the gulet and your travelling companions.Day 2. After first breakfast of our tour,we sail to Orak Island.The Island reminds an endless aquarium with sparkling turquaz water.After swimming and lunch arrival to Cokertme where cheerful and friendly people live.Dinner and staying the night here.Day 3. Along the fabulous coastline we continue to the marvellous natural harbour of Cati;. You will spend rest of the day by swimming or by walking through pine forest.Day 4. Sail to Seven Islands-always popular choice,plenty of pine clad secluded bays and coves to investigate.Day 5. Weighing anchor in the morning arrival to Sedir Island. Known also as Cleopatra's Island - rich in myths as in beauty - the legendary white sand is said to have been brought in from Egypt by Marcus Anthonius as a wedding gift for Cleopatra. Day 6. Breakfast and departure to English Harbour - made famous for sheltering World War - I British torpedo boats. After Lunch spend the night in whichever bay we choose.Day 7. Seventh day of our trip will continue in routh to ֲen in the Golf.After swimming and lunch continue to Karaada Island renowned for mud baths and to Bodrum for our last night on board. Fethiye - Marmaris - Fethiye DAY 1 Arrival to Marmaris, embarkment to yacht, overnight onboard after dinner. MARMARIS: It was founded on ruins of an older Karia antique city and has lived under many hegemonies. Today the most important monument that is remarkable is the tower that was built in 1577. DAY 2 After first breakfast of our tour, our dream journey starts with Ekincik. Arrival to Dalyan, a Karia city supposed to be founded by son of Miletos. City , carries an antique value by its stone tombs, Acropol Castle, Antique Theater and Church Complex and besides this city shows a natural beauty with Caretta Caretta turtles. If you wish to swim and have mud bath this tour is extra charged. The day will end with dinner on yacht in Ekincik bay. DAY 3 Our yacht will cast anchor for breakfast in Manastir bay by lake view. We guarantee that you will have a wonderful day in this natural wonder bay where you will have water sport opportunities. Then yacht will cast anchor twice in a bay after a while around here for dinner and overnight. DAY 4 On the fourth day of our tour you may visit Telmosos renowned of oracles, fruits grown by Telmosos in Antique Era as you wish or you may go to Oludeniz by dolmush via highway.Dinner in a quiet bay after a while our yacht departs from harbor and overnight. DAY 5 On the fifth day of your tour, after breakfast you will be able to swim in enchanting beauty of Batik Hammam ruins in Gocek bays and at the same time you may enjoy the beauty of village and bays while having your five o'clock tea. On this day reserved completely for Gocek dinner and staying night will be here. DAY 6 Early in the morning trip through Baba Island; breakfast in a bay en route. Lunch at Baba Island through noon. We are sure that you will not get tired of to swim, sport and entertainment. Tiredness of day will be slip by anchored yacht in Baba Island . DAY 7 Seventh day of your trip will continue en route to Kumlubuk and Turunc which are old fisherman villages near Marmaris. After swimming and surfing arrival to Marmaris. At this night when you will have shopping opportunity at the same time, lunch on yacht will ended this seven day trip which has left good memories in you. DAY 8 After breakfast transfer to airport. Antalya - Kas -Antalya DAY 1 Check-in to departure point Setur Marina Antalya, staying night on yacht after dinner. DAY 2 After breakfast on yacht, sailing for two hours, arrival to Phaselis bay renowned for Perfume trade during antique era where three natural bay were founded by Colonists in the 7th Century BC are after lunch and swimming here arrival to Olympos Antique City where was base of famed pirates once upon a time. After five o'clock tea and swimming, leaving to Adrasan Cavush bay for dinner and overnight. DAY 3 After breakfast our yacht weighing anchor arrives Demre at mid-day. After lunch in Demre, trip to Noel Baba (Bishop St. Nicholas ). You can Join to optional Demre - Myra tour with extra cost. Overnight here after dinner. DAY 4 After breakfast, arrival to Kekova Island just opposite Kale Village where lost/sunken city is. North of the city had been intermentioned in to the sea as result of an earthquake in Byzantine Era. DAY 5 Our journey starts after breakfast in Kas Harbor and we proceed to Antalya. After swimming in Uc Agiz bay which is the oldest Licia city. 34 km. far from Kas. Dinner will be served at Simena where theater remains are. This theater is for 300 persons, constructed on the hill opposite Kekova Island behind Kale Village.DAY 6 Our yacht departs from Finike Marina after breakfast and arrives to Ceneviz bay after passing trough unique bays and coast. Arrival to Kemer Moonlight bay after lunch and swimming in blue sea here, overnight in this beautiful bay after dinner. DAY 7 Our journey we leave Moonlight bay and arrive to Calticak bay and Sican Island. After lunch and swimming in this natural beauty, continue to last stop of our tour, Antalya Marina. Last dinner and overnight in Antalya Marina.DAY 8 We will disembark and end the tour after breakfast.
MAMMA MIA TURKEY GREECE ITINERARY
1st day: The boarding starts at 3:30 p.m. outside of Bodrum. Early-arriving guests can leave their luggage in one of our offices. First day dinner and the night will be in Bodrum Port. During this time our guests wishing to explore the city will have a whole night time.
Bodrum has a history that goes back to the 12th century B.C. The city which was called Halicarnassus and was the birthplace of Heredotos; the ' Father of History'. Thus Bodrum was a home to many civilizations and there is a lot to see: The remains of the Mausoleum of King Mausolus, which was one of the Seven Wonders of the ancient world. From the Classical Roman times the Amphitheatre has survived; one of the oldest theatres in Anatolia with a capacity of 13.000 guests, and is still hosting many shows and concerts. And there is the landmark of the city, the 'Castle of Saint Peter', being build in medieval times from the stones of the collapsed Mausoleum and today it houses the first and world's largest underwater archeology museum. Finally there is 'Myndos Gate' where Alexander the Great had a hard time in his siege of Halicarnassus. Bodrum is also popular with its night life, there is an endless choice of entertainment in the city.

2nd Day: Starts with a welcome-on-board-meeting while you enjoying your breakfast. The crew will inform you about the cruise program and the boat. During this time your captain will be completing the port-formalities. Sail to Cos island starts. Asclepion, known as the best health-care center of the Antique World is located here. Cos is also the birthplace of Hippocrates; 'the Father of Medical Science'. On the island there is a lot to see; a Medieval century castle; a museum; an antique stadium; Acropoli; an Antique Odeon; an amphitheater; and Roman Baths. Cos, or in Turkish: Istanköy ; is the second largest island of the 12 islands. (Dodecanese islands) has a very soft climate and very fertile lands. The island hosts a 560 years old tree and a 211 years old fountain.
3rd Day: We will start early morning to Nisiros island. The volcano of Nisiros island - which means 'the place with figs' in the Aegean Sea- which burst out in 1422 is still active. Nikea village located on the side of the volcano, has white streets and a mosaic-style square. You can take bus a tour to the crater which is still active and where you can see the gases coming from underground. On the way back after a short a village tour and a lunch break; we will sail to Tilos island. The dinner and the overnight will take place in the port of this small, peaceful island.
4th Day: Sailing to Rhodes early in the morning to the largest of the Dodecanese islands, a very popular holiday place as it has one of the best-protected and the largest medieval city walls. Rhodes has been a home for many civilizations; starting with the knights of St. John in the Medieval century, then Ottomans and Italians. The city, which is still surrounded with 12 meters thick city-walls gives you the feeling of traveling back to Medieval century especially when you walk around its narrow pebble stone roads. After dinner our guests are highly recommended to enjoy a Rhodes at night out.
5th Day: By sailing in the early hours of morning towards to Simi island; we will arrive to the Monastery of Panormitis located in the southern part of Simi. After visiting the Monastery and the museum of this quiet and peaceful coast we will take swimming break at noon time and will arrive to Simi port in the evening. You can see the shore-side with its neo-classical houses and the inner streets
6th Day: Today we will get back to Turkish waters to Datca. You can enjoy a short-walk on the shoreside while your captain is finishing with the customs procedures. Datca has been founded by the Dorianss who immigrated from Aegean islands to the southern coasts of Ionia in the 7th century B.C. Sailing to Cnidus after lunch. Cnidus was a developed city in science art and construction. Euryphon and his students have founded the second largest medical sciences school in Cnidus. The island also is home to the largest sun clock of its time. Cnidus has been the home for Aphrodite's monument and has got his fame with Demeter who was known as ' the beautiful- haired queen'. A place always kept in mind with its love and sex stories. The dinner and overnight will be in Cnidus.
7th Day: Sailing in the early morning. Docking in Karaadada for the last swimming break in these beautiful blue waters. In the afternoon we will be sailing to Bodrum Port for the dinner and overnight.
8th Day: Leaving the boat after breakfast taking all your unforgettable and very enjoyable memories with you.
Map & Directions

Points of Interest

Turkey Sailing Blue Voyages & Blue Cruises

Bodrum, Turkey

Fethiye

Bodrum, Turkey

Mamaris

Bodrum, Turkey
Nearby Attractions and Services

| Distance | Description |
| --- | --- |
| 80-120 miles | Ephesus |
| 60-100 miles | Pammukale |
| 20-50 miles | Didyma, Miletus |
| 10-50 miles | Canos, Dylan River |
Rates & Availability

(All rates in USD $)

| From/To | Low | High | Note |
| --- | --- | --- | --- |
| April to November | 655 | 764.50 | Premium Class- Drinks included |
| Half Week Blue Voyage | 275 | 374.00 | From Bodrum |
| June to September | 765 | 874.50 | Mamma Mia - Turkey & Greece |
| May to September | 374 | 451.00 | Budget Class, no guarantees |

Full ship charters run six hundred to two thousand US dollars per day, plus meal charges, bar, taxes, etc. (About three to four hundred dollars per person ) The rates depend on season and size of ship. Air Conditioned ships (Class A) costs about five hundred more dollars per day to charter. A/C is seldom needed and noisy if used. Cabin charters are on older Class C yachts and run about five hundred euros per week per person. Deluxe airconditioned cabin charter tours run about a thousand euros or more per person per week.

Full ship charters run six hundred to two thousand US dollars per day, plus meal charges, bar, taxes, etc. (About three to four hundred dollars per person ) The rates depend on season and size of ship. Air Conditioned ships (Class A) costs about five hundred more dollars per day to charter. A/C is seldom needed and noisy if used. Cabin charters are on older Class C yachts and run about five hundred euros per week per person. Deluxe airconditioned cabin charter tours run about a thousand euros or more per person per week.

We sometimes have discounts available on the deluxe cabin charter tours.

*Please

contact advertiser

for rates & availability for your travel dates.
Typical Day

Good sailing, good food, and friendly company surrounded by nature in a serene atmosphere - That is what chartered sailing is all about. A sailing holiday aboard a gulet appeals to all age groups. It can be as relaxing or as energetic an experience as desired. You may leave everything to the skipper and crew or choose to join in the running of the boat. The crew will cook for you unless you wish to prepare especially dish for your party. One day you may decide to read a book while sipping a drink and sunning on deck. A more active day may include windsurfing, fishing or when the yacht is at anchor in a beautiful cove, hiking in the woods or swimming and snorkeling amid schools of fish and ancient under water ruins. While docked you may wish to spend the morning touring a nearby ancient city or have a special shore evening in town or in a Turkish village.
Age range, type of group

Charters- these ships are suitable for chartering by your group of 12-18 people. This type of vacation is very popular with friends and families who live in Europe. Cabin Charters-are are available weekly from Bodrum, Marmaris, Antalya Here, you just rent a cabin and your shipmates will be from all over the world. Deluxe air-conditioned cabin charters do extensive itineraries such as sailing from Ephesus to Gocek, Dodecanese, Bodrum to Antalya, etc.
Sleeping and meals

Turkish gulet ships have 6 to 10 cabins, most with private heads and showers. You may charter a whole ship or a cabin on certain sailings. Cabins may have twin beds, a double bed, or a double and third bunk.Meals are served family style on deck. Three a day plus tea time. The Turkish cuisine is excellent.Ask us for a weekly menu or visit our website.
Policies & Restrictions

No smoking below deck for obvious reasons. Children may be asked to wear life jackets while sailing or under motor.Older folks must be able to walk up a ramp and go up or down small ladders or stairs. The crew will assist in this regard if necessary.
Other Information

You may download and watch videos taped on actual voyages from our website.You may bring up to 5 quarts of distilled spirits into Turkey duty free. Aboard the yachts if they have imported liquor, it will be at a premium price. Domestic wines, gin, vodka, raki, beer, etc. are included on most of our tours.
Travel Provider's Info
Also of Interest Near
Bodrum, Turkey
Similar Nearby Listings (See All)
Featured Adventures Nearby (See All)
Featured Accommodations Nearby (See All)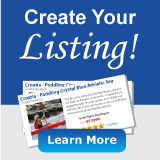 Add Your Travel Services and Accommodations
Add a multi-page listing promoting your accommodations, tours or travel services to customers on our network of travel sites. Your listing page includes an interactive map, availability calendar, reviews, photo-gallery and more.
Create Your Listing