Morocco Joy Travel offers authentic tours of Morocco with access to the best high-end tours that will lavish your memory with vivid colors and experiences you will never forget.
Activity/Tour
The Morocco Joy Travel generation has been educated up to university level and we pride ourselves on the range of languages we speak - Tamazight (Berber), English, French and Spanish, as well as our passion for the tourism industry in Morocco. We take pride in our creative and flexible scheduling that will allow you to soak in the beauty of Morocco without having to worry about the stress of communicating, finding things, or knowing the best places to go and the most jaw-dropping things to see.
We offer you authentic tours of Morocco with access to the best high-end tours that will lavish your memory with vivid colors and experiences you will never forget. You'll be surprised at how affordable your next holiday or vacation can be. Whether you are traveling alone or with a group of friends, we have knowledgeable representatives of Morocco culture ready to customize your dream vacation and take you on an adventure of a lifetime.
We invite you to experience an exotic world full of adventure and fun and hope to see you soon!
Typical Day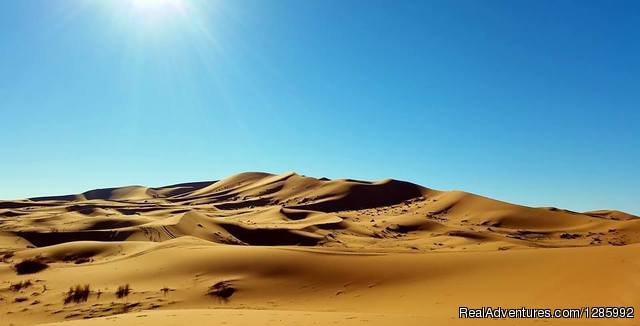 04 days Caravan's trail tour.
Day 01: Marrakesh - Atlas Mountains - Ouarzazate - Boumalen Dades.
We will start our adventure trip by picking you up from your hotel/Riad at 8:00 AM, hit the road! And climbs through the dramatic Tizi n'Tichka pass which reaches an altitude of 2260 M, On route to Ouarzazate "the Hollywood of Africa", we will journey through the High Atlas mountains passing by Berber villages and beautiful landscapes, lunch time will be in Ouarzazte , maybe it's time to try some great local cuisine. Later on, drive through the "Road of the thousand Kasbahs"- the fascinating "sand castles". Stop at Kalaat Mgouna, "Rose's Kastel" known for roses and its annual festival during the roses harvest in May, and then continue to our hotel in the heart of the Dades Gorge, Dinner and night in the Hotel.
Day 02: Dades Gorges - Todra Gorgres - Erfoud - Merzouga.
After breakfast in the hotel, we leave the dades gorges driving towards tinhir and todra gorges, the alluring beauty of the lush palm grove along the valley have known as a breathtaking views, Driving the windy, a thin road will get our full attention as we get into the gorges which will allow you to get a full feel of the unbelievable glory of the massive canyon walls reaching some 300 meters (900 feet) high and continuing for some 100 meters (300 feet), Leaving the gorges not Far, we will stop for lunch in a local restaurant, Our road will carry on to Erfoud where we would come across with a fossil craft workshop, and it is our door to the gorgeous Dunes of erg Chebbi, take breath and have a cup of tea before embarking on our camel ride for an hour through the stunning dunes, the clean air and the beautiful sunset will take you're your breath and provide us an unforgettable moments, diner and overnight in a comfortable bivouac.
Day 03: Merzouga - Rissani - Draa Valley - Agdez - Ouarzazate.
The camel man will wake you up early to watch the spectacular sunrise among the dunes. Then we join our camels, trekking back to the hotel where we will have Breakfast and a refreshing shower, Then we head up to Rissani, first imperial city, with its interesting market where nomads come from all over the regions to sell their livestock and buy goods they need, sightseeing and get the change to taste the local famous dish "Berber Pizza", we will continue our way to Ouarzazate through the Draa Valley, one of the longest palm grove valleys in Morocco, sights and admire the charming adobe Kasbahs and Berber villages along the road, as we are heading up to ouarzazate you will notice the interesting geological formations of the Draa Valley and ait saoun col, Get our hotel early evening, Dinner and night in the Hotel.
Day 04: Ouarzazate - Ait benhaddou - Marrakech.
Breakfast in our hotel, departure to viste Kasbah Taourirt , magnificent structure and a historical monument giving tribute to the Glaoui, then we step to Studio cenima before getting into Aitben haddou Kasbah which is far about 30 kilometers from Ouarzazate, It's an infamous kasbah and the scene for many Hollywood hits, Films such as Gladiator, The Mummy and Alexander were filmed in this UNESCO World Heritage Site, Sightseeing and Lunch, carry on to Marrakech passing through the high atlas mountain and tizi ntichka, get our Riad/hotel early evening.
for this listing.