Surrounding Area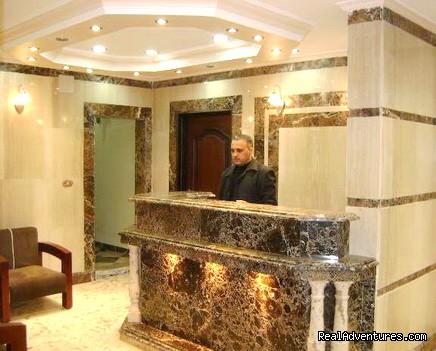 Rotana Palace is situated in the heart of downtown Cairo. The building is designed in an old style, which creates a very relaxing atmosphere. We have an abundance of facilities, which are more then suitable for the budget traveler. They include +a mini bar, Internet access, laundry service and room service.
All our rooms are spacious, clean and comfortable. They are air-conditioned, have a private or shared bathroom with hot water, satellite television, and a telephone. We also provide a taxi service and we are also able to make tour bookings for our guests.

"We aim to serve you better!"- This is our philosophy at Rotana Palace and it has made us one of the most popular choices among travelers.
Our staff will do their best in order to make your stay a comfortable one.

Services Offered
we can help you to deal with many travel agencies so choose some programs for tours in Egypt with cheap prices
we can help you to choose program tour through Egypt and give you some trip advices through Egypt in our website ( Daily tours - Tours Programs )

Directions
Rotana Palace hostel is located in meddle of Cairo
by Cairo airport (30 minutes)
by train station (5 minutes)
Rotana Palace hostel is near by
Egyptian museum (5 minutes)
American University (5 minutes)
Bus station (5 minutes)
Several Egyptian and International restaurants ( Mcdonalds - Hardies - KFC ) & shopping markets