Activity/Tour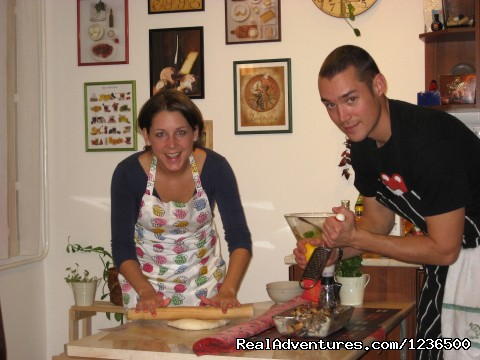 What better way to discover Hungary than through its food?
Our
cooking class
gives you an in-depth experience of Hungarian cooking and an insight into authentic local life.
The cooking class is taught in English, lasts around 4 hours and contains the preparation of a complete Hungarian meal.
Market tour and wine tasting (includes the tasting of 4 wines from Hungary's different wine regions and their introduction) is also available.
5 reasons to take our home cooking lesson:
1. It is a fantastic way to immerse yourself in the local culture and experience the Hungarian way of life;
2. You will find some of the the best foods the region has to offer;
3. You will expand your cooking skills and it will give you all the fun of cooking;
4.It's great chance to ask questions only a local can answer;
5. The atmosphere is mellow and fun;
Typical Day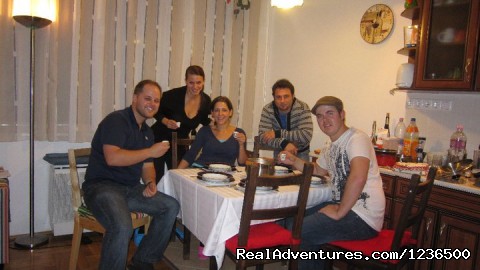 We will begin the cooking class by getting to know each other. You will be served palinka (Hungaricum, traditional Hungarian spirit) and snack bites.
I arrange the shopping before the class, or we can do it together if you claim the Market tour.
We'll meet you at the main entrance to the Central Market Hall, which is the biggest and the most famous indoor market in Budapest and attracts shoppers for its spaciousness and architectural decor. Everything from meat through spices to vegetables and souvenirs is available here in the most beautiful, largest and richest market of Budapest. We select the ingredients for your cooking class.
We cook a complete Hungarian meal: soup, main course and dessert. Menu is subject of discussion.
After cooking we eat the meals together and informally explore Hungarian culture, folklore and customs and traditions.
Age range, type of group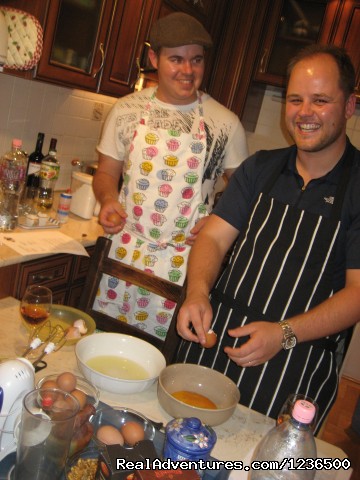 Family, couples, singles, seniors all welcomed!
Maximum number of guests is 4. Just large enough for a small group of friends but small enough to get personal attention.
Rates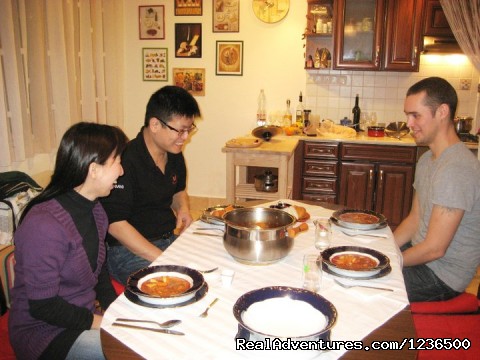 Cooking calss:
69 EUR / person
The price includes:
-All the ingredients necessary for the class;
-Preparation of a 3 course meal ;
-Welcome snack;
-Welcome palinka and soft drinks;
-Recipe handouts.
Market tour: 30 EUR / person
Wine tasting: 50 EUR / 1-4 persons
Other Information
Classes are available:
From Monday to Sunday by reservation

Our guests said:
"We had a great time at your house. The recipes were all tasty and well planned. For us one of the best things was not only the cooking of some traditional Hungarian recipes, but getting to chat to you and your friends about life in Hungary which made it more than just a lesson in cooking. Something else we really enjoyed was getting to try some of the Hungarian styles of wine. We had bought a couple of bottles in the city and they were terrible so we were happy that we got to taste some good quality examples which left us with a much better impression of Hungarian wines/spirits!" – Chris and Callan from Australia
"Thank you Agnes and Istvan, we really enjoyed your cooking class. We liked the friendly atmosphere and we were learning cooking in a very friendly manner and getting know Hungarian culture and Hungarian cuisine. - Jo Seow and Meinsin Tan from Singapore"

"Thank you so much for sending the recipes. We really enjoyed the cooking course and our time in Budapest. Everyone was so nice and helpful. Tonight my friend is coming for dinner. Guess what I´m going to cook? I´d better start practicing so I don´t forget all things you taught me! I´m sure we will come back to Budapest, and when we do You are on the top of our "to-do"-list. Meanwhile, I´ll be sure to recommend you to our friends." – Anette from Canada