Vacation Rental Property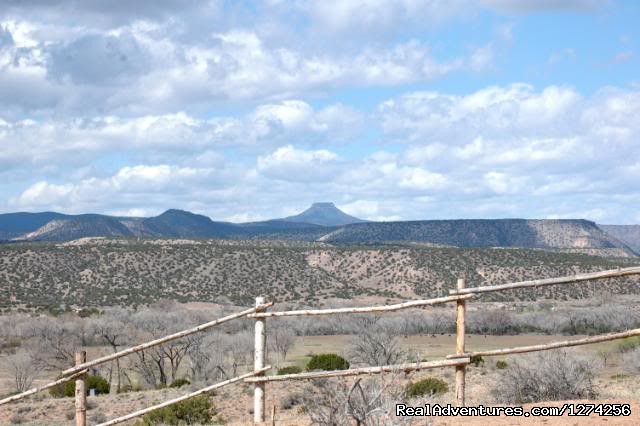 Casita de Chuparosa
"Little House of the Hummingbird"
Click photos for larger images
Sleeps 1-4, 5 if extra guest sleeps on living room sofa w/removable back cushions.
2 Bedrooms - You get both bedrooms when you stay here!
Larger Master Bedroom with sitting area, Door to outside sitting-sunset viewing area with covered Portal (patio) for comfortable Sunset watching. Large Fireplace in Master Bedroom, Stocked with Pinon wood-kindling, All set up and ready to light! High quality Queen Bed with 600 thread count hand pressed sheets, Fluffy Down comforters & Lots of down pillows and Fluffy down feather bed mattress topper and beautiful colorful wool Pendleton Blankets. Room air conditioner, ceiling fan, radiant floor heat and auxiliary heaters.
Private Guest bedroom with Double Bed and with same type of quality bedding. Book Library, Desk, Big View window, Also has a TV Monitor to use the Roku Netlix streamer and DVD player to play filmed in Abiquiu Movies! Room air conditioner, ceiling fan and radiant floor heat and auxiliary heater.

1 Full Bath
Shower with Tub with plenty of fluffy towels, organic lotions, organic soap, shower gel, shampoo + conditioner. Blow dryer. View window from shower.

Living - Dining area
360 view windows, Tall cathedral ceilings, original local-native art + paintings. Dining Table seats 1 - 6. Book library, HDTV, dvd/blu ray player, Netflix streaming player, dvd's of movies filmed in Abiquiu, complimentary hi speed wifi and complimentary long distance, cell phones work here on our hill. Air conditioning in summer and radiant floor heat in winter.

Fully stocked gourmet kitchen
Fully Stocked Gourmet Kitchen (No amenity overlooked - list below of amenities. With complimentary as organic as possible breakfast provisions for the whole duration of your stay (See list below) Daily home roasted organic coffee beans. Washer/dryer with detergent too! Steam Iron/Ironing Board.

Front & Rear Courtyards, Covered Portal (Porch)
With BBQ (1st bag of charcoal provided) , outside fireplace with plenty of pinon wood. Gate down to the trail to the private hillside Hot Tub Spa w/360 & sunset views.

Pets welcome - See policies page.
Bring your horses too. Treats provided to feed our Horse, Llamas and Mini Burros.
Sleeps & # of Bedrooms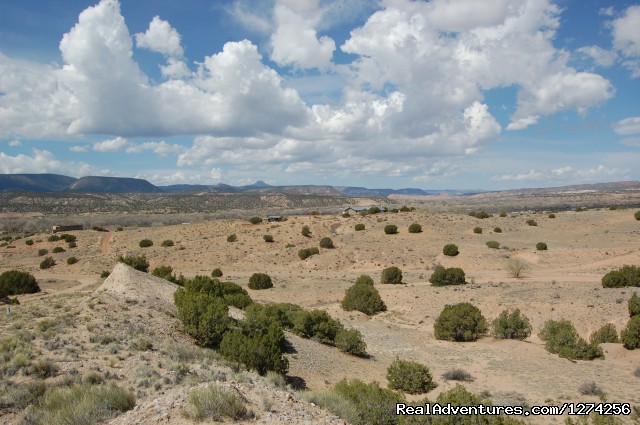 No summer mosquitoes up here on our hill. Homes along the Chama River a.k.a. Rio Chama and Abiquiu Lake are prone to mosquitoes.

Our guests love the solitude and the sound of silence here, In case you need city necessities, we provide the following: Complimentary High Speed Wireless Internet (3MB download/1MB upload), Unlimited Phone Free Long Distance, No calling cards necessary! and an HDTV with Satellite TV - over 200 channels. Cell phones work at our Casita.
Your stay includes Breakfast provisions for the whole duration of your stay! No need to go out for breakfast!
Includes-Organic Fair Trade Sumatran or Panamanian Coffee or Decaf Beans. We home roast our coffee beans daily for our guests! Assorted Herbal and Organic Chai & Teas, Lemons, Local Honey, Organic Half-Half, Organic Jams, Jellies, Farm Fresh Organic Eggs, Butter-Cream Cheese-3-4 types of Bagels, Artisan Breads for Toast and/or French toast, Pancake-Waffle Mixes and Real Maple Syrup! Restaurant style Belgian Waffle maker! Steel Cut & instant oatmeal, Reverse Osmosis filtered water & Carrots to feed our Horse, 2 Llamas & the 3 Mini Donkeys!

Pets:
Smaller dogs (Under 30 lbs.) welcome, exceptions considered. Sorry no cats. Meticulously cleaned between Guest Visits. Front & Back Courtyards completely fenced in, 4.5 feet high fences w/Gates. Your Horses welcome too, no charge! See policies page for more pet information.
Amenities:
Wood fireplace : In colder months-stocked with aromatic Northern New Mexico pinon wood & fatwood kindling. Fireplace set up for you and ready to go, just light and enjoy. 2nd wood fireplace and campfire in back courtyard available for your usage year round with pinon wood to sit outside on those cool summer nights!
Linens Provided : 600 thread count cotton sheets, down pillows and down comforters. Hand pressed linens, lots of extra blankets/sheets-all bath towels provided, plus large spa towels for hot tub usage. Lots of extra towels, pillows & blankets.
We will substitute down alternative for those with down allergies.
Air-conditioning : Hardly needed but yes, we have air conditioning in the living, dining and kitchen area and both bedrooms. ceiling fans in living room + both bedrooms, . temps hardly ever go over 85 in summer. Afternoon and evening summer breeze makes for nice cross ventilation. Guests - Please turn off air conditioners during your outings.
Parking right in front of your Casita. 10 foot level walk from your car to the Casita front door.
Parking For RV - Boat - Trailer : Parking right outside your front door, 10 feet to front door , circular driveway for easy in & out.
Stackable Washer/Dryer in Casita Kitchen with organic biodegradable detergent. Steam Iron/Ironing board.
Entertainment:
Hot tub : Walk 200 feet down the trail to the Hot Tub spa located on an elevated redwood deck on a hillside overlooking the Abiquiu Valley with incredible sunset views and amazing stargazing from the Hot Tub. Hot Springs spa Jetsetter tub with many types of massage jets.
New HDTV flat screen television with Direct TV satellite tv with 250+ channels. Netflix streaming video player, free Netflix movies. also Sirius Satellite radio, Pandora radio, free Amazon movies etc.
Music library : CD lbrary with over 100 varied types of music plus satellite radio.
Video library : HDTV with dvd/blu ray player, dvd's of movies filmed in Abiquiu and New Mexico!
Kitchen:
Please keep in mind we are in a high altitude (6750 feet) baking requires making some adjustments.
Water takes longer to boil too!
Fully stocked gourmet kitchen - lots of spices, refrigerated sandwich condiments, paper products (paper towels, cloth napkins, paper plates) baking provisions, food saving supplies-foil/saran wrap-ziploc bags. French press + Bonavita automatic coffeemaker (heats water to 200 degrees for high altitude) + Chemex coffeemakers + Breville espresso maker, English Dualit toaster, Bodum coffee bean grinder, Cuisinart Food processor, Oster blender, Rotating waffle iron, Ice cream maker, Fondue pot, Rice cooker, large 6-Quart programmable Slow Cooker, Full-size Kitchenaid stainless steel Refrigerator/Freezer w/ Icemaker, Microwave, Gas stove, cocktail glasses and cocktail mixing accessories, wine and champagne glasses, cocktail glasses, fiestaware dinnerware dishes. ice bucket, cocktail napkins, margarita salt, washer dryer with biodegradable laundry soap.
Cooking utensils : We've been advised by our guests, they say the Casita is more equipped than their own kitchens!
Outdoor Features:
Front courtyard -outdoor table for dining within rock-walled fully fenced in courtyard with market umbrella. Birdfeeders, 100's of birds visit every day... Lots of Rabbits and Squirrels also share in the feeding frenzy!
Fully fenced in back courtyard with wood deck in back with dining table/chairs to enjoy the incredible sunset views, outdoor fireplace with unlimited complimentary pinon wood.
Outdoor grill charcoal : extra large charcoal bbq with lowering rack for heat control, first big bag of charcoal provided!

View/Location:
Mountain & Valley views, incredible 360 Chama River Valley views and of the Pedernal (Flat topped mountain of Georgia O'Keeffe fame) on 28 private acres, adjoining 1000's of acres of open space. Onsite Hiking.

Communications:
Free long distance : Yes, we provide unlimited free long distance for you to call all of the USA and Canada.
Yes we have great cell phone signals up here on our hill, most of Abiquiu, does not have cell phone service.
Wireless broadband : High speed internet. 3mb download/1 mb upload.
Owners have a printer for guests to print their boarding passes or any other info you might need printed during your stay.

Pets:
We are pet friendly and also respect guests with pet allergies. sorry as much as we love cats, cats not permitted. many people are much more allergic to cats than dogs. one small dog under 30 lbs allowed, no charge - extra small dog: $10 per night/$50 week (7 nights). larger pets considered with guarantee of being clean, well behaved & housebroken. Please read all of our pet details/policies and pet offerings on policies page. There are NO fleas or ticks in Northern New Mexico, because of dry climate and high elevation. Bring your Horses too!
Rates & Availability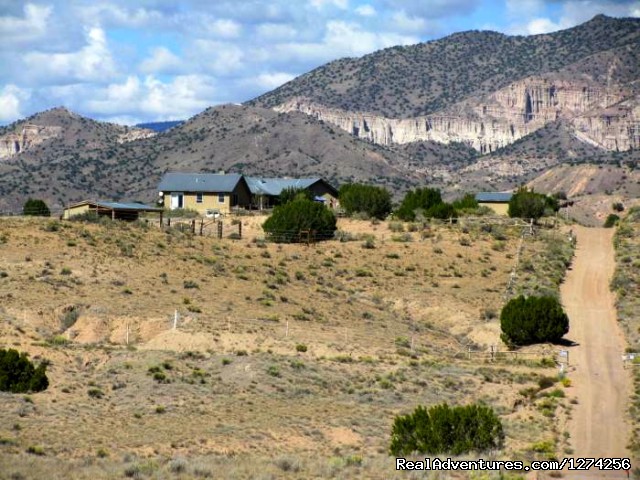 2013 Year Round Rates below- Please read rental agreement policies below
Rates subject to change anytime without notice. Your reservation and payment confirms your quoted rate. 2013 rates may change, book early to lock in rates! Holiday and Monthly stays, scroll down.
1 Person rate $130 night or $780 week - book 7 nights/pay for 6 nights
( 1 night free ) = $111.42 night.
2 persons rate $140 night or $840 week - book 7 nights/pay for 6 nights
(1 night free) = $120.00 night.
3 persons rate $150 night or $900 week - book 7 nights/pay for 6 nights
(1 night free) = $128.56 night.
4 persons rate $160 night or $960 week - book 7 nights/pay for 6 nights
(1 night free) = $137.14 night.
5 persons rate $170 night or $1020 week - book 7 nights/pay for 6 nights
(1 night free) = $145.71 night.
Our rate of $140 night is for 2 persons. Extra persons (as mentioned above) are only $10 each per night, up to 5 total.

No other fees, No security deposits or cleaning fees! We trust you! Good Karma backatcha!

2 night minimum - Sorry no 1 night stays.

Check in and Check out times-
Check in: anytime after 3:00 p.m. - 6:00 p.m. Early check in possible, if no guests checking out that morning. After dark check in, please call to receive key location.
Check out 11:00 a.m. - Later checkouts possible at no extra charge, if no guests checking in later that day.
Warm weather stays - We are the only vacation home rental in Abiquiu with Air Conditioning. Since we do not charge extra for air conditioning usage, guests must agree to conserve air conditioning, We suggest opening windows at night to allow cool high desert air to circulate and turn off Air conditioners during your outings. Temps drop about 20-40 degrees at night in Summer. Summer temps rarely go over 85 degrees here in Abiquiu.
Cool weather stays - Casita has plenty of heat. Radiant floor heat in all rooms plus extra auxiliary heaters. Plenty of Complimentary Aromatic Pinon wood for indoor and outdoor fireplaces. Please turn off auxiliary heaters during your outings.

Major Holiday Stays:
4 night minimum for the following holidays: Easter, 4th of July, Thanksgiving, Chanukah , Christmas and New Years.

Monthly Stays
Many of our repeat guests have stayed for a month, year after year. The rates below are for 1 - 2 guests. Extra guests are $50 each per week. Possibly negotiable depending on time of year booked.
Months with 28 days = $140 night X 21 nights (7 nights free) = $2940
Months with 29 days = $140 night X 22 nights (7 nights free) = $3080
Months with 30 days = $140 night X 23 nights (7 nights free) = $3220
Months with 31 days = $140 night X 24 nights (7 nights free) = $3360
We're able to possibly negotiate for certain months of the year or reservations made far in advance. Stays of one month, payments may be divided into 2, 3 or 4 payments to make it easier for you.

Payment:
All major Credit / Debit Cards by phone or secure online reservation form, Sorry no checks.
50% due at booking, balance due 60 days before arrival. Reservations made within 60 days prior to arrival, full payment due at booking. See cancellation policies below.
One credit card only per payment. No splitting of charges between guests using more than one card. Suggestion - One guest pay first payment and other guest make final payment.

Cancellation Policies:
Vacation homes operate differently from hotels. We have only one property and when a guest cancels with short notice, it's very difficult to rent your time slot. We are not a big business and our chances of re-renting a weekend, week or a month grow exponentially lower as the date draws nearer.
Most of our regular guests make reservations up to one year in advance, Particularly in the Peak Season we have to turn away many requests for reservations because our Casita has been reserved. As a result our cancellation policy is written to discourage those who would make a reservation without being committed to honoring their commitment with us. There are two payments required of those who wish to make a reservation - 50% is due at booking and the 50% balance is due 60 days before arrival.
Cause of Cancellation: Please note that our cancellation policy is not dependent on the cause of the cancellation. We are unable to be responsible for elements such as bad weather; flight delays or cancellations; illnesses or injuries; family, pet, or work emergencies; or even the most unfortunate of unexpected events, a death. Please be aware that you have the option of purchasing "trip insurance" that would protect you from the costs that could be incurred due to an unforeseen cancellation. There are many suppliers of trip insurance and they are easily found on the Internet or often times, through your credit card provider.
We encourage you to purchase Travel Insurance. It's a small price to pay if an emergency were to occur, you have additional recourse for canceling your stay and potentially obtaining a refund. Travel insurance is usually reasonably priced (as low as 2 to 5% of the trip cost) and would be entirely up to you to research and purchase.
We recommend Allianz Travel Insurance - A typical policy for a 7 night stay is about $43-70 depending on coverage. You can include your air fare in the quote too. We've used them many times on our travels.

Our Cancellation Policies:

Prior to 60 days before arrival:
You may change your reserved dates within 60 days before arrival for no extra charge. You may cancel your reservations up to 60 days before arrival, full refund minus $25 fee + 4% of total credit card charges.

Within 60 days of arrival:
Sorry no changes permitted within 60 days prior to arrival. Other guests seeking your time slot have usually seen our Availability calendar showing these dates have been booked. Usually they have already made other arrangements and booked other accommodations within 60 days of arrival to Abiquiu. This is considered short notice, since we usually book up 4-6 months and up to a year in advance.

You many cancel your reservations within 60 days prior to arrival for a Full Refund minus a $25 fee + 4% credit card charges, if we're able to re-book your dates. We open up your dates on our online availability calendar, We advise potential guests of the dates now available on our Casita de Chuparosa & Abiquiu, New Mexico Facebook pages and do our very best to promote the nights you originally reserved. If we are unable to rebook your dates reserved, sorry no refund.

If you transfer your reservations to friends/family, they are responsible for reimbursing you for the Casita lodging costs. We will not refund you and re-charge the new guests.

Of course, we understand emergencies come up and we are willing to work with you. Please consider purchasing Trip Insurance as mentioned above.

Your final payment due date (60 days before arrival) will be mentioned on your initial E-mail confirmation from us. If you do not receive your e-mail confirmation, please contact us immediately to make sure we have your correct e-mail address.

We will send you a payment reminder e-mail 2 weeks before final payment is due, to give you time to contact us if you need to change your Credit card number. If we do not hear from you by the final payment due date, we will charge your card on file for the final payment due. It is up to you to remember your final payment due date and to contact us for any reason, prior to your final payment due date. We are not responsible for correspondence from us not received by you, if you've changed your e-mail address or our e-mail to you has gone to your spam file.

Gift Certificates:
Gift certificates valid 1 year from issue date, may be extended one time only by contacting us before expiration date. All cancellation policies apply to gift certificate recipients.
Rental Terms All renters must agree to all terms below. Thank you!
Upon making your reservation and payment, you will be receiving an e-mail confirmation, You have agreed to the following rental terms -
We do not charge Cleaning fees that add to your rate. So you are responsible for keeping the Casita tidy upon your departure.
Any furnishing rearranged , must be put back to original location.
Kitchen dishes must be washed, dried and put away. Counters cleaned, Stove surface cleaned (Please use Frying pan splatter guard provided while cooking), Coffee maker emptied & cleaned.
All trash emptied (Trash cans located on the side of the house).
BBQ does not need to be cleaned, But BBQ tools need to be cleaned after usage (Fork, tongs).
Fireplaces do not to be cleaned, but please keep Fireplace Hearth clean and please be tidy when bringing firewood inside.
Sheets may be left on beds, no need to strip beds. If you want to, sheets may be placed in Washer - Please do not wash. There are about 12 pillows in the Casita, if you use a pillow, please do not put it back in closet without removing Pillowcases, so we know it's been used. Towels may all be put in the tub.
Breakfast provisions provided are for Breakfast consumption only. Not to be overly consumed for lunch or dinner meals.
Any provisions such as Laundry Detergent, Spices, Condiments, Pantry provisions should be replaced if overly consumed.
Pet Owners must agree to terms below.
Parents of Children must agree to terms below.
Hot Tub users must agree to terms below.
NO Smoking inside or near building - Smokers please read terms below.
Please advise us of any breakages. Replacement of items will be discussed for reimbursement or replacement.
Please be considerate and energy conscious of Heat and Air Conditioning usage and turn off during your outings.
We prefer that all street shoes be removed upon entering Casita, to keep wood floors and Original Native American rugs clean.
Please do not take items that do not belong to you....i.e. DVD's, C.D.'s, Books, etc. If you do want to borrow a book from our expansive O'Keeffe - New Mexico - Architecture book collection, Please let us know and it's usually OK, if you send the book(s) back to us in a timely manner. Good Karma backatcha!
Thank you and have a great time! Thank you to our guests that have left us over 307 Online Guest Reviews!

Dogs and Horses allowed with some conditions, Thanks!
We are pet friendly - We enjoy the company of our American Paint Mare 'Valentine'. Our 2 Llamas 'Cusco' and 'Cinder', and the mini Donkey's 'Shawnee', 'Daisy', 'Sunny' and 'Lolita'. (They stand only 3 feet high) ! In addition to our 3 Jack Russell Terriers, 'Maddie, Spicy & Minnie' and our Cardigan Corgi named 'Soloman - a.k.a. 'Sully' and our precious Cats, 'Pumpkin' and 'Bibi'. For those of you with allergies, the Horse, Donkey and Llama Barn is located downwind 1000 feet from the Casita. Our friendly dogs are only allowed in the common areas, if invited by guests.
We also respect guests with Pet Allergies. Sorry as much as we love cats, cats not permitted. Many people are much more allergic to cats than dogs. Casita meticulously cleaned between guest visits with hepa filter vacuum and non toxic cleaners.
Front & Back Courtyards completely fenced in, 4.5 feet high fences w/Gates.The back courtyard is for guests pet usage. Dogs are not to roam around in front courtyard, to not interfere with the birds and rabbits that visit the front yard feeders everyday.
Miles & miles of onsite walking trails.
Your Horses welcome too, no charge! Guests are required to bring their own hay and feed their own horses. Manure cart provided to clean up after your horses, since we don't charge you for your Horses stay. We provide plenty of fresh water daily, fenced in corral with gate. Horses must be current on vaccinations.
Dog food & water bowls provided.
Small Pets OK (30 lbs. or under), First pet free. 2nd pet, $10 per night or $50 week/7 nights. Size Exceptions considered with more conditions.....Larger pets considered with guarantee of being clean, well behaved, housebroken and NO shedding!
Pets must be spayed or neutered and up to date on all vaccinations. We do not have fleas or ticks in our high elevation area. We appreciate that your pet arrive flea-free.
Pets must be taken with you on all outings, no leaving of pets unattended, unless prior arrangements are made with us to take your pet outside or OK if owners bring crates for their dogs that are crate trained and do not bark excessively when owners are away for short outings.
Sheets are provided to protect furnishings from shedding. Also extra towels to dry off dogs during wet weather. All furnishings MUST be covered by owners whose pets go up on furnishings. Any furnishings not covered, Guests will be responsible for Dry Cleaning reimbursement.
We are located on 28 acres and we sit ¼ mile off of the road. We still recommend, however, that you keep your pet on a leash and clean up after walking your pet. Plastic bags (Provided) must be carried by owners to pick up after dogs on the property. Poop/scoop container provided in front and back courtyards. Yards must be clean of your pets droppings upon departure.
Dogs must be on leash to avoid chasing wildlife and our Ranch animals. Exceptions considered for dogs that are well mannered and stay by owners sides.
The Casita must be dog hair free upon your departure. Owner has the right to charge renters credit card for any damages caused by pets or to charge renters for dry cleaning of comforters, blankets and throw rugs.
Renters are asked to read our pet policies when making a reservation and agree to allow us to charge their credit card on file for any damages incurred by their pet(s) during their stay.

Children Welcome:
Kids welcome - Children 12 and under must be supervised by adults around Horse, Llamas and Mini Donkeys. Children under 18, not allowed in hot tub without supervision. because of wildlife, it is advisable to supervise younger children. Lots of Original Native / Local Artwork & Paintings in Casita. Please advise children not to touch. Guests are responsible for breakage and damage. Thanks!

Smoking:
Absolutely NO smoking in the Casita or near the building. If you do need to smoke, Please smoke away from open windows or doors. Please bring a water glass with you to extinguish your cigarette butt. NO butts to be left on property. We live in a dry, highly flammable area.

Hot Tub:
Hot Tub is available year round. The Hot Tub Spa is located down a 250' long trail from your Casita back door. It is very private, it is located on an elevated deck between 2 trees and very far away from neighboring homes. It is a Hot Springs Jetsetter, It seats 2 comfortably.....3 cozy and 4 like a can of sardines.
It is cleaned everyday. There is 60 minutes each day that it's not available for usage, the time designated will be on your welcome letter received upon arrival. If the cleaning time interferes with your usage time, we can change the cleaning time to accommodate you.
Extra Large Spa Towels are provided for up to 4 guests. The tub temp in cooler months is 103. In warmer months, 98-100 - Depending how warm the nights are. The Hot Tub is for Adults only and children under 18 only allowed if accompanied by an Adult. No Pets allowed in Hot Tub.
Please shower before using Hot Tub to wash off sweat, shampoo, hair products residue, deodorant etc. If water is cloudy the next day, Owner will need to empty hot tub and refill the tub. It will then not be available for usage for another 24 hours to allow the water to heat up again.
No glassware around tub, Plastic wineglasses and plastic glassware available in your Casita kitchen. NO smoking around Hot tub.
Tub is covered to keep it warm and clean, it has 4 straps to remove sliding cover. Guests are responsible for re-clipping the cover so it doesn't blow away, If you forget to clip the cover after usage, you may be responsible for a replacement cover if it blows away and is damaged.

Special needs:
We make every attempt to accommodate the special needs of our guests. It is impossible, however, for us to proactively ask about every conceivable condition or requirement of a guest. Therefore, it is your responsibility to notify us at the time of your booking of any special needs for anyone in your group. This includes, but is not limited to, dietary requirements; physical limitations; allergies (food, pet, environmental); intolerances; or sensitivities (chemical or otherwise). If you need to cancel your reservation or depart and we were not notified of your special needs at the time of your booking, you are responsible for payment for any portion of your reservation that we could not rebook.