Luxurious 8 bedroom retreat in secluded but not isolated location. Full staff, pool, hot tub, gym, spa, tennis court plus more. Custom sightseeing tours at your comfort level. Close to golf, horseback riding, swimming with the dolphins ...
Email Owner For Reservations »
Vacation Rental Property
villa
for rent in Jamaica has 6 bedrooms, 6 baths, 3 living areas, 2 dining rooms, and deck. Work out in our gym...Take a dip in our private swimming pool...Relax in the Jacuzzi...Stroll to the beach...Indulge in the on-site spa where delightful massages are a special treat...Play a game of tennis... Savor the delicious meals prepared and served by our staff...Take a tour. Optional services include all-inclusive meal plan, van and driver service, spa treatments, and child care. Our manager, cook, housekeepers, groundsman, and night watchman are all committed to making sure that you have the most memorable Jamaican holiday ever!
Rates & Availability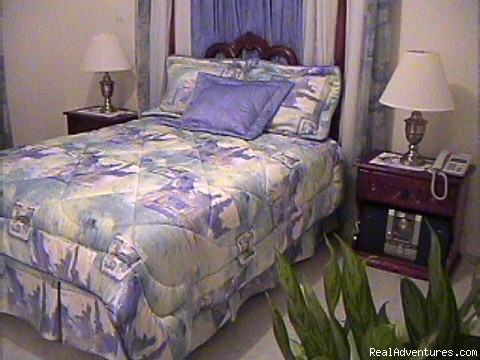 Rates include:
* Exclusive use of the villa, grounds, and amenities by your group. Rooms you don't rent are closed off - we won't rent them to other guests.
* Full breakfast each morning, enjoy eating indoors or out.
* Dinner each evening from our own carefully planned menus, including non-alcoholic beverages with meals, coffee and tea service.
* Accommodations for the duration of your visit - please, only for the number of guests specified in your contract.
* Staff services which include concierge/manager, cook, housekeeper, grounds-man, and security.
* Free tennis on our regulation-sized tennis court, swimming in our fresh-water pool, relaxing in the pool-side hot tub. Free beach access.
* One complimentary private round-trip airport transfer from Montego Bay Airport to Villa for group in our deluxe van (additional service can be arranged).
* Complimentary "Welcome to Mais Oui" reception with our very warm greetings.
* Prior to arrival, our signature detailed Pre-Trip Guide.
Plus we include additional value-added benefits that we think you will appreciate and will enhance your trip such as:
* Free house cell phone loaner for your exclusive use during your trip.
* Free internet access at the villa.
OUR CURRENT PRICING SPECIAL as of 1/1/08
US$1200 per night for 1-8 guests.
For more than 8 guests:
Additional $150 per person per night for each adult guest (age 12 and over)
Additional $100 per person per night for child age 3-11
Rates are subject to 8.25% Jamaica tax and 7% service charge. The service charge is paid as a gratuity to our staff. It is intentionally less than what would be charged at other places so that you have the option to pay more. Spa services, lunch, golf, or van and driver service can be added for an additional fee.
Rates subject to change without notice.
for rates & availability for your travel dates.
for this listing.