Welcome to the adventure of a lifetime. All of our trips are designed to fulfill your particular adventure desires. From four hours of whale watching, to a photo safari, to a two-week trek into the wilderness, we can make your dreams come true.
Activity/Tour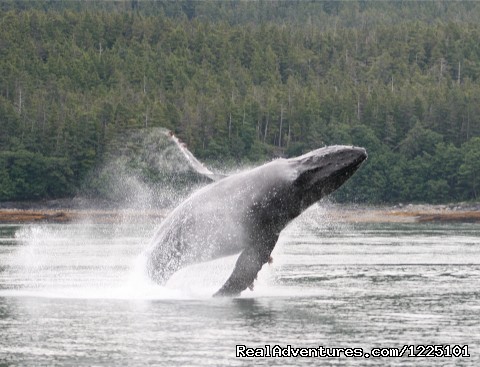 Our standard luxury trip lasts four hours, including van travel, which gives us plenty of time to view whales as well as look for other animals like orcas, bears, sea lions, eagles, and porpoises, all while viewing the incredible scenery that Southeast Alaska has to offer. We never have more then six customers on a trip so everyone receives personal attention. All of our
whale watching trips
includes a snack of smoked salmon and crab along with non-alcoholic beverages. On most trips, you will see an abundance of wildlife and we guarantee that you will see at least a whale or an orca or your money will be completely refunded. Your trip includes all transportation costs from the downtown Juneau to Auke Bay and back. If you want an incredible trip just add an Alaskan celebrity to your trip. See our Alaskan celebrity page.
Age range, type of group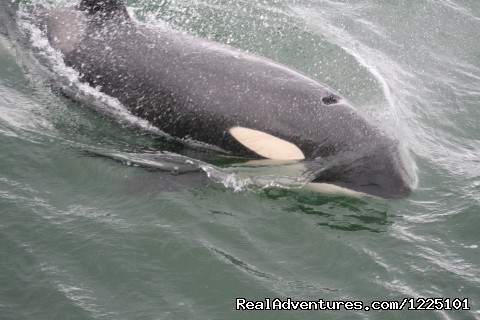 We can design custom trips for all ages from a few hours to two weeks to fit your every adventure in Southeast Alaska. From kayaking by glaciers to hiking,
whale watching
, camping, photo safaris, and wildlife viewing, we can do it all. Corporate team building and executive adventures can be tailored to meet your schedule and physical levels. We have cabins and lodges available for your use. Whatever your wants, please give us the opportunity to fulfill your needs.
Rates
Standard Luxury
whale watch
ing
Total of four hours, including transportation from downtown Juneau. Approximately three hours are on the water.
Per Person (Min. Two People) $189
Include all taxes and transportation.
All trips are nonsmoking and no illegal substances will be allowed.

Luxury Whale Watching

Total of four hours, including transportation from downtown Juneau. Approximately three hours are on the water. See special offer on right of page.
Prices include all taxes and transportation.
3 people $567
4 People $750
5 People $799
6 People $899

Extra Hour Arranged in Advance $200
Tax Included
Special Trips & Alaskan Celibrities
Alaskan Celebrities call for pricing and
avalibilities.
Tracy Arm Inlet(Up to 6 People, 8 Hours) $2200
Berners Bay (Up to 6 People, 4 Hours) $1099
Other Information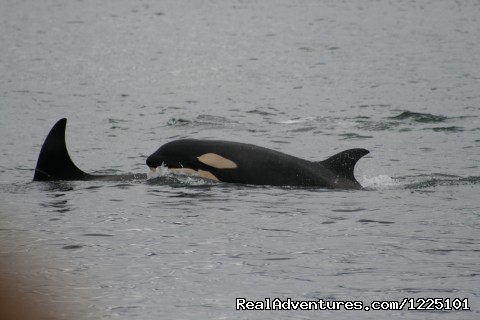 Want to meet some of the most famous real Alaskans? Here's your chance. The following people are happy to share their incredible experiences, stories, and expertise with you to help make your trip the true adventure of a lifetime. These are all custom trips and subject to the availability of our celebrities, so contact me if you want to discuss a particular date or rate. We also have other top notch marine biologists, photographers, naturalists, and interpreters available to you in other price ranges. Just let me know what you are looking for and I will do my best to arrange it for you.
Captain Greg
Bob Armstrong has written about and photographed nature in Alaska since 1960. His books include Guide to the Birds of Alaska; Alaska's Birds; and Alaska's Fish. In addition he has coauthored The Nature of Southeast Alaska; Alaska's Natural Wonders; Southeast Alaska's Natural World; Whistlers on the Mountains; Along the Mt. Roberts Trail in Juneau, Alaska; Dragonflies of Alaska; Dragons in the Ponds and Life around Mendenhall Glacier in Juneau Alaska. He has also authored and coauthored numerous scientific and popular articles on fish, birds, mammals, plants, and insects in Alaska. He has worked as a fishery biologist and research supervisor for the Alaska Department of Fish and Game and as an Associate Professor for the University of Alaska where he taught courses in fisheries and ornithology. Bob Armstrong currently lives in Juneau where he continues to photograph and write about the Natural History of Alaska.
Nick Jans is one of Alaska's most recognized and prolific writers. A contributing editor to Alaska Magazine and a member of USA Today's board of editorial contributors, he's written 9 books and hundreds of magazine articles, and contributed to many anthologies. His range includes poetry, short fiction, literary essays, natural history, outdoor adventure, fishing, and political commentary. In addition, Jans is a professional nature photographer, specializing in wildlife and landscapes in remote locations. He has been the recipient of numerous writing awards, most recently the co-winner of two Ben Franklin Medals (2007 and 2008) and a Rasmuson Foundation artist grant (2009). He currently lives in Juneau with his wife, Sherrie, and travels widely in Alaska. He returns each year to Ambler, the arctic Inupiaq Eskimo village in which he lived for 20 years, and the place he still calls "home."
Mark Kelley is one of Alaska's most published photographers with his images appearing as covers on more than 200 publications. He has created and published a series of books and calendars. To date, he has had ten photo books published featuring his images on Alaska subjects. Mark has lived in Alaska for more than 35 years and resides in Juneau with his wife,Jan, his two sons, Gabe and Owen, and family dog, Rosie. T
Flip Nicklin·Marine Biologist, Photographer National Geographic photographer and marine biologist Flip Nicklin is widely regarded as one of the world's leading photographers of whales and was named the NANPA Outstanding Nature Photographer of the Year in 2012. His majestic photos and amazing audio tracks of humpbacks and killer whales have been featured in numerous National Geographic magazines and television specials. Flip migrates with the humpbacks, spending summers in the Pacific Northwest and the Gulf of Alaska, and winters off Maui in Hawaii
Forest Wagner, Owner and Lead Guide, Tongass Mountaineering, LLC and Assistant Professor of Outdoor Studies at the University of Alaska Southeast. Born and raised in Alaska, Forest has been guiding since 2003. His climbing and guiding background include multiple climbs of Denali, Aconcagua, and various other high peaks in Alaska and internationally. At the university, Forest teaches interdisciplinary Humanities courses, and climbing, backcountry, and expeditioning skills courses. In his free time, Forest enjoys human powered adventure, a pursuit that has taken him to some of the most remote parts of the planet. See custom trips for other trips offered

Dr. Mary Willson has a PhD in ecology (Univ. of Washington); She is a retired professor of ecology (Univ. Illinois). 50 years of research experience; 21 of those years in Southeast Alaska
Authored over 200 scientific papers, and authored/coauthored several books, including Vertebrate Natural History, Beavers by the Mendenhall Glacier, American Dippers, Singer in the Stream.
Co-founder of field station Senda Darwin and of the nonprofit conservation/research organization Fundacion Senda Darwin in Chile.
for this listing.