"Asia Mountains" is a private company operating in Central Asia tourist market based in Bishkek, Kyrgyzstan. We have a government tour operator license.
Make Your Reservation Today »
Typical Day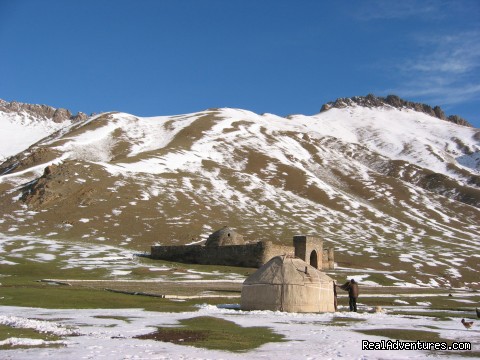 Day 1. Arrival to Bishkek. Accommodation in the hotel.
Day 2. Walk to the mountain gorge of Ala-Archa. Tour round the city: visiting of enormous Alatau Square, and may also visit the history museum or the state department store, where it is possible to buy beautiful Kyrgyz felt carpets and hats.
Day 3. Flight to Tashkent. Excursion round Tashkent. Visiting of monuments: an old city, madrasah Barrack Khan (XV century), constructed by descendant of Tamerlan, that was ruling Tashkent during Shajbanid dynasty, the mausoleum of Junus Khan, the mausoleum of Kafal ash-Shashi, where a tomb of this philosopher and doctor is located, he was living since 904 till 979 and received a dignity "sacred" among local population, madrasah Kukeldash (XVIII century), constructed in the middle of XVI century by brother of the governor (sometime building was used as a warehouse and a museum), an applied art Museum, a square of Independence, a square of Friendship of people, the underground, the State Academic opera and ballet theatre of A.Navoi.
Day 4. In the morning leaving for Samarkand. The trip will take 4-5 hours through small settlements and fertile fields. After arrival to Samarkand, accommodation in the hotel and after lunch walk along the streets of ancient city. Dinner will be at ethnic cuisine restaurant, where you have unique possibility to get acquainted with a traditional Uzbek cuisine.
Day 5. This day will be devoted to fantastic city of Samarkand. Excursion "heart of Samarkand" is - the Registan square (XIV-XVI centuries) with 3 well-known madrasahs: a sherdor of Ulugbek and Tillja-Kori, a grandiose cathedral mosque of Bibi-Hanum (XV century), a magnificent mausoleum of Gur-Emir (XV century) in which Tamerlan, his sons and grandson Ulugbek are buried, an observatory of Ulugbek (1420) - the known governor and scientist-astronomer, Shahi-Zinda (XI-XVIII century) –is a necropolis of governors and nobility of Samarkand, consisting of lots of perfectly well decorated mausoleums, an exotic Siab market.
Day 6. In the morning departure to Bukhara. Part of the way passes through the Kara-Kym desert. After arrival, accommodation in the hotel and after lunch excursion round the city. In the evening you will have unique possibility of learning how to cook a traditional Uzbek dish "Plov". Professional Uzbek cook will arrange for you small shows in which you can also take part. Then you'll receive a confidential recipe and a good advice how to prepare this dish in the homeland. During the dinner there will be a folklore show.
Day 7. Excursion round Bukhara: mazar Chashma-Ajjub (XIV-XIX centuries), a minaret and a mosque of Kaljan (XI-XVI centuries), madrasah Miri-Arab (XVI century), a complex of Ljabi-Hauz (XVI-XVII centuries), a mausoleum of Samanids (IX-X centuries), madrasah of Nadir Divanbegi (XVI century), an Ark fortress (VI-VII centuries), a minaret Chor-Minor (XVIII century). In the evening flight to Tashkent. Accommodation in the hotel.
Day 8. Transfer to Osh. The way lies through the legendary city of Fergana - in former times the capital of powerful state Davan. Crossing of the Uzbek-Kyrgyz border. Accommodation in the hotel.
Day 9. Excursion round the city of Osh: visiting of bazaar, walk along ancient streets, visiting of sacred mountain of Sulejman-Too. Excursion to the historical museum and local history museum, which is located in the cave of Sulejman-Too mountain.
Day 10. Driving along the road Osh - Bishkek to the tract of Chichkan river. The main road of the country passes through the ancient city of Uzgen, Fergana valley and directs to the mountains. Mostly it lies along the picturesque river Naryn, twisted like a wide blue tape and which runs into the Toktogul water basin. A variety of natural landscapes is replaced as in a kaleidoscope. Arrival to the cosy small guest house in gorge Chichkan.
Day 11. Transfer to Bishkek. Continuing of fascinating travel along the main road of the country through a high-mountainous valley of Susamyr, where for summer time Kyrgyz nomads place their yurts. Getting over Tue-Ashu pass and descent in the Chue valley. Accommodation in the hotel of Bishkek.
Day 12. Transfer to the Issyk-Kul lake. On the way visiting of historical-architectural complex of Burana Tower (ХI century). Accommodation in the guest house on the coast of the lake.
Day 13. Walk on a boat along the blue Issyk-Kul lake. Moving to the town of Karakol, that was built by Russian settlers at the time of imperial Russia. Accommodation in the guest house.
Day 14. Transfer to Bishkek. On the way stops for short excursions at southern coast of the Issyk-Kul lake.
Day 15. Departure to the homeland.
for this listing.