We are professional guides, based in Arusha, Tanzania, East Africa since 1998. We have been working with various tour operators and agents for many years. We realized that there is a disconnect between the price paid and the level of service deli...
Activity/Tour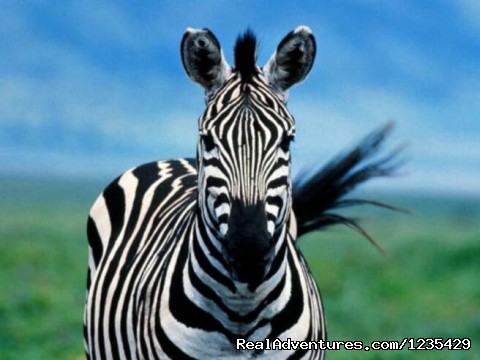 TRIP SUMMARY
Serengeti is a World Heritage Site with its great annual event whereby millions of the wildebeest and zebras migrate in search of water and greener pastures. This tour will allow you to have a close-up look at this wonderful, unique event. Four nights in Serengeti will allow you to experience the migration. One night in Manyara, two nights in Ngorongoro and one night in Tarangire Park will allow you to see the mammals of Tanzania, small and large, as well as birds and reptiles. Accommodations can be standard or luxury lodges, luxury tented camp or mobile special camps. You will enjoy and experience nature, wildlife, and view the habits and habitat of the fauna and flora in these unique natural areas.
TRIP PLAN: 10 DAYS - DAY BY DAY
Day 1: ARUSHA - MANYARA NATIONAL PARK
In the morning after breakfast at 9:00 AM, pick-up from your hotel in Arusha by our professional guide ready for safari and drive on a tarmac road for hundred thirty kilometers to arrive in time for a hot lunch. Enjoy an afternoon game drive in the park, home to giraffe, hippo, elephants, lions, zebra, buffalo, baboons, blue monkey, black-faced vervet monkey, warthog and more. See the fresh underground spring water coming from the Ngorongoro highlands to feed Lake Manyara year round. Three hundred fifty species of birds have been recorded in this amazing park. Dinner and overnight will be at Lake Manyara Serena Lodge, Eunoto Lodge, Kirurumo Tented Camp or Lake Manyara Hotel.
Day 2: MANYARA - SERENGETI NATIONAL PARK
Breakfast in Manyara. Enjoy game drive en route to the "endless" Serengeti plains, pausing for a picnic lunch. Continue with afternoon game viewing in Serengeti National Park hundreds of thousands of mammals, reptiles and birds cavort in natural splendor. Dinner and overnight stay at the lodge.
Day 3: SERENGETI NATIONAL PARK
Take an early morning game drive, returning to the lodge for breakfast and leisure time until lunch or take a morning game drive that returns in time for lunch. Go out again in the afternoon for a game drive until sunset followed by dinner and an overnight at the lodge.
Day 4: SERENGETI NATIONAL PARK
After breakfast, depart from the lodge for both morning and afternoon game drives. Remember this is the Serengeti Migration Safari and as Serengeti is very large, the distance for your game drive will depend on the movement of the migration. Your guide will know how to locate this amazing phenomenon. All meals will be served in your accommodations.
Day 5: SERENGETI NATIONAL PARK
After breakfast, take packed lunch with you for a full day game viewing in the wilderness, tracking the great migration trails. Witness this singular world event of which Tanzania is so proud to support. In the evening, return to your accommodations for dinner and overnight stay.
Day 6: SERENGETI - NGORONGORO
Following breakfast, depart to Ngorongoro with a game drive en route and a stop at the archeological site of Olduvai Gorge. There will also be time to visit a Maasai village and experience their culture. Continue to the lodge and arrive at the time for late lunch. Enjoy leisure time at the lodge, dinner and an overnight stay at either Ngorongoro Crater Lodge, Serena Lodge, Sopa Lodge or Wildlife Lodge.
Day 7: FULL DAY CRATER TOUR
Breakfast at the lodge then descend into the Crater for a full day Crater tour. We can arrange a hot lunch down in the crater if needed. Otherwise, enjoy a picnic lunch at a facility (with rest rooms) near a hippo pool. Ngorongoro Crater is the only place on Earth where you may be able to spot black rhino. Return to your lodge for dinner and an overnight.
Day 8: NGORONGORO - TARANGIRE NATIONAL PARK
Enjoy a game drive on the way to Tarangire after breakfast, arriving at the lodge in the time for lunch. After lunch, enjoy afternoon game viewing in the park where more than four hundred species of birds have been recorded and more than twenty-five hundred elephants are believed to live. Accommodation will be either Tree Tops, Swala Camp, Kikoti Safari Camp, Sopa Lodge or Tarangire Safari Lodge.
Day 9: TARANGIRE - ARUSHA - CULTURAL TOURISM
After breakfast, drive one hundred fifty kilometers to Arusha while viewing game en route. Arrive in town for lunch. After lunch, drive directly to the slopes of the second highest mountain in Tanzania, Mount Meru, for cultural tourism at Mulala village where you will be able to see how cheese is made locally from fresh milk. Then return to your hotel for dinner and an overnight stay.
Day 10: ARUSHA NATIONAL PARK - AIRPORT RETURN HOME
After breakfast, depart from the hotel to Arusha Park, going around the seven lakes of Momela to enjoy the very colorful greater and lesser flamingos. Picnic in the park and later drive to Game Lodge. Rest, shower and change clothes in a day room to prepare for your flight home later that evening.
for this listing.