SBH Hotel Pretoria is located in Lynnwood Road, Pretoria and has easy access to major highways. The Hotel has spectacular views of the Eastern Pretoria & surrounded by nature reserve.
Accommodations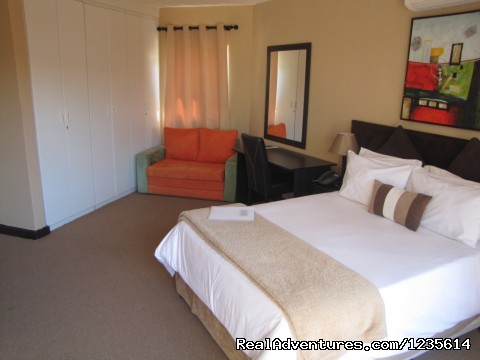 The SBH Hotel Pretoria offers twelve spacious, executive
hotel rooms
with en suite bathrooms, fully equipped with:
Crisp white linen
Air-conditioning
Flat Screen Television and DSTV
Coffee / tea making facilities
Wi Fi
Business Desk
Executive Boardroom
Swimming Pool
Spa opening Soon
Secure Parking
Same day laundry
Dry cleaning
Rooms/Suites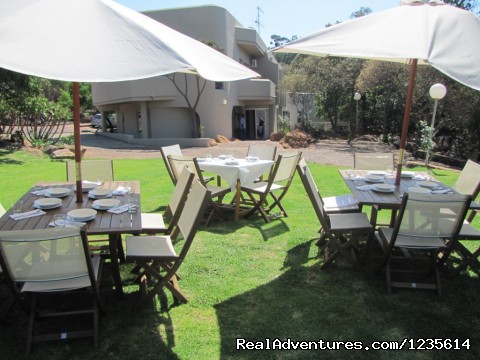 All room are equipped with en-suite bathrooms and or balcony or private garden.
Room service is available.
Services Offered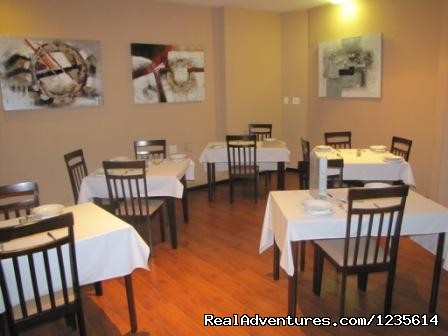 Room service
Same day laundry
Dry Cleaning (not always returned on the same day)
Daily house keeping
Daily clean towels
Policies & Restrictions
*No children under the age of 12 allowed in the
Hotel
*No Pets
*Smoking only in designated areas
*All November, Dcecember 2010 & January 2011 bookings are all non-refundable, there after our normal cancellation policy will take affect.
No alchohol is to be brought in. Alchohol may be purchased at our onsite bar.
Rates & Availability
November & December 2010
R500 per standard Room (2pax) - Breakfast Included
R550.00 per deluxe room - Breakfast Included
R600 per Junior Suite - Breakfast Included
R650 per Executive suite - Breakfast Included
R700 per Honeymoon Suite - Breakfast Included
R750 per Family Room (4pax) - Breakfast Included
Please note the Hotel has the right to change pricing at any time, plaese enquire before accepting the advertised prices.
Directions
Take the N1 direction to Johannesburg. Take the Lynnwood off ramp. Turn left towards "Die Wilgers Hospital". Turn right at Lynnwood Rd/M6 4,7 km. Turn right at Simon Vermooten Rd 90 m, Turn right at Denneboom Rd 200 m, Take the 1st left onto Wattle Crescent 200 m, Take the 2nd left onto Beuke Place
SBH Hotel Pretoria will be on the right 110 m
From N1 Johannesburg
Follow the N1 direction to Pretoria. Take the Lynnwood off ramp. Turn left towards "Die Wilgers Hospital". Turn right at Lynnwood Rd/M6 4,7 km. Turn right at Simon Vermooten Rd 90 m, Turn right at Denneboom Rd 200 m, Take the 1st left onto Wattle Crescent 200 m, Take the 2nd left onto Beuke Place
SBH Hotel Pretoria will be on the right 110 m
From OR Tambo international Airport
Take the R21 direction to Pretoria. After the Nellmapius off-ramp you will find the N1 Pretoria off-ramp. Take this off-ramp, going north towards Pretoria on the N1. Take the Lynnwood off ramp. Turn right at Lynnwood Rd/M6 4,7 km. Turn right at Simon Vermooten Rd 90 m, Turn right at Denneboom Rd 200 m, Take the 1st left onto Wattle Crescent 200 m, Take the 2nd left onto Beuke Place
SBH Hotel Pretoria will be on the right 110 m