Papa's Hideaway is a Key West bed and breakfast with all the charm of Hemingway's day, and all the conveniences of being a block off Duval. The perfect mix of location, atmosphere and value.
Email Owner For Reservations »
Amenities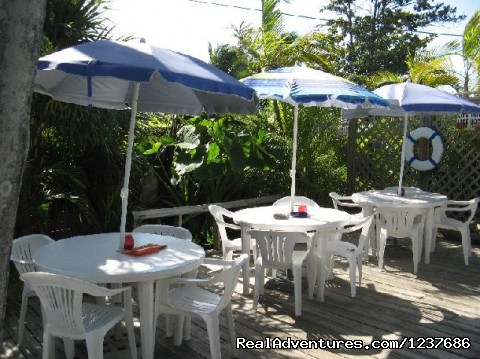 All of our rooms have a king bed, full or queen futon sleeper, private bath, private porch and kitchenette (with toaster oven, coffee maker, microwave, and refrigerator). We have cable TV and air conditioning. Each room is also stocked with shampoo, a hairdryer, an iron and ironing board, extra blankets and pillows, space heater, dishes (and dish soap). We are happy to do whatever we can to make your stay more enjoyable. Please ask us, if there is something else you need.
We include a nice continental breakfast in our room prices. Breakfast is set up by the pool between 8 - 10am and includes coffee, tea, juices, bagels, muffins, hard boiled eggs*, fruit, toast, cereal and oatmeal. Feel free to take something for later!
Because we have kitchenettes in all our rooms and a full kitchen in the cottage, guests can save money by having some groceries on hand. For a $5 service fee, we will pick up a grocery/liquor list for you and have it in your room for your arrival. *Please give us at least 2 days lead time, so we can coordinate it with shopping for the inn.
Our pool is heated. We keep the temperature around 85 degrees so it is delightful even on the cooler days.
Laundry facilities are available after 4pm at $3 load on the honor system. Includes detergent, wash, & dry.
Wireless Internet everywhere on the property. Surf the internet or check your e-mail from poolside!
For your convenience, SOBO Bicycle Rentals keeps 8 bikes on site, which you can rent from our office. They do a beautiful job of maintaining the bikes and keeping the equipment in great working order. The bicycles are all adjustable and come with a lock. The cost is $12 per 24 hours.
There is a gas grill available to all of our guests. It is located near the gate and can be moved anywhere on the pea stone. There are 4 table and chair sets as well as a bar table and stools, so there is plenty of seating for dining outdoors.
In our office, you will find a lot of information about local restaurants and attractions, as well as extra maps. Please feel free to ask about anything you are interested in doing - we may even let you in on a few local secrets!
Finish your book on the plane? Exchange it for one of our paperbacks or read one of the many hard-cover books you'll find in your room and the office. We also have audio books, if you don't even want to turn a page!
If you find that you've done too much walking, and now have blisters, stop by the office. We keep a light first-aid box, stocked with things like band-aids and aloe lotion (for mild sunburn). We also have the numbers handy, should you need more extensive medical help.
Bring your music! We have a CD player available, as well as other electronics. We probably even have a charger for your iPod or cell phone, if you've forgotten it.
Going on a kayak trip, or to one of the botanical gardens? Borrow our binoculars - you'll be surprised what you might see! We've seen lovely birds including herons and egrets, raccoons, and even iguanas!
for this listing.