Sleeping and meals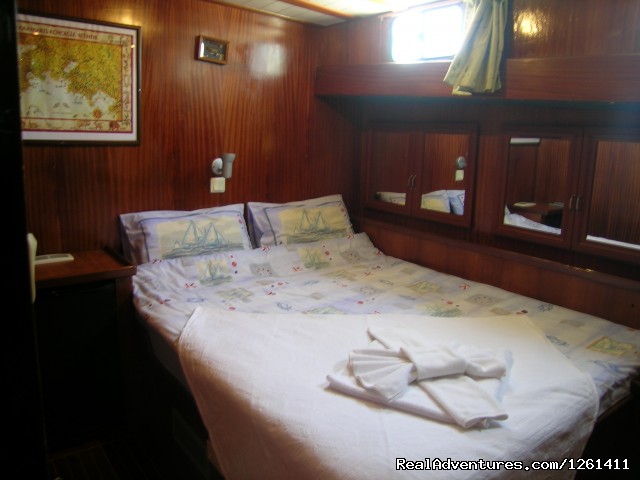 This page will tell you just about everything you could want to know about life on board one of our boats. If you can't find what you are looking for, go to the contact page and ask us.
ADVENTURE
Anybody who has had experience will agree that a blue cruise is always an adventure. You have to reckon with the forces of nature and battle with the elements. Once in a while there are inconveniences that can't be foreseen, the best attitude is to take things as they come and see what happens!
ARRIVAL
We can arrange transfers to and from the airport if you give us 15 days notice prior to your charter. If you prefer to arrange your own transfers we can provide directions to the harbour and boat.
BOATS
All Gullets are alike on the outside, but the fitting up on upper and lower decks can be very different. On the front deck, there are sun beds, in the middle there is a steering cabin and on the back there is a table with comfortable seats. The front is covered with a removable tent and the back is covered with a fixed tent. Downstairs in the middle there are cabins (each for two people), the kitchen and the crews cabin.
CLOTHING
Swimming suits and comfortable clothing. You don't need to fill your bags with stylish clothes, T-shirts can quickly be washed and dry quickly in the sun and the wind. During the summer it would be good to take a sweater with you for the evenings. In April, May, September and October it can be somewhat cooler, you had also better bring something in case of rain.
COMFORT ON BOARD
All simple comforts are available. In each cabin you will find a double bed, shower (hot/cold water), toilet, electrical outlets (12V - 24V - 220V), coolers, television (can be used only in marinas), radio / cassette player, round games and binoculars.
CREW
All Boats are hired with crew. The crew will consist of two or three people who are the captain, the sailor-cook and sometimes a deckhand. Passengers do not need any experience with handling the boat at all. Most of the crew speak English; some can speak French and German. Normally the crew will stay discretely in the background, but they are always available for a chat or sociable evening, glass of wine etc. Every need will be met and they will ensure that your cruise is as pleasurable as possible.
CRUISE
A word that sounds like music, for people who have sailed before it means much more. Life on board can't be compared with life in a hotel, it's a wonderful experience to live day and night like a miracle of nature on the Turkish coast.
DANGER
Boats are obliged to take precautions: Fire extinguishers, a lifeboat, life-jackets and emergency VHF (radio) are all provided.
DEEP SEA DIVING
There are lots of areas where diving is prohibited, that's why a guide is needed. We can arrange daily diving programs upon request. Snorkeling is a matter of interest.
DEPARTURE
Don't forget to reconfirm your flight two days before departure.
DURATION
The minimum period of hire is one week. For people who are new to living on a boat, one week makes a good introduction.
EXCURSIONS
You can make excursions whenever and wherever you want, in agreement with the captain. The captain can arrange transport and will be able to provide information about the possibilities, distance, prices etc.
FISHING
On board simple fishing equipment can found (for amateurs). If you want to use more advanced equipment, you will have to bring your own or hire it. In the evenings the crew can lay a net. It's always intriguing to see what has been caught in the morning.
FLIGHTS
Book charter flights like 'Flight only' or 'air camping' in a travel agency.
FOOD
If you decide to book a full board cruise, all meals are included. This does not mean you can't try a restaurant ashore when the boat is moored in a marina (not included in the price). Turkish cuisine is very good, all meals prepared on board are common Turkish dishes, the cook deserves full credit. There is no danger of diarrhoea. The water, as well as the food can be trusted. Until now neither guests nor crew have had any problems.
INSECTS
There can be mosquitoes and bees. It is advised that you bring relevant repellants or medication.
JEWELS & VALUABLES
There is no need to bring these with you.
LANGUAGE
The Turkish language is very different from European languages. You don't need to study it, most Turkish people in touristic areas can speak European languages. It's always pleasant for the crew if you know a few words in Turkish:
Good morning : günaydın
Good night : iyi geceler
Thank you : teşekkür ederim
Please : lütfen
Yes : evet
No : hayır
LIVING IN HARMONY
Living together with a group of people in relatively small space, such as a boat, is not always easy. Respecting each other and having a social attitude, is very important.
LUGGAGE
Do not bring hard cover luggage with you. There is not a great deal of space in the cabins. There is a small wardrobe, some space under the bed, and a cupboard in the shower / toilet.
MARINAS
There are many small marinas along the coast: Antalya, Ka, Göcek, Fethiye, Datça. The most important ones are Bodrum and Marmaris. Most gulets start their trip from one of these cities. Along the route it is not always possible to moor in a village or town, the distances are often too large. It can be very pleasent to lay in a secluded bay.
MEANS OF PAYMENT
Turkish currency can be bought in your country, or at the airport in when you arrive. However you will get the best exchange rate in change offices in town. Euro-cheques and traveller-cheques can be exchanged easily.
MOORING AT NIGHT
Mooring in quiet bays or in a marina both have their advantages and disadvantages. Mooring in a bay means feeling at one with nature, without distractions. You can often take lovely walks on the shore. The night is dark and quiet. Mooring in a village or town gives other advantages; you can try the restaurants, do some shopping, etc. The disadvantages are that you can't go swimming and it is often noisy.
OCCUPATION
Boats have capacities related to the number of cabins. It is not necessary to be with a group of the maximum size. People sometimes prefer to be in a smaller group.
PHOTOS AND FILMS
While never as beautiful as in reality, these are essential to preserve memories.
Pay attention: the seawater can damage expensive cameras.
Very useful: underwater cameras (disposable) to take pictures under water.
PROTECTION AGAINST SUN
It is very important to use products which protect you sufficiently against the sun, be very careful on the first few days. The combination of sun, wind, and seawater can be very dangerous.
READING MATTER
It is always useful to have a book or a magazine to read. You'll have lots of time to relax.
RELIABILITY
Experienced ones know better that the crew on board is also always 100% correct and reliable. There is never any danger of indecent assault or/ and theft.
ROUTE
The moment you hire a boat, you can negotiate over the route taken. If you enjoy spectacular natural surroundings, the route Bodrum-Marmaris-Fethiye is best. From Fethiye to Antalya the habbitat is monotonous, dry and very hot during the summer. However you can find a lot of unexplored ruins in this area. The route taken will also depend on other bookings of the boat. It is impossible to start your cruise in Bodrum, when the last passengers left the boat in Antalya.
SAFETY
All precautions must be taken. The captain will never take a risk when the weather is not good. The captain takes the utmost care for his boat and that is why he may not agree to some (dangerous) wishes of his passengers. Sometimes the boat must sail out very early to avoid strong winds. The crew have experience with local weather conditions.
SAILING
The boats can sail if there is enough wind. The crew have experience with the coastline, sea and the wind in this area. You can ask to sail, the captain will make a decision based on the conditions at that time. Your safety must come first.
SEA SICKNESS
The boats do not sail in the open sea very often. The route will normally follow the coastline. The sea can be rough if there is a lot of wind so if you are prone to becoming sea sick, you should bring medicaion just in case.
SHOES
It is important to bring sports shoes or sandals with you. If you decide to take a swim to land, you will need some protection against sharp rocks and hedgehogs. No shoes are worn onboard, this is to avoid damaging the deck.
SHOPPING
In all marinas there will be some kind of market. The most interesting towns for shopping: Marmaris, Bodrum, Antalya, Fethiye and Ka. You will find the same types of goods in all of these areas, generally: jewels, carpets, copper, onyx, leather and so on.
SLEEPING
Whether you lay in your cabin or on deck, the motion of the sea will gently rock you to sleep. On deck, it's a wonderful experiance to wake up with the sun.
SPORT FACILITIES
Around the boat: Swimming and snorkeling, surfing, fishing (There is simple fishing equipment on board), sailing (Our boats are motor-sailors). On several beaches almost all water sports can be found and all equiptment can be rented.
SUN, SEA & SWIMMING
Are the most important ingredients of a Gulet cruise
SWIMMING
Being able to swim is not necessary to take a cruise. But if you want to enjoy the snorkeling, surfing, water-skiing etc; it is best that you can.
TELECOMMUNICATION
There is a board radio on board for emergencey use. The boats also have a mobile phone, so you can always reach someone or be reached (If you want to be).
TEMPERATURE
The Turkish coast has a very pleasant climate. You can cruise from April until the end of October. During the summer (from June to the end of September) it can get very hot. Living on boat has a big advantage. The heat is never so hard to bear as on land and there is always a pleasant breeze.
TIPS
It's normal to give a tip to the crew once the trip has finished. It is the same for the drivers when you make a journey in a car. You should decide for yourself how much to give.
TOWELS AND LINEN
You will find a towel and a set of bed linen in your cabin. But you should bring a few large towels with you, which are useful for sun bathing and after swimming.
WELCOME
The most important thing for our boats and their crew is that you feel welcome, relaxed and that you enjoy your holiday.
WORK ON BOARD
Passengers don't have to do anything on board; the crew do it all. This does not mean that you can not help cooking, sailing... when YOU want to.
Watch Video
for rates & availability for your travel dates.
for this listing.