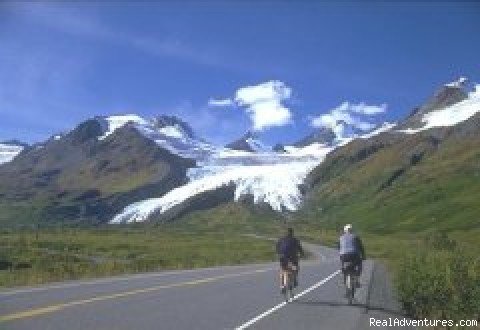 Anchorage, Alaska Bike Tours
Very inclusive seven to twelve day tour packages provide all meals, lodging, glacier cruises and Cannondale bicycles. Three different difficulty levels insure that almost everyone can find a comfortable active vacation in Alaska.
4.2/5 Stars --
Active Adventure

Activities range from bicycling, hiking, canoeing, kayaking, fishing and more depending on the tour you choose! We enjoy and explore many regions of Alaska including, the Kenai Peninsula and the vast interior. Most of our tours take you far enough north to see the Alaska Range and the two largest mountains in the United States, Mt. McKinley and Mr. Foraker. We also explore the Yukon and Prince William Sound.

Typical Day

We wake up at approximately 8:00 and enjoy a wonderful breakfast prepared by the lodge's chef. Talks of the day's activities and yesterday's triumphs are shared between guests and guides. After breakfast we'll mount our bikes and enjoy miles of amazingly beautiful scenery; pristine mountains and wide river valleys await your view. Ahead you notice the support van, as you ride closer you become aware of the lunch that's been prepared for you by your guides. After lunch you'll ride through passes, between glaciers, and ultimately become awed by the magnificent nature that is Alaska! After the days ride, your effort will be rewarded with a delicious meal and friendly conversation. Retiring for the evening, you dream of the pleasant guides and tomorrow's adventures!

Map & Directions




907 E. Dowling Road, #29, Anchorage, Alaska 99518



Rates & Availability

Bicycle Alaska Tour, 8 Days, 8 Nights - $2495

Alaskan Adventure Tour, 7 Days, 7 Nights - $2395

Arctic Ocean Ride of Pain, 11 Days,11 Nights - $2795

Hike & Bike Alaska, 8 Days, 8 Nights - $2495

Kenai Peninsula Combo, 7 Days, 7 Nights - $2495 + Fishing

ALCAN Highway Expedition 12 Days,12 Nights - $3295

Klondike Adventure Tour 8 Days, 8 Nights - $2445

*Please

contact advertiser

for rates & availability for your travel dates.