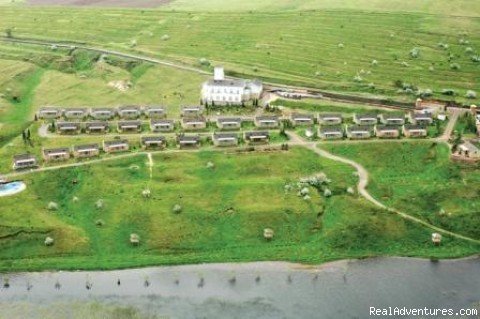 Somova, Tulcea County, Romania Hotels & Resorts
With a breathtaking view of the spectacular mosaic of land and water that comprises the Danube Delta, the Delta Nature Resort is the first 5 star deluxe nature resort in this unique wilderness destination.
From $350 / night
Surrounding Area

A 'World Heritage Site', the Danube Delta of Romania is considered to be one of the richest and most diverse nature reserves in the world. Spread over 580,000 hectares, the Danube delta was declared a National Biosphere Reserve by the UNESCO in 1990. A paradise for naturalists, the Delta is made up of a complex system of channels, lakes, sandbanks and forests, and is home to more than 5,500 species of flora and fauna.

The pristine beauty of the Danube Delta, coupled with its rich bird, animal and plant life makes it the ideal destination for nature lovers, birders, anglers, and eco tourists. The area is also an ideal 'get-away' for the increasing number of travellers whose primary motive is to escape from hectic city life to a calm and secluded natural environments.

The Danube Delta is also probably the finest location in Europe for ornithologists who travel here from all parts of the world to experience its rich and unique bird life. It is home to more 325 species of birds which include 60 percent of the world's population of Pygmy Cormorants, the largest European colonies of the White and Dalmatian Pelicans and more than half of all the Red Breasted Geese in the world. The reserve is a winter breeding ground for over 80 species of birds from Asia, Africa and Northern Europe.

For anglers, the lakes and channels of the Delta offer year round sport with more than 150 species of fish including Carp, Pike, Zander, Perch , Cat Fish and the Royal Sturgeon.


Accommodations

Accommodation

Designed for premium comfort in natural surroundings, the Delta Nature Resort has 30 en-suite luxury villas. Each villa has a separate bedroom, living room, entrance lobby, airy bathroom and a large wooden patio. The villas are equipped with a mini-bar, tea and coffee making facility, wine rack, fresh fruit basket. cable television, wireless internet, individual temperature control and fireplace. The bathrooms have a bath and a shower, heated towel rails and a fine selection of premium toiletries. The spectacular views from the cottages stretch over the vest expanse of the Delta's landscape, a fascinating mosaic of land and water.
Constructed to represent a typical Romanian fishing village, the villas are furnished by local artisans who have skillfully blended traditional with modern comfort in pristine natural surroundings.


Map & Directions

Delta Nature Resort, Somova-Parches, Km 3, Tulcea , Somova, Tulcea County, Romania

Points of Interest

Explore the Wild Danube at Delta Nature Resort

Delta Nature Resort, Somova-Parches, Km 3, Tulcea , Somova, Tulcea County, Romania

Nearby Attractions and Services

| Distance | Description |
| --- | --- |
| 0 kms | Danube Delta Biosphere Reserve |

Rates & Availability

| Date | Low | High | Notes |
| --- | --- | --- | --- |
| $ 200 to $ 300 | 0.00 | 0.00 | Per person,night full board |

*Please

contact advertiser

for rates & availability for your travel dates.