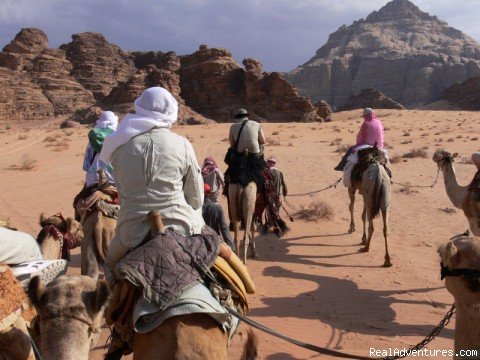 Amman, Jordan Eco Tours
Labeduinatours: to give you the opportunity to experience a different way of life whilst we actively promote the sustainable development of local communities and responsible tourism. La Beduina Eco Tours & Travel Jordan
2/5 Stars --
From $30 / night
Activity/Tour

La Beduina is a unique project with an exceptional aim. It is an exciting and exhilarating way to make a real contribution to the Bedouin communities of Jordan, Moslem & Christian ( responsible Tours) whilst experiencing their ancient way of life first hand. La Beduina to you is this: could you give up your modern lifestyle for a week and trek through the glorious, unspoilt deserts of this beautiful country in the way it was meant to be seen – from the back of a camel , Horse , Jeeb or bus ? At every stage of our journey, we will be staying with true desert families in their own tents, houses, hotels and will be travelling on camels, horses or jeeps owned by the same people. You will really be getting off the beaten track and plunging into the red and gold-hued desert heart of a country steeped in history and myth. There can be no better escape from the frantic pace of modern life than to stride out into the peace, silence and endless horizons of the Arabian desert – where ancient traders followed the spice and silk routes and where Lawrence of Arabia lost his heart and inspired countless legends. You well be accompanied by a local guides who will be able to give those who desire it more detailed information about the history, geology, politics and traditions of the area and we will be sure to include some of the historical high-lights of the country on our tour – not least of which a trip to the ancient city of Petra.

Typical Day

Participants will be expected to take an active part in our trip. The aim will be physical but also mental, as we invite you to get behind the stereotypes and misconceptions about the Arab way of life. You will learn first hand about the Bedouin customs, education, religion, tribal law and customs. La Beduina Tours offers a wide variety of exciting treks and services, hoping to have visitors return home with Jordan in their hearts.

Map & Directions

P.O. Box 3556, Amman, Jordan 11821

Points of Interest

Experience a different way of life.

P.O. Box 3556, Amman, Jordan

Rates & Availability

If you require any further information or details about our tours, prices, or any particular sights we will be happy to provide it for you.

*Please

contact advertiser

for rates & availability for your travel dates.