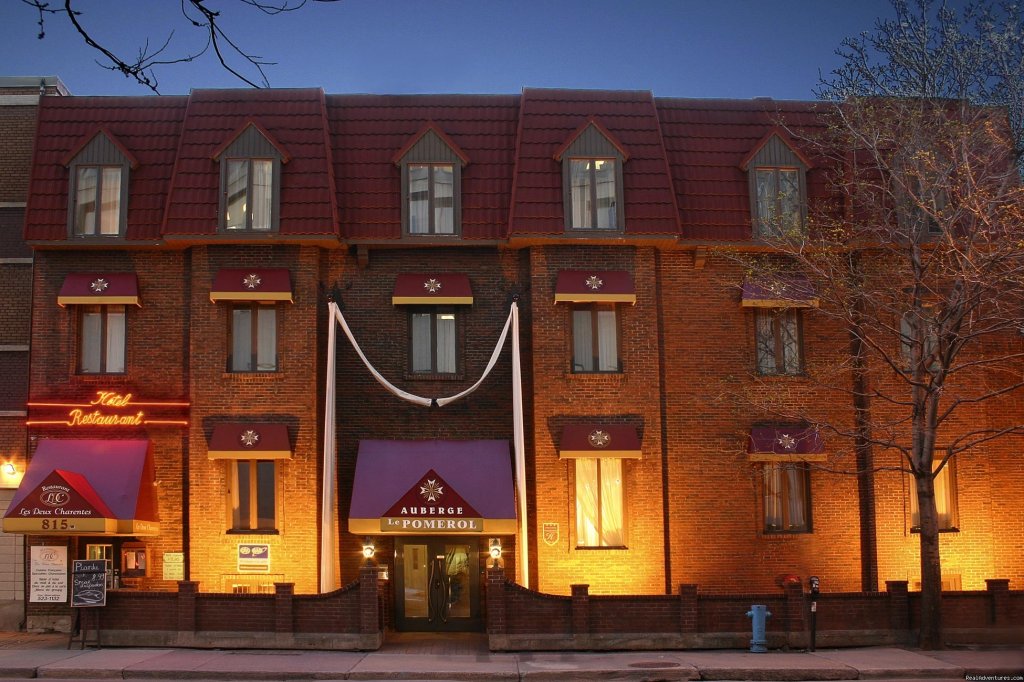 Montreal, Quebec Bed & Breakfasts
The Hotel Le Pomerol with its ultra-design décor filled with finesse and warmth is a real jewel of style and elegance. As you will pass our doors, calm and well-being will overtake you.
5/5 Stars --
From $105 / night
Surrounding Area

Amusement Park, Antique Shopping, Art Galleries, Casino, Concert venue, Gourmet/Fine Dining, Historical interests, Live Music, Movie Theater, Museum, Nature area, Performing Theater, Picnic area, Religious Services, River



Accommodations

The Auberge put at your disposal many services and added values that strengthen the accuracy of your trust in us.

Continental breakfast
As you have requested, the continental breakfast is back. Start your day by enjoying a tasty croissant, muffin or pastry(viennoiserie), yogourt, cheese, marmalade, butter, orange juice and coffee all delivered to your room in a nice basket. You have also the opportunity to take it in our small dining room.

The Petrus Lounge
You will absolutely fall for our ''Petrus'' Lounge, where a gorgeous stoned fireplace and our cozy warm-coloured lounge chairs invite you to sit back and relax. Juste beside this hearth of emanating heat, you can surf on the internet at the station put at your disposal, a courtesy of the hotel. For either taking news of your loved ones, to read a good book or just relaxing while admiring the flames, the hotel offers you a peaceful sanctuary. Newspapers of the day are also available to keep you well informed.

Snacks
An assortment of 10 gourmet coffees (espresso, cappuccino, moka, hot chocolate, etc) accompanied with delightful snacks (crackers, cheeses, cookies and fresh fruits) are gratuitously proposed in our small dining room between 3h00 pm and 11h00 pm. To satiate any little raging hunger.

Energy Cardio Gym
Our guests have access to a fully equipped sport center with our membership (weight training and cardiovascular equipment).

Internet
Our guests appreciate being able to connect the web with the wireless internet network anywhere in the hotel, either in the room, the conference room or the Petrus Lounge. A courtesy of ours.

Guaranteed Parking Spaces
Parking spaces are available for all our guests, at the rear of the hotel, in a public parking lot, under camera surveillance. The rate is 14$ per day for room clients and 8,50$ per day for meeting clients.

Conciergerie Service
No other hotel mirrors the city's charm, style, and personality better than the Auberge Le Pomerol. Located in the heart of Montreal , a whole lot of tourist events are taking place nearby. We are here to make your trip easier. You will find our friendly and knowledgeable staff ready to assist you at all times in planning your day. We provide you with guides, walking maps and brochures in our présentoir settled for that purpose. Furthermore, you can now buy your tickets directly from the Auberge for a city tour, a cruise, the Museums, etc.

With our proximity to the Berri-UQAM Metro Station, any destination outside walking distance is just minutes away! Whether it's activities, sightseeing, or business meetings that fill your day, we set the tone for a flawless day. Come and experience Montreal 's diversity.





Map & Directions

819, de Maisonneuve Est , Montreal, Quebec H2L 1Y7

Directions from airport:
From Dorval Airport: Highway 20 East toward Montréal centre-ville, autoroute 720 East exit, rue Berri. Turn left onto rue Berri and continue to boulevard René-Lévesque, keep right until rue Saint-Timothée, then turn left onto boulevard de Maisonneuve. Continue to 819 de Maisonneuve East.


Points of Interest

A real jewel of style and elegance

Rates & Availability

| Date | 105.00 | 155.00 | Double occ. |
| --- | --- | --- | --- |
| May 1- October 31 | 144 | 203 | Double occ. |

You need to call to get these last minute special offers.

*Please

contact advertiser

for rates & availability for your travel dates.