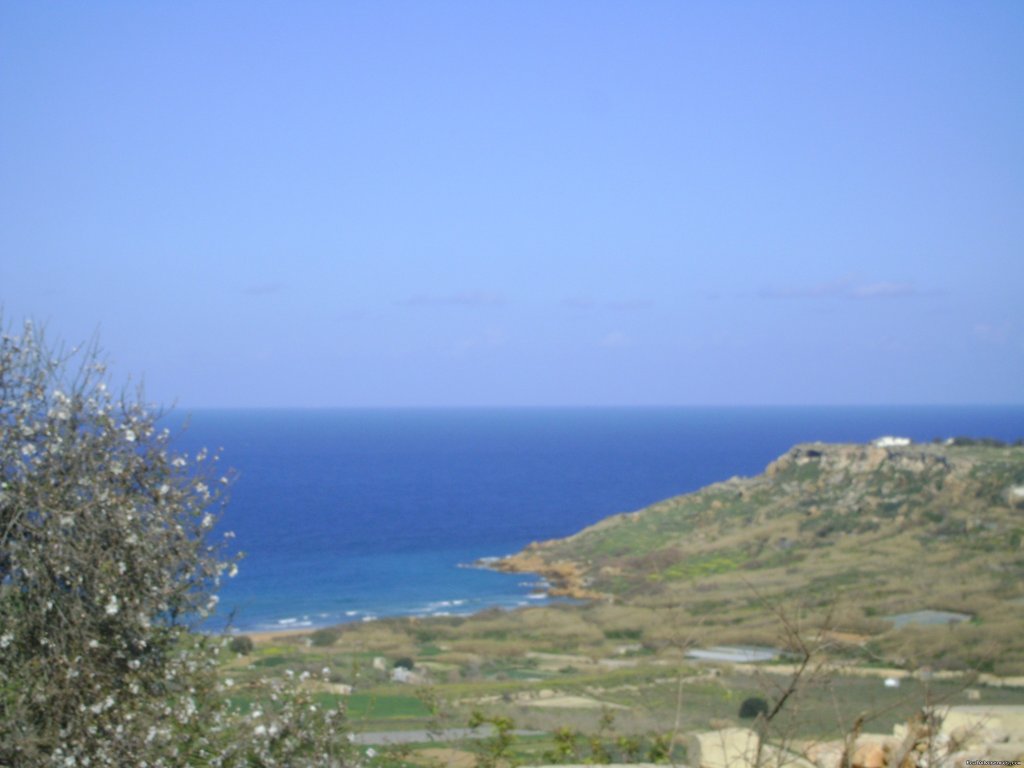 Xaghra, Malta Bed & Breakfasts
We offer three bedrooms with private amenities in a very quiet area in Xaghra Gozo Malta. The property is very well finished and is situated overlooking the unique bay of Ramla. Very nice views of the countryside. The bus stop is within 2 minutes.
4.9/5 Stars --
From $19.80 / night
Surrounding Area

Gozo is the second largest island of the Maltese archipelago. The population is about 25,000. Most tourists who visit Gozo fall in love with it, and usually return for longer holidays. Compared to Malta, Gozo has a more rural way of life and the locals enjoy a less hectic life style. It is known as the island of Calypso.
Gozo is about 5 km to the North West of Malta. This distance involves a 25 minute ferry crossing which is really enjoyable especially in summer. Ferry services are frequent and reliable. Gozo enjoys warm summers and mild winters and this makes it an ideal holiday destination all year round. In winter/spring the landscape offers a green background with colourful flowers while in summer the brown fields contrast the blue sea. On sunny wintry days walking to destinations has an added value and is recommended. On the other hand in the hot summer days a car would be an asset.
Xaghra lies on a hill in the north east of Gozo. It is about 4 km away from the main town,Victoria. It is one of largest villages in Gozo and is very well serviced by public transport. Within walking distances you can find supermarkets, restaurants, pharmacies and churches. It is a well known tourist destination.

Some interesting places in Xaghra (all within short walking distances from Tat-Torri:

Calypso's Cave
Ggantija Temples
Kola Windmill
Museum of Toys
Ninu's Cave
Stone Circle
Xerri's Grotto

Accommodations

Situated in an alley in the quiet Nazzarenu area, Xaghra, Tat-Torri Bed & Breakfast is easily accessible. The building was finished in 2005 and has been converted into three highly furnished rooms. For breakfast we offer a selection of breads, marmalades/jams, juices, cereals, cakes as well as coffee and tea. In the breakfast room there is fridge which can be used by guests and wine is provided by hosts at no charge. We do not offer any meals but within 10 minutes walk from Tat-Torri, in the Xaghra main square, there are restaurants and bars offering a variety of dishes from typical Maltese food, traditional pizzas/ftiras to Asian cuisine. Tat-Torri is within walking distance to all main attractions in Xaghra. This Bed & Breakfast is non-smoking and pets are not allowed.

Map & Directions

Tat-Torri B&B, Xaghra, Malta XRA 2406

Follow directions to Xaghra and then to Ramla Bay. As soon as you arrive next to the Nazzarenu Church follow to Gajdoru Street and take the first alley on the right (accessible only by walk). If in difficulty phone when you arrive to Nazzarenu church either 21565348 or 79254215

Points of Interest

Relaxing getaway at Tat-Torri B&B in Xaghra Gozo

Triq Ta Gajdoru, Xaghra, Malta

Nazzarenu Church

Triq Ta Gajdoru, Xaghra, Malta

Nearby Attractions and Services

| Distance | Description |
| --- | --- |
| 0.8 km | Ggantija Temples |
| 1.3 km | Ramla Bay |
| 1.2 km | Xaghra Church and main square |

Rates & Availability

| Date | Low | High | Notes |
| --- | --- | --- | --- |
| September 12, 2010 to Dec 31, 2011 | 19.80 | 19.80 | per person per night 2 sharing/ extra bed 18 euros |

Prices

Prices

All Year

€18 per person per night

Children under 6 pay half the rate

All prices include Bed and Breakfast

Prices

Prices

All Year

€18 per person per night

Children under 6 pay half the rate

All prices include Bed and Breakfast

For stays of 15 days or over 10% discount is applicable

*Please

contact advertiser

for rates & availability for your travel dates.