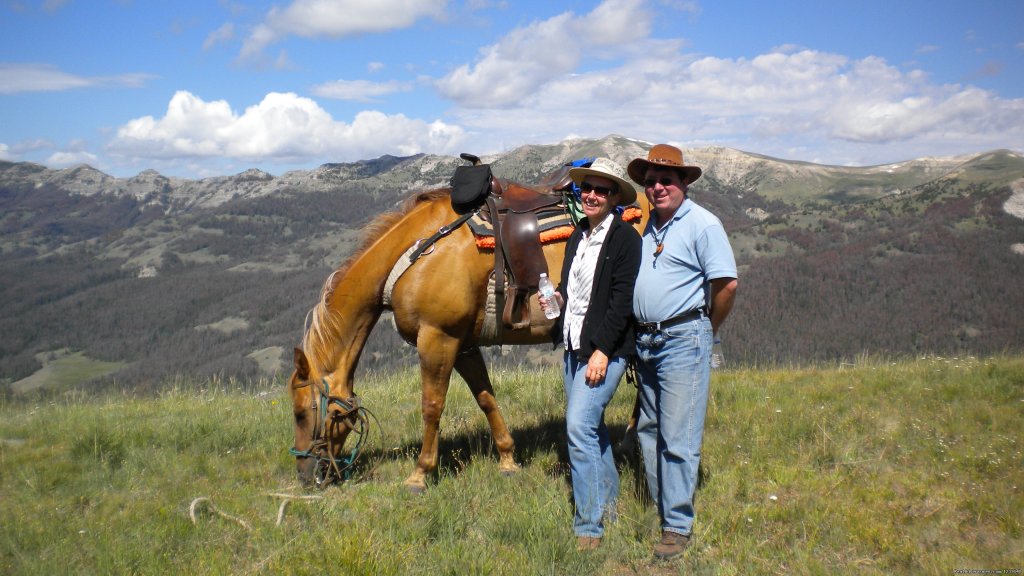 Dubois, Wyoming Horseback Riding
For the adventurers wanting a hands-on camping and horse riding experience, we offer horse packing and fishing trips near beautiful Jackson Hole and Yellowstone National Park, Wyoming. We offer progressive pack trips as well as a luxurious base camp.
5/5 Stars -- 4 Reviews
From $1000 / trip
Active Adventure

Our wilderness trips offer an adventure like none other all in one location. Fish, swim, hike, ride, photograph, boulder or just laze around the camp.

We offer two types of trips:
Base Camp Rides: A drive in camp with all the amenties: hot shower, fresh spring water, dining tent, large canvas sleeping tents with raised cots to sleep on a wood burning stoves to keep you warm. Spend your day horse riding, hiking, exploring caves, fishing, swimming or reading a good book.

Progressive Pack Trips: We use pack animals to transport gear to the real back country. Ride horses over rolling hills, pine forested mountains, steep craggy trails and sage brush flat lands. We have special trips geared towards fly fishing and others for more riding and wildlife viewing.

Map & Directions

Dubois, Wyoming 82513

Points of Interest

Bear Basin Adventures Outfitting

Dubois, Wyoming

Nearby Attractions and Services

| Distance | Description |
| --- | --- |
| 100 miles | Yellowstone National Park |
| 86 | Jackson Hole, Wyoming |

Rates & Availability

| Date | Pack | Base | Notes |
| --- | --- | --- | --- |
| Adults | 260 | 250 | per person per day |
| Children under 12 | 195 | 187.5 | per child per day |

Adults:

Base Camp: $250 per person per day plus a 15% service charge for taxes and gratuities.

Pack Trips: $260 per person per day plus a 15% service charge for taxes and gratuities.

Children under 12 receive a 25% discount.

A Combination Trip: July 11-16, 2015. Book before January 31st and receive $50 off per person.

*Please

contact advertiser

for rates & availability for your travel dates.