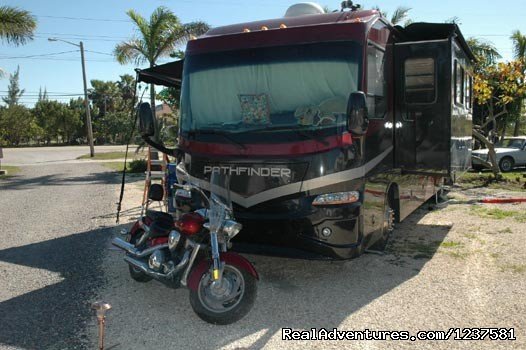 Orlando, Florida Campgrounds & RV Parks
Coast down the magnificent Keys Highway to Mile Marker 30 where you will find a little piece of Paradise called Breezy Pines RV Estates. This unique gem will fascinate RV Enthusiasts and road-warriors of all types.
Surrounding Area

Big Pine Key is an island located in the Florida Keys, a 100 mile string of islets which extend south west from the southern part of the state of Florida in the United States.
The islands are connected by a scenic road and around 50 bridges. This is called the Overseas Highway.
Big Pine Key is home to the National Key Deer Refuge which was established in 1957. This sanctuary was created as a refuge for the endangered Key deer, which were almost non-existent, by the 1950's due to hunting. The deer roam freely around the island.
The most beautiful beaches in the Florida Keys are located at Bahia Honda State Park. Located just 5 miles from Big Pine Key, Bahia Honda is a great place for the family to spend a day with a picnic in the sun.
The Florida Keys are flanked on the south by a living coral reef. Off shore of the Big Pine Key area is Looe Key Marine Sanctuary, a major destination for divers and snorklers who wish to experience the underwater realm.
Just 30 miles south of Big Pine Key is Key West, now a major tourist attraction drawing millions of tourists a year. Key West is the last island on the Overseas Highway and has the distinction of being the southernmost point of the continental United States. The size of the island is 1½ by 3½ miles. Tourists flock to Key West in automobiles, cruise ships, and airplanes to experience its quaint charm with its unique style of island architecture and its eccentric artistic lifestyle. The island is buzzing with activity with its proliferation of bicycles, scooters, tourist trams and wandering tourists.

Map & Directions




Orlando, Florida



Rates & Availability

Winter Rates:

$50/day

$350/week

$1250/month

SUMMER RATES:

$35/day

$250/week

$650/month

Winter Rates:

$50/day

$350/week

$1250/month

SUMMER RATES:

$35/day

$250/week

$650/month

*Please

contact advertiser

for rates & availability for your travel dates.