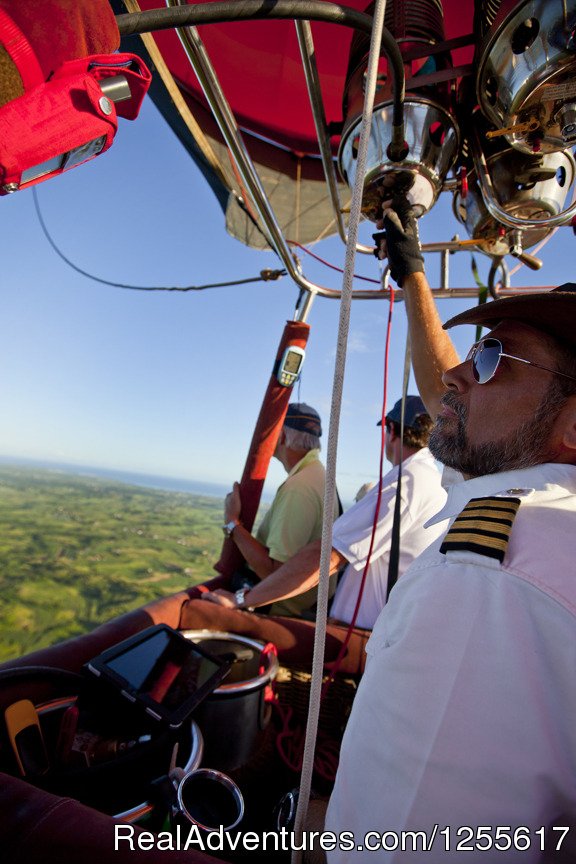 Lebanon, Ohio Ballooning
All flights are approximately 1 hour in the air, but plan about 3 hours with us for the entire Hot Air Balloon Experience! Flying safely for over 35 years! Our FAA pilots have logged over 10,000 hours combined!
From $179 / trip pp
Active Adventure

Shared basket hot air balloon flight reserve flights for you and your group with others sharing the same flight in one of our balloons. Pending the number of guests who reserve the shared rate will designate what balloon basket you will be in.
Balloon baskets are size according the number passengers it will carry, from an open sport basket to our compartment ride baskets. (No matter what the basket size each person will have the same cozy space.) These ride baskets are designed with safety first, feature compartments, higher sides & padded side walls for comfort of our guests as well as providing functionality. Flights usually originate from our primary location - Warren Co. airport, Lebanon. Passengers will have a bird's eye view of Warren County and surrounding suburbs. Enjoy complimentary bottle water & soft drinks, champagne available for passengers over 21 post flight with souvenir champagne cups. Flight certificates & non-alcoholic sparking are available upon request.

Typical Day

Balloon Flights operate 2 times, daily. Flights depart at sunrise or 2 hours before sunset. Allow 3 hours for the entire experience.

For morning flights, the flight information message is updated at 9pm EDT (8pm EST - when not observing daylight savings time) the EVENING PRIOR to your flight.

For evening flights, the flight information message is updated at 3pm EDT (2pm EST - when not observing daylight savings time) the SAME DAY of your flight.

Please pay attention to the outgiong message on the flight line to ensure it regards YOUR flight (not the prior flight)!

Map & Directions

2460 Greentree Road, Lebanon, Ohio 45036

Points of Interest

Gentle Breeze Hot Air Balloon Company

2460 Greentree Road, Lebanon, Ohio

Cincinnati Location

4917 Cooper Rd, Cincinnati, OH 45241, USA

Rates & Availability

Gentle Breeze Offers 3 types of balloon rides....

Shared basket will be with other guests and flights confirmed once minimums met, generally four total confirms a flight, optionally guests asked to pick an alternate time in order to meet minimums. $179 Weekdays/$199 Weekends.

Standard baskets provided with a slight upgrade and removes the minimum booking requirement. Baskets may or may not be with others. $209 Weekdays/$229 Weekends

Private Baskets guarantee no additional guests, just your group, providing that intimate experience. $279 Weekdays/$299 Weekends

*Please

contact advertiser

for rates & availability for your travel dates.