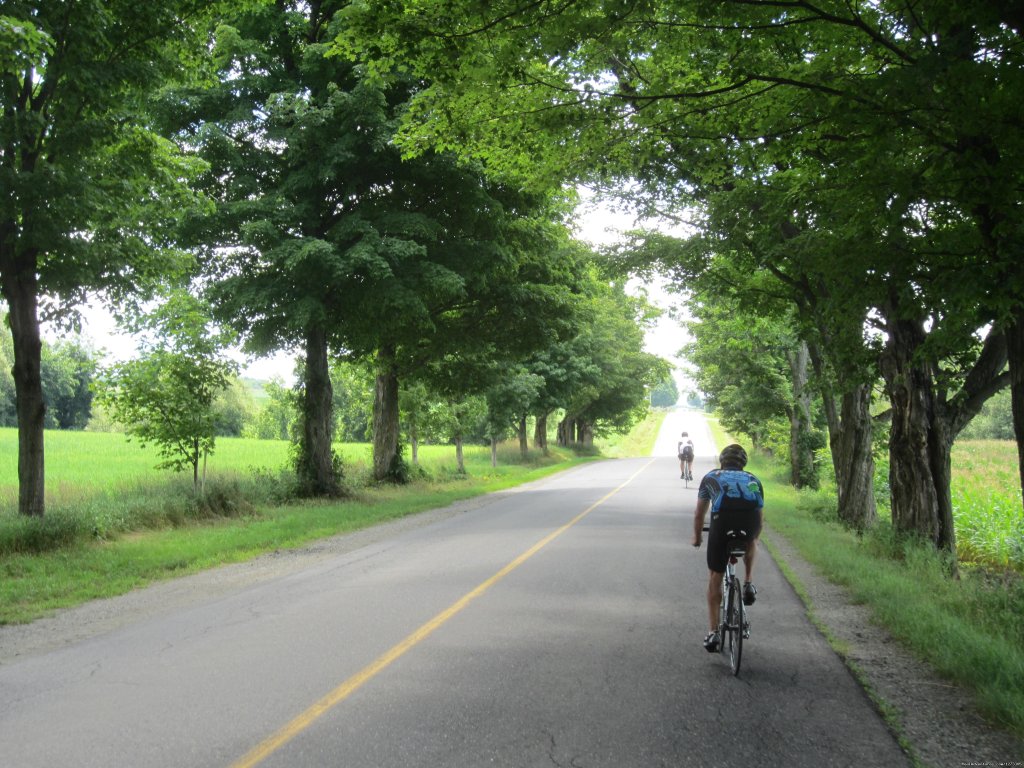 Eastern Townships, Quebec Bike Tours
Moderate. Seven days. Hilly cycling through Québec's lovely south, with luxurious lodging, outstanding cuisine and the prettiest forests and farmscapes in Central Canada.
From $2,223.42 / trip
Active Adventure

The Eastern Townships of Québec combine the convenience of access from Montréal with the true pleasures of québecois tradition and culture, and a largely anglophone culture. Outstanding cuisine is being discovered, and the quiet roads, charming towns and green pastures are a perfect canvas for this exquisite holiday. The flavours and luxuries will pervade your senses and lead you to a deep appreciation for the townships, known locally as L'Estrie. Starting in the vineyard region near Dunham, you will ride through woods and villages past stone churches toward Sutton, and can stop for great bowls of café-au-lait and rich croissants at a fabulous bakery on the way. At L'Abbaye St-Benoît-du-Lac, you can try the cider and cheese made by monks in their picturesque lakeshore monastery. Circumnavigating Lac Memphremagog, you will enjoy splendid views on your way to a particularly luxurious final two nights, where the dinners are among the most highly rated in Canada. Transfers back to Montréal or other connection points will be available on the final day. Be careful! Not only will this adventure spoil your palate for things more mundane, but the local joie-de-vivre easily rubs off on visitors, and is likely to send you to new heights of lively appreciation for all the Townships have to offer.

Typical Day

If you want to travel with van support and cheerful, caring guides, and have most of your meals included, a guided trip is the best choice for you. Your luggage is carried for you, and on most days, the guide(s) will pass you in the support vehicle frequently to offer you snacks, drinks, and opportunities to catch a lift. The groups usually congregate for picnic lunches and special affairs, but otherwise tend to spread out along the route during the day, each rider choosing his or her own pace. Because you will be sharing your holiday with other adventurers likely to have a few things in common with you, your evening dinners become enriched by shared stories and entertainment, and you may make friends who will share your future adventure plans.

Map & Directions

Montreal, QC, Eastern Townships, Quebec

Points of Interest

Quebec: Eastern Townships - Freewheeling Adventure

Montreal, QC, Quebec

Dunham

Dunham, QC, Canada

Lac Brome

Brome Lake, QC J0E, Canada

Magog

Magog, QC, Canada

North Hatley

North Hatley, QC J0B, Canada

Rates & Availability

Guided Cost: $2795 - per person, includes:

7 days

6 nights

6 breakfasts

3 lunches

5 dinners

luggage handling

maps and route notes

van and full-time guide

Self-Guided Cost: $2495 per person - includes:

7 days

6 nights

6 breakfasts

2 dinners

luggage transfers

maps and route notes

essential transfers

emergency support

Rewards apply to any guided trip as advertised, booked directly with Freewheeling. They are not applicable to self-guided, self-supported, private or customized trips, or new departures requested less than six months in advance unless they fill (10ppl+). They can be combined with each other without limit, but cannot be combined with any other discounts, prizes, or rebates.

Referral Rewards

If you have referred new customers to book directly with us since your last Freewheeling Adventure, you are entitled to a reduced cost. Each new guest who mentioned you as a referrer will allow you $125 off your next trip in the same season. Qualifying referrals apply to new guests, excluding family members, who have never traveled with Freewheeling before, and who identify you as 'where they heard about FA'. They apply to your next payment once they have confirmed a scheduled guided trip of five days or more. You can ask your referrals to tell us you recommended us, or you can simply give us their name and contact details yourself. Unless they are already on our list, we will send them our invitation, and once they book, can apply the credit to your next adventure. Please claim the reward when you reserve your next trip, or before your final balance is due.

*Please

contact advertiser

for rates & availability for your travel dates.