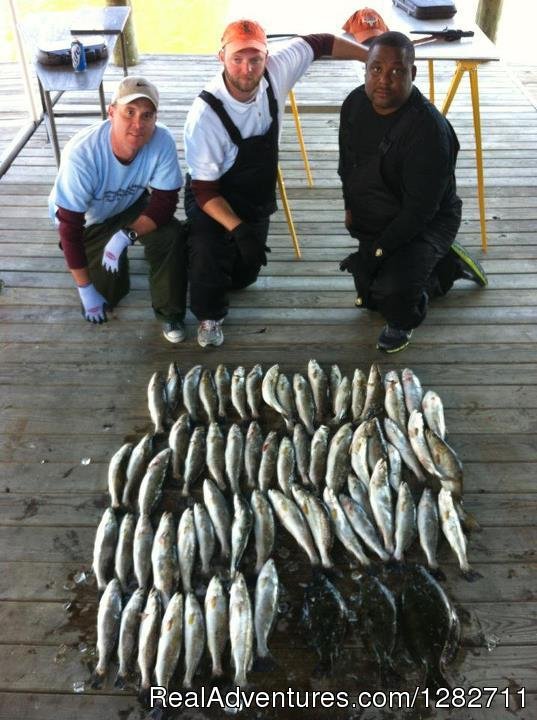 Theriot, Louisiana Fishing Trips
Enjoy the finest inshore fishing in South Louisiana! If you want to catch speckled trout or redfish year round, this is the best place to fish!
5/5 Stars --
From $475 / trip
Active Adventure

Capt. Rob Dupont has been fishing the coastal Louisiana marshes and offshore waters of lower Terrebonne Parish for nearly 20 years. His extensive knowledge of the Bayou Dularge and Cocodrie area along with consistently finding fish allows his customers to be confident they will enjoy their charters. His personality and hospitatlity keeps everyone coming back!

Whether you're looking for inshore speckled trout and redfish or any offshore species the Gulf of Mexico has to offer, Capt. Rob will make sure you have the most memorable and quality experience available in South Louisiana!

This is as real as it gets. Wind in your face. Sunrise over the marsh as you enter the easy waves of the Gulf of Mexico. It just doesn't get any better! With the best fishing in the world not very far from Cocodrie, LA - come experience the adventure of a lifetime with Impulse Fishing Charters!

Typical Day

8 hr speckled trout or redfish, or both!

Map & Directions

242 Janet Lynn Ct., Theriot, Louisiana 70397

Points of Interest

Exciting Fishing Destination

242 Janet Lynn Ct., Theriot, Louisiana

Rates & Availability

April - November December - March

1 person $475.00 1 person $425.00

2 people $600.00 2 people $575.00

3 people $700.00 3 people $650.00

4 people $750.00 4 people $700.00

*Please

contact advertiser

for rates & availability for your travel dates.