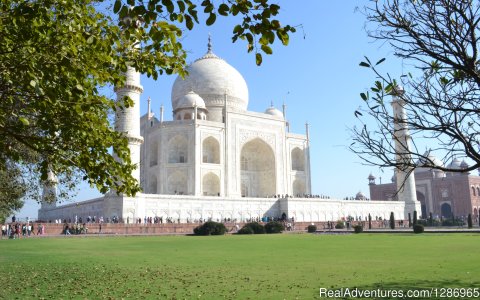 Agra, India Sight-Seeing Tours
Same Day Agra Tour By Car Agra – one of the royal and one of the most exotic cities of our country. Agra is basically exquisite because it is the host city of one of the most gorgeous and highly rated wonders of the world and that is Taj Mahal. Vis
From $165 / trip pp
Activity/Tour

Same Day Agra Tour By Car Agra - one of the royal and one of the most exotic cities of our country. Agra is basically exquisite because it is the host city of one of the most gorgeous and highly rated wonders of the world and that is Taj Mahal. Visiting Taj Mahal is on the wish list of every person and specifically every Indian & Foreigners.

Typical Day

06:30 hrs (Delhi to Agra by Car) 
You will be picked up from the hotel by our driver in New Delhi / Gurgaon and will be driven to Agra through yamuna express highway. reach Agra with in 3 hrs. 

09:30 hrs - (Visit Taj Mahal) 
Reach Agra. You will be taken to the famous tourist attractions of Agra the Taj Mahal. You can explore the beauty of stunning Taj Mahal. 

12:00 Hrs - (Visit Agra Fort) 
After visiting the world famous Taj Mahal, one of the seven wonder of the world, visit Agra Fort, the magnificent beauty of red sandstone positioned on the banks of river yamuna. 

01:30 Hrs - (Lunch) 
After visiting Agra Fort, enjoy lunch in local recommend restaurant or hotel. 

02:30 Hrs - (Explore Local Arts and Crafts) 
After lunch can visit some very famous local art and craft. Agra is also famous for marble inlaid work, Carpet Weaving and Zardozi work. 

03:30 Hrs - (Itimad - ud - Daulah)
After Finish Lunch and Shopping move to Itimad Ud Daulah.
The tomb is the precursor to the Taj Mahal as it was built by Nur Jahan for her father, Mirza Ghiyas Beg (also called "the pillar of the state" or Itimad-ud-Daulah) in the years 1622-1628, 5 years before construction of the Taj Mahal began.

05:00 Hrs - (Drive to Delhi) 
In the evening proceed to delhi through yamuna express highway and transfer to hotel with sweet memories of Same Day Agra Tour by Car.

Map & Directions




Taj Nagri, Agra, Agra, India 182001



Rates & Availability

Price For Per Person Based

1st option :- 

Tour with Lunch & Monuments fee

01 Adult - 155 USD

02 Adults -110 USD

03 Adults - 110 USD

04 Adults - 90 USD

05 Adults - 100 USD

06 Adults - 95 USD

2nd Option :- 

Tour without lunch & Monument fee -

01 Adult - 115 USD

02 Adults - 60 USD

03 Adults - 54 USD

04 Adults - 42 USD

05 Adults - 54 USD

06 Adults - 45 USD

*Please

contact advertiser

for rates & availability for your travel dates.