Truly All-Inclusive Cooking Vacations in Italy - Daily Tuscany and Umbria excursions, cooking classes & culinary traditions. The vacation of a lifetime! Price includes ALL classes, excursions, transportation, guides, amazing meals, etc.
Email Owner For Reservations »
Typical Day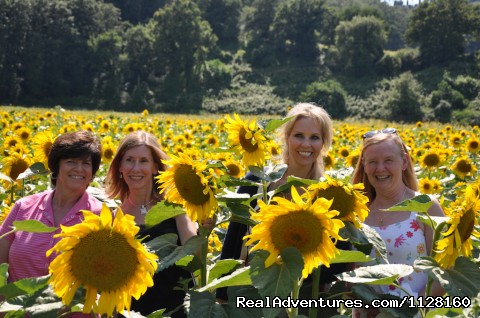 Think FAMILY. Our groups are small; always 14 or fewer people, and we all become fast friends. Our staff and our guests quickly become family, because we treat each of our guests like visiting friends and family, not clients. Our goal each week is that you leave us having a sense of home and belonging. Having found new friends in Italy. Not just us, but local villagers: The grocer, the barista, etc. We integrate our guests so that they truly feel at home, and that makes each week with us truly the vacation of a lifetime.
You will wake up each morning in your own beautiful private village home, nestled in the medieval or renaissance quarter the beautiful hill town of Soriano nel Cimino, right at the border area between Tuscany, Umbria and Alto Lazio. Each morning we meet in the village piazza at a coffee bar & pastry shop where the locals have breakfast each morning. We'll have our breakfast at the sidewalk tables in the piazza, across from the main cathedral, looking up at the 11th century castle that was once the Pope's summer retreat before we start our days.
If we are having a cooking class today, we will go shopping with the villagers. We'll stop at a local butcher, the vegetable stand, a village grocer, etc. All the while, we are picking our ingredients for today's cooking class and getting to know the local merchants. We will then head down to our villa for today's class. If today is a non-cooking day, we will head out on one of our amazing all day excursions.
On Cooking Class Days
We typically have 4 cooking classes on our one-week vacations. On the days we have class, we normally do a half-day of cooking, then the other half we do an excursion.

Most of the classes are full five course meals, and are 100% hands-on. Everything we will eat at that meal, YOU will have made. In one class we make Pappardelle Pasta from scratch with Bolognese sauce, Panzanella (Tuscan Bread Salad), Tuscan Roasted chicken, roasted potatoes, and Tiramisu. In another we will make a wonderful Parmesan & Balsamic Vinegar Risotto, Brasato al Barolo Roast, Panna Cotta, etc. Other classes have us making Biscotti, Gelato, Limoncello, and even a night of amazing Pizza.
The cooking classes are all held in our breathtaking 700 sq.ft. teaching kitchen in our 18th century country villa overlooking the hills of Umbria, and over to Tuscany. During class we have nothing but fun; laughing, singing, kidding around… and all the wine you can handle! It is a true Italian family experience, in which all of our guests make themselves at home and simply let go.
Our morning classes result in that day's lunch, and afternoon classes become dinner.
The other half of the day we will go on an excursion. We may visit the ancient Monster Park, or explore the ancient Jewish Ghetto of Pitigliano, Tuscany. We may visit the city of Orvieto, then go to an antique family-run olive oil mill & winery. We may head over to the walled city of Viterbo and discover the Papal Palace that was the seat of a series of Popes in the 13th century. We may visit the stunning water gardens at a Cardinal's villa, or perhaps spend an afternoon at the breathtaking 'Dying City'. No matter what, if we have a cooking class, we always have an excursion before or after.
If we had class for lunch, we make sure dinner tonight is something unique and special. If class is for dinner, we will have had a unique and special lunch. Our choices for restaurants in these cases are always designed to give you the best culinary experience, since our vacations are so focused on the food! That may be an amazing elegant restaurant, or simply the best Porchetta in Italy that happens to be served off.
On Non-Cooking Class Days
If today we don't have a cooking class, we will go on a more serious excursion, and spend the day out. We may spend the day in Tuscan wine country, visiting vineyards, cheese farms, etc. Perhaps we will start the day off in a 9th century abbey watching Benedictine Monks do the Gregorian chant, then have lunch with the owners of an exclusive Brunello winery. Perhaps we will spend the day in Assisi, with a side trip to a Deruta ceramics factory. We may visit beautiful Umbrian waterfalls, then meet with a Prince at his personal castle for a private tour. On some of our weeks we may spend the day in Rome, and tour the Vatican and the ancient city.
Whatever we do, it is always something that you will never forget, and along the way we are also being introduced to the best local cuisine at each lunch, and each dinner.
During Festival and Harvest Periods
When there is a festival nearby, we are there. It may be a jazz festival that has us dining in a piazza while watching fantastic jazz and big band performances. It may be a medieval festival that has us watching flag throwers or sword fighters. Perhaps we will spend the evening having dinner on a boat in a lake as we watch one of the most amazing fireworks displays you will ever see. If it is happening within our reach, we are there.
The same holds true for the wine harvest and olive harvest. If you are with us while one of our local vineyards is harvesting, we will drop it all and pick grapes.. or crush them to make wine. If the locals are harvesting olives, we'll not only spend some time picking them, but we will take them to the antique cold-press olive oil mill and make our own extra virgin oil… which YOU will bring home with you!
for rates & availability for your travel dates.