Snow and Sadomasochism
Acadia, Maine | Articles
The first day of snowboarding: possibly one of life's most painful experiences.

Availability & Reservations
by Erik Kortz

The first day of snowboarding: possibly one of life's most painful experiences.

I have never seen one human being so entirely covered in bruises; I felt like I'd just stepped out of the ring with Tyson. Hell, Tyson can't hit half as hard as some of those mogul-looking ice lumps that grace the mountains of the northeast corner of the U.S.

After seven years of skiing, I'd finally decided to try my hand at the sister sport. "It's so easy to learn, you'll be carving in no time," my friends assured me. They conveniently left out the part about being battered, thrashed – thoroughly pummeled, even – by the mountain.

My first time out was at Sugarloaf in Maine. We'd just had an enormous dump; the conditions were marvelous. Brand-new rental strapped to my feet, I looked up at this mountain looming up the fresh bright morning air, challenging me, daring me to ascend. I'd beaten the mountain on skis; now I would on a snowboard.

My brother, then an instructor at Ragged Mountain, told me he'd have me turning by midmorning.

Before we ever got to that point, he got bored with the lower lifts and we proceeded up the main lift to the summit. I then spent the next two hours of my life alternatively side-slipping down the mountain (still being completely unable to successfully execute a heel-side turn) or bouncing my face off of the steep sections, which the morning traffic had conviniently scraped clean of any snow, as I rolled downhill, a flailing mass of limbs dragging along 153 centimeters of wood and composites.

The toe-side and I were getting along fine; I just had a nasty habit of catching my edge when I shifted my weight to cut back heel-side. Catching an edge is like hurling your head into the ground full-force, only unexpected; I imagine that it's similar to being clipped from behind by a three-hundred-pound linesman.

And the next morning, though I succeeded in mastering the basic turning technique, even strapping on my board seemed like torture. The sunny promise of hours of voluntary abuse was like a vision of sugarplums dancing in my head.

And as soon as I got the hang of turning, of course, I headed to the terrain park to continue injuring myself there in floundering attempts to catch air.

I must really be a sadomasochist, because I haven't worn a pair of skis since. And I haven't really gotten much better at snowboarding either – just more used to the self-inflicted punishment. There's just no feeling like flinging myself into the air at high speeds and contorting my body into spins and grabs that inevitably make for ever-more-painful crash landings.

God, I love this sport!
Map & Directions

Points of Interest

Snow and Sadomasochism

Maine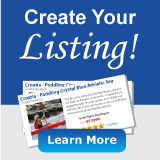 Add Your Travel Services and Accommodations
Add a multi-page listing promoting your accommodations, tours or travel services to customers on our network of travel sites. Your listing page includes an interactive map, availability calendar, reviews, photo-gallery and more.
Create Your Listing
Also of Interest Near
Acadia, Maine
Featured Adventures (See All)
Featured Accommodations (See All)