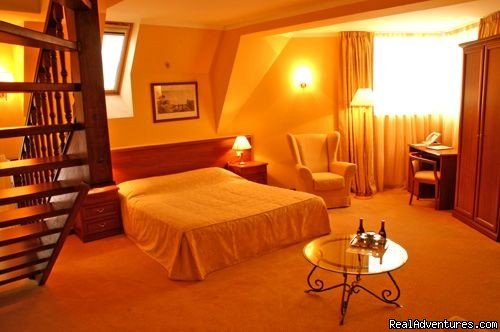 Ski package in Transylvania with ski courses
Skiing & Snowboarding | Brasov, Romania
Superb Quality 8 day ski package! (Ro8.1RoSki) An 8 day package including a luxurious 4* Dracula Hotel , ski courses, complete ski equipment, ski passes and a day trip to Transylvania's major highlights: Bran Castle, Rasnov Peasant Citadel.
USD $1,791.90 per week
Skiing/Snowboarding

Highlights:

Accomodation in a very luxurious Dracula Hotel with Knights Hall, spa facilities and torture room

Poiana Brasov – a fairy tale location surrounded by pinewoods and magnificent mountainous scenery, known as one of the best ski resort in Central-Eastern Europe.

An international award winning ski school, the largest ski school in Romania using only professional trained instructors, 148 top professionals. Ana Ski School received the award for the best ski school in the world at "Partners in Excellency" ceremony, a competition entered by 78 ski schools world wide.

Bran Castle – also known as Dracula's Castle, a legendary Transylvanian fortress dating back to 1377.

Peles Castle – one of the most beautiful royal residences in Europe, home to most of Romania's monarchs

Brasov City tour – explore the Medieval Saxon city of Brasov with its outstanding medieval atmosphere, one of the best preserved medieval cities in Europe


Resort/Package

Brasov
Brasov was for centuries the gate between Valachia (southern Romania ), Moldavia (the Eastern region) and Transylvania having its own special commercial privileges. Therefore, craftsmen and traders prospered in the city. The city was founded in the Middle Ages, but the exact date cannot ne told. What we are sure of is that the Saxon settlers who came during the 13 th century already found a Romanian community here – the city stands as a living proof of how this two cultures met. learn more

Sighisoara
Enjoy the medieval flavour at its best! There's no better place for a medieval adventure than Sighisoara. The citadel stands as Europe's most beautiful inhabited fortified city, UNESCO European heritage site and as "the most beautiful and complete site of medieval architecture in Romania". A city with an intimate and warm atmosphere that offers fabulous sights, delicious treats in superb restaurants with old architecture and undying vampire tales; visit the Clock Tower, the Medieval Weapon Collection and the Torture Room. learn more

Bran
Dracula's Castle from Bran, that owes its fame both to its unique charm and to the myth created around Dracula. Peles Palace, the most beautiful royal residence in Europe.

Bucharest
A great shopping session in a truly European capital - Bucharest; take the pulse of Bucharest's night life: casino, nightclub, disco or romantic bars and restaurants.On the way to Bucharest you can see the royal palace from Sinaia, Peles, the most beautiful in Europe and have a special lunch in Palace Restaurant, the place where the passengers of the famous Orient Express used to dine. Visit Snagov Monastery, in Bucharest, where, according to the legend, Vlad was buried after his assassination learn more


Map & Directions

Brasov, Romania

Points of Interest

Ski package in Transylvania with ski courses

Romania

Transylvania Live ski holiday

Romania
Nearby Attractions and Services

| Distance | Description |
| --- | --- |
| 15 km | Dracula's Castle from Bran |
| 10 km | Peles Royal Palace |
Rates & Availability

| Date | Low | High | Notes |
| --- | --- | --- | --- |
| Dec 15-Dec 24 | 660.00 | 1,791.90 | per person |
| Jan 2-March 15 | 660.00 | 1,791.90 | per person |

*Please

contact advertiser

for rates & availability for your travel dates.
Age range, type of group

family, couples, singles, kids, youth


Reservations

We accept MasterCard and Visa on our on-line secure internet payment form, MasterCard, Visa, JCB, Diners Club and American Expres via fax and phone. We also accept payments via PayPal (by credit card, Visa, MasterCard, American Express, Discover or PayPal account), by Moneybookers, bank transfer and Western Union.


Other Information

Once you realise the price of good beer and wine you will probably not want to return to your country. Brasov is well known city for the night life oportunity.
Plenty of English is spoken and you will find the people are friendly and open.
No visa is required and you can get green card extension insurance from your insurer to cover Romania.




Advertiser Info

Alin Todea, Transylvania Live (View Profile)

WHAT IS TRANSYLVANIA LIVE

It is simply the most spectacular way to discover Transylvania.

Top 3 attributes sought by our travelers in Transylvania Live -expert in Transylvania tours:

1. An authentic experience

2. A unique sense of place

3. A feeling of exploration

Our tours: are guaranteed to depart on the dates given, as we do not insist on a minimum number of bookings before departure.

Some of our holidays depart from Budapest to help considerably reduce flight costs . Fortunately, these flights are usually direct so that any time-consuming flight changes are avoided. From 2007 we have start publishing tours with Bucharest departures due to the fact that Delta Airlines launched direct flights from New York to Bucharest.

Quality & Features: Cultural tours, festival tours and the special for couples holidays are conceived for small groups.

Launched in 1995 Transylvania Live - Expert in Transylvania is always searching for better values and continuously optimizing existing services. Professional staffs are not only ready to answer current needs, but can also anticipate future requirements in the constantly changing marketplace.

Affiliations: Transylvania Live - Expert in Transylvania is member of the ASTA - American Society of Travel Agents and ENAT - European Network for Accesible Tourism .

Alin Todea, Transylvania Live

Listing # RA-1184650
Reservations




Contact Host to Make Your Reservation

Starting at:

USD $1,791.90

per week