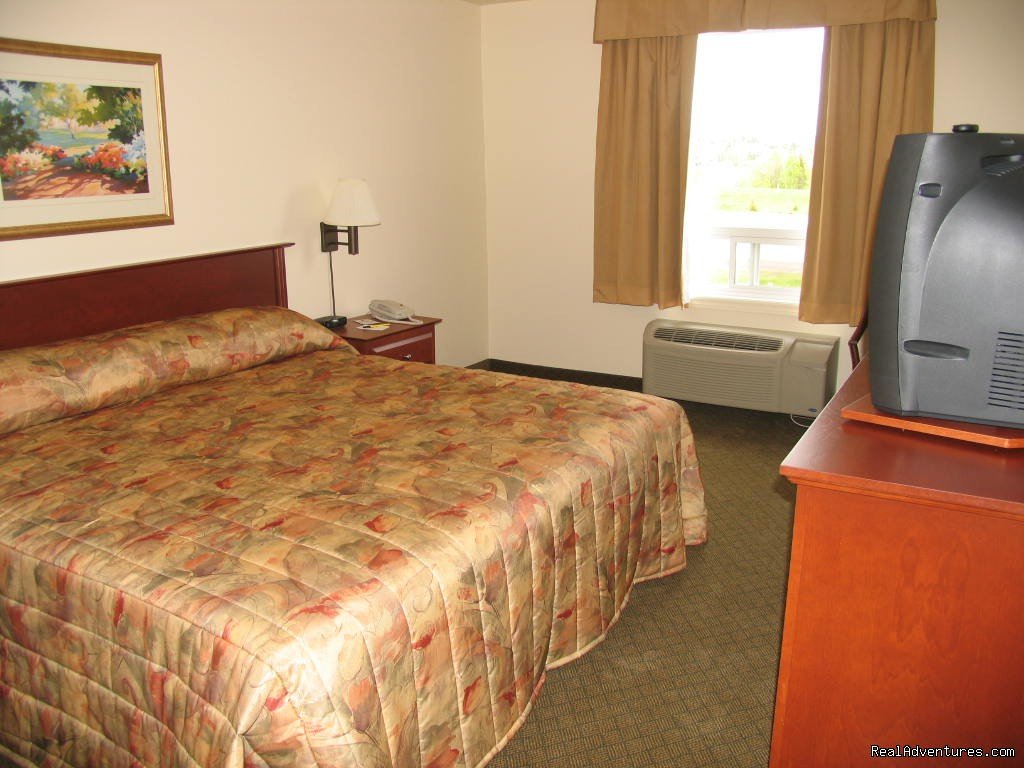 Super 8 Amherst
Hotels & Resorts | Amherst, Nova Scotia
Offering 50 guestrooms and suites, Super 8 Amherst provides an assortment of rooms designed to meet the need's of today's travellers. Weather your agenda in Amherst is business, pleasure, or a mix of both, Super 8 surpasses other hotels in Amherst.
USD $103.32 per night
Surrounding Area

The Heart of Cumberland County
Looking for lodging in Amherst, NS near it all? Super 8 Amherst puts this terrific town at your fingertips. In addition to many gas stations and outlets, travellers will appreciate having Amherst Centre Mall located just across the street, offering the best shopping in Cumberland County. Super 8 Amherst Hotel is also the closest lodging in Amherst, NS to Cumberland Regional Health Care Centre (Hospital). Amherst Stadium, Amherst Golf Club, and Curling Club are located within two kilometres.

Discover Cumberland County
Amherst is more than just a convenient place to spend the night. With our wonderful lodging in Amherst, NS, you'll want to spend a few days discovering the best attractions in Cumberland County. A short drive to Springhill wouldn't be complete without stopping at the Anne Murray Museum & Centre, and further afield is Parrsboro, home to high tides, rock hounding, and beautiful beaches. Nearby Pugwash offers a multitude of beaches on the warm waters of the Northumberland Strait on Nova Scotia's scenic Sunrise Trail. Pugwash is also the only town in Nova Scotia with English and Gaelic road signs.


Accommodations

Astounding Amenities Add Comfort and Value
With incredible guest amenities and services, every stay at Super 8 Amherst is bound to be unforgettable. We offer more than other hotels in Amherst, Nova Scotia, including:

Complimentary Super Start Breakfast
Complimentary high-speed Internet
In-room microwave and mini-fridge
Unlimited local and toll-free calling
Free parking
Wyndham Rewards℠
Coin-operated washer and dryer
Waves of Excitement
What could be more fun than riding the 80" indoor waterslide and using the heated pool? Perhaps soaking in the onsite spa, or getting wet underneath the water umbrella. Super 8's pool area is better than other hotels in Amherst, Nova Scotia. You're guaranteed to have a great time when you choose our Amherst hotel.

Map & Directions

40 Lord Amherst Drive, Amherst, Nova Scotia B4H 4W6

Super 8 Amherst
40 Lord Amherst Drive
Amherst, Nova Scotia, Canada
B4H 4W6

Right Off Exit 104, Highway 104
With a strategic location at the New Brunswick/ Nova Scotia border, Amherst has been a traditional stopping point for centuries. Positioned just off Exit 4, Super 8 Amherst provides easy access for travellers passing by, or spending a few days discovering what this great corner of Nova Scotia has to offer.



Points of Interest

Super 8 Amherst

Nova ScotiaAmherst, , Canada
Rates & Availability
Amenities

Room Amenities

Air Conditioning
Cable/Satellite TV
Hairdryer
High Speed Internet
Jacuzzi
Microwave
Refrigerator
Safe
Telephone
Telephone - Free Local Calls
Television

Available

Business Center
Children's Area
Conference Rooms
Fax Machine
Hot Tub
Internet Access
Swimming Pool
Free
Laundry

General

Handicap Accessible
Pets Allowed
Rooms/Suites

Comfortable Beds in Amherst
Perhaps the most important part of any guestroom is the bed. At Super 8 Amherst you'll sleep soundly on premium beds, including top-quality mattresses, high thread count sheets, and fluffy pillows. With a total of 50 guestrooms and suites, Super 8 Amherst has the ideal room to suit your needs and lifestyle. When you are considering hotels in Amherst, Nova Scotia don't forget about Super 8's terrific in room amenities, including mini-fridge, microwave, iron with board, and complimentary high-speed Internet access.

Accessible Rooms and Spacious Suites
If extra space is important to you, imagine the comfort of a suite. When it comes to hotels in Amherst, Nova Scotia, you'll be delightfully surprised at how little a suite upgrade costs. Plus, with a large work desk, separate living room and bedroom, you'll have all the space needed to feel at home. Super 8 Amherst also features a Jacuzzi suite. If accessibility is important, Super 8 Amherst proudly offers main floor wheelchair accessible rooms with lowered room controls, raised toiler seat, grab bars, and in-tub fold-down bench seats. Adjoining rooms are available on request.





Policies & Restrictions

This property has been independently certified by Pets Can Stay as meeting or exceeding all criteria required for the Standard Certification designation. As a traveller, you are staying at an establishment which has distinguished itself as a member of a unique group of accommodation providers who cater to the travel experience of the pet-toting traveller

The Pets Can Stay Standard designation signifies that this establishment has met the following mandatory certification criteria:

Equal Service - The establishment accepts pets, and welcomes pet-toting travellers with the same level of service and hospitality as would be offered to guests without pets.

No Arbitrary Pet Fees - Any additional fees charged to guests travelling with pets, reflect the extra cleaning costs or maintenance expenses the lodging incurs for accepting pets, and do not represent a financial penalty to the pet owner for simply bringing an animal to the premises.

Acceptable Accommodation and Non-Smoking Options - Not withstanding federal, state/provincial and local health regulations and other related codes, guests and/or their pets are not designated to any substandard accommodation or facility in the establishment (e.g. requiring the pet to stay in a garage, storage room, outdoors, in the owner's vehicle, etc.). The establishment has smoking and non-smoking pet-designated units available (unless it is a fully non-smoking establishment). All pet-designated rooms are kept in good, clean condition and are devoid of unpleasant odors (e.g. heavy smoke).

Fair Kenneling Policies - The establishment does not enforce kenneling of pets at all times during the stay (i.e. even when in the guest room with their owners in attendance). Pets are allowed outside of their kennel once in room while in the presence of their owners.

Safe Environment - Pet-designated common areas and pet designated rooms within the establishment are free of objects or substances that present a danger to pets (e.g. easily accessible chocolate, nuts, cleaners, etc.).

Pet Policies Available Upon Request - The establishment can provide clearly written documentation, upon request, outlining all of its pet-related policies that are in effect (e.g. leash policy, pet in room policy, etc.).

Food/Water Bowls - The establishment can, upon request, provide a drinking/food receptacle (e.g. dish, bowl, bucket, etc) to pet guests.

Licensed Accommodation Provider - The establishment is licensed and accredited, in the region in which it operates, to provide travel accommodations.

Pets Can Stay is the North American certification body for pet friendly hotels, motels, b&bs, resorts, and extended stay lodging establishments. The nationally recognized Pets Can Stay Certification Logos assure travellers and their pets that they will be welcomed, accommodated and offered certain standard amenities while staying or travelling with a Pets Can Stay certified provider. For more information on the Pets Can Stay program.




Advertiser Info

Janalyn Smith
40 Lord Amherst Drive
Amherst, Nova Scotia B4H 4W6
Canada

Listing # RA-1204553
Reservations




Contact Host to Make Your Reservation

Starting at:

USD $103.32

per night