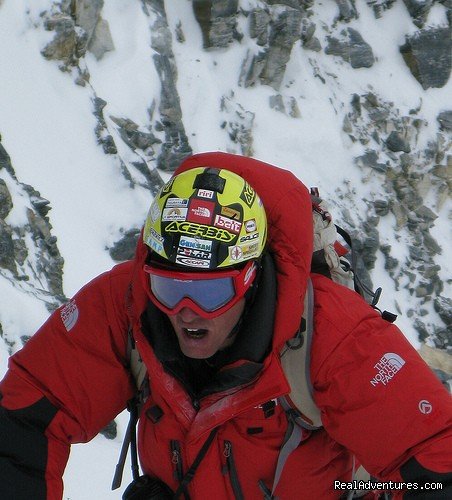 Makalu (8463m.) Expedition
Hiking & Trekking | Kathmandu Nepal, Nepal
Makalu (8463m.) Expedition
Active Adventure

Mount Makalu (8463m.) was first climbed by a French party in 1955. The peak was first mapped and photographed from the Tibetan side by the 1921 British Everest reconnaissance. Hillary and Shipton photographed mount Makalu during a side trip on the 1951 Everest reconnaissance. Hillary and others approached the peak a year later after the failure of their mount Cho Oyu expedition.

The first attempt on mount Makalu was in 1954 by a US team, mostly from California , who trekked all the way from the Indian border near Biratnagar. At the same time a British team approached the mountain, but this expedition was abandoned when Hillary became seriously ill and had to be evacuated.

In the autumn of 1954 a French team attempted the peak. In the following spring, successfully ascents were made by three teams of French climbers on successive days.

In 1960 a large scientific and mountaineering expedition wintered at the foot of mount Ama Dablam, occupying the Green and Silver buts. In May 1961, the expedition trekked across the Mingbo La and other high passes to the foot off mount Makalu , where they planned to climb the French route, Sickness stopped the expedition, which became a heroic struggle for survival.

The Japanese climbed mount Makalu in 1970, another French team climbed it in 1971 and a Yugoslav expedition reached the summit in 1975. In 1976 Spanish and Czechoslovakian teams joined up near the summit.

Typical Day

04 April 2010 Day 01: Arrival Kathmand & Trasfer to hotel
05 April 2010 Day 02: prepare for expedition
06 April 2010 Day 03: Briefing in Ministry of tourism prepare for expedition
07 April 2010 Day 04: Fly to Tumlingtar - camping
08 April 2010 Day 05: Tumlingtar - Kuwapani
09 April 2010 Day 06. Kuwapani - Chichila
10 April 2010 Day 07: Chichila - Num
11 April 2010 Day 08: Num- Seduwa
12 April 2010 Day 09: Seduwa - Tashigaun
13 April 2010 Day 10: Tashigaun - Khongma La (Danda)
14 April 2010 Day 11: Khongmadanda - Mumfuk
15 April 2010 Day 12: Mumfuk -Yangle Kharak
16 April 2010 Day 13: Yangle Khark -Merak
17 April 2010 Day 14: Merak -Sersung (half day rest) for acclimatize
18 April 2010 Day 15: Sersung - Makalu Base camp

19 April - 20 May 2010 Day 16-47: Climbing Period for Makalu (8463m)

21 May 2010 Day 48: Makalu BC - Mumbuck
22 May 2010 Day 49: Mumbuck - Khongma La (Danda)
23 May 2010 Day 50: Khongma La - Seduwa
24 May 2010 Day 51: Seduwa - Chichila
25 May 2010 Day 52: Chichila - Tumlingtar
26 May 2010 Day 53: Tumlingtar - Kathmandu by flight
27 May 2010 Day 54: Kathmandu free day for shopping
28 May 2010 Day 55: Final Departure to the Airport
Map & Directions

Thamel Kathmandu Nepal, Kathmandu Nepal, Nepal 14221

Points of Interest

Makalu (8463m.) Expedition

Thamel Kathmandu Nepal, Kathmandu Nepal, Nepal
Advertiser Info

Madhav Prasad Pandey
Skyline Treks & Expedition (P) Ltd.
Thamel Kathmandu Nepal
KTM, Nepal 14221

Listing # RA-1210241
Reservations




Contact Host to Make Your Reservation