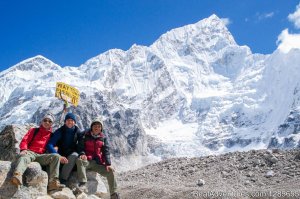 Starting at
USD $1,250.00
per trip pp
Everest Base Camp Trekking
Kathmandu, Nepal | Hiking & Trekking
Discovery World Trekking is a Himalayan tour and adventure company focused on trekking and expedition services. We excel at providing the best services at the best rates! Customer care, satisfaction and happiness is our pride and joy. Our guiding pri


Starting at USD $1,250.00 per trip pp
Availability & Reservations

Everest Base Camp Trekking - Starting at USD $1,250.00 per trip pp
Active Adventure

The holiday time-frame of only 12 days is enough to reach Everest base camp to stand face to face with Everest (8,848 m)- the highest mountain in the world.

Embark on Everest base camp trek and witness the surrounding great Himalayan peaks along with spectacular lakes and glaciers very clearly and nearly taking a journey to the base camp of the highest mountain Everest. This popular trek through traditional Sherpa villages to the Everest base camp and the nearby peak of Kalapatthar, is a highly demanding trek route in Everest region for adventure enthusiasts wishing to achieve the trip of the lifetime experience. On the whole, the trek offers to explore the originality of mountaineering brave Sherpa ethnic group, Buddhist monasteries and museum, scenery view of world's four tallest mountains; Mt. Everest (8,848m), Mt. Lhotse (8,516m), Mt. Makalu (8,463m), Cho Oyu (8,201m), and a wide range of flora and fauna at Sagarmatha National Park world heritage site.

This remarkable trek to Everest has always remained the best trekking destination in the world ever since Tenzing Norgay Sherpa and Edmund Hillary succeeded reaching of the summit of Mt. Everest in 1953 from the southern face of Nepal. Thousands of trekkers come to visit the Everest area each year to see the tallest mountain on earth and other majestic Himalayas. Moreover, Trip to Everest base camp is the most amazing experience that provides an opportunity to snap superb photos of Everest, and 8,000 m peaks of Lhotse, Makalu and Cho Oyu, endangered wildlife animals and birds, throughout the journey.

The trek starts after a scenic mountain flight from Kathmandu to Lukla, trek route follows the Dudh Koshi River valley to its source near the Gokyo Lake to the west of the Everest base camp, with passing through the villages, monasteries and the forests of Rhododendron, pine, hemlock. The following day takes us to the legendary Sherpa village of Namche Bazaar in Khumbu region, where extra day rest is worth keeping on visiting above the Namche located the traditional villages of Khunde and Khumjung, capturing close highlights and enjoying at shopping, museum, internet and cafes as though this place is a bustling Bazaar, a meeting point for trekkers heading to different destination in the Everest region. Across the canyon from khunde perched on a high ridge, is the Tengboche monastery, the leading Buddhist centre in Khumbu. The monastery rests amid stunning views of Everest, Lhotse and Ama Damlam. From Tengboche, the trail continues on to Dingboche and Lobuche, whilst trek traverses through high elevation with fascinating views of nearest mountains. Climb high above the shining glacial moraine to reach the Everest base camp at the foot of the Khumbu Icefall with a backdrop of its glacier to savor the stunning mountain of Everest and ascend to the summit of Kalapatthar (5555m), the highest point of the trek, for perfectly visible much of Mt. Everest. Trek descends down from Kalapatthar following the same previous routes with spending few days overnight at different places to end of this trek package at Lukla.
Typical Day

A day on trekking will be rewarding with unique experience providing to trek leisurely with plenty of time to enjoy scenery, take photos and explore the local village. During the trek you are accompanied by experienced, friendly and qualified expert guide along with porters to carry out your baggage. You need to take your small regular day pack on hiking days.
The day starts with an early morning cup of tea. Each morning after packing our bags and having a wholesome breakfast, we set off on the day's walk probably between 7 am and 8am, depending upon the duration and nature of the day's walk. With trek of normally 3 to 4 hours, lunch will be served around midday on the route to the next destination; then take a break about an hour. The afternoon walk is generally a little shorter around 2 to 3 hours and some of our crew departure ahead, once we reach at overnight lodge, extra dietary snacks on the table of longue dining hall is already set up, From then after dinner, we will have free time to explore nearby places. Dinner is provided around 6 to 7 pm. In the evening before going to bed, your guide always tries to understand each group member's experience of a day hiking. At the same time, guide will brief next day trip plan with a group members. After complete of trip briefing orientation, for a while, rest of time will often be given priority on your choice and interest to get enjoyed and entertained maybe whether learning Nepalese language with Discovery World Trekking crews, playing card, talking to and chatting with the crew members, reliving the day adventure or reading books before heading off to the bed for well-earned sleep.
Map & Directions

Points of Interest

Everest Base Camp Trekking

Thamel Kwabhal, Kathmandu, Nepal
Age range, type of group

Any type of group are heartily welcomed to join together including family, couples, friends, singles, youths, kids and senior etc.

Day To Day Everest Base Camp Trekking Itinerary

Day 1 : Arrival to Kathmandu (Trinhuvan International Airport-TIA) (1,350m/4,450ft), transfer to hotel.

You are heartily welcome to Himalayan kingdom of Nepal. Upon arrival at Tribhuvan International Airport (TIA) and after clearing customs and immigration, you will be special welcomed, greeted at the first meeting by our personal representative at the arrival zone (we assure you that our complete team roster at Discovery World Trekking (DWT) is professionally certified and registered with the government). Then, you are free hassle transferred with private transportation to your own selected hotel in Kathmandu, centrally and conveniently located in the Thamel area of Kathmandu. Thamel is well known as an exciting tourist hub and has a full range of restaurants and cuisine, gear and souvenir shops, pubs, nightspots and tourist facilities. After resting and refreshing at the hotel, later in evening, there will be meeting and trip briefing orientation program, then the time is yours to explore your vibrant surroundings. Our friendly staffs are on hand to provide any advice or assistance.

Day 2 : Flight to Lukla (2850 m/9,350 ft) 35 minutes, trek to Phakding (2,650 m/8,690 ft) 3 hrs

We begin early today with transport to the airport for our scenic domestic flight to the east to the mountain airport of Lukla. We are now in a land populated by the famous Sherpa people. In Lukla we will meet the majority of our crew and take our first treks on the trek. We take it easy today to get accustomed to the altitude with a enjoyable walk to Phakding with time to spare to explore the local monastery. Overnight at Lodge. Included Meals (B, L,D).

Day 3 : Trek to Namche Bazaar (3440 m/11,285 ft) 6 hrs

Today we have our first full day on the trail as we trek north up the Dudh Koshi river valley. We pass the Sagarmatha National Part check post and will have our permits registered before continuing on with glimpses of the big peaks along the way, including Everest! We cross a high suspension bridge and then make a challenging climb through dense forest to arrive at Namche Bazaar a town with set in an arena with beautiful peaks looking in. The market area is a lively scene with much to explore as well as a nearby monastery. Overnight stay in Lodge. Included Meals (B, L, D).

Day 4 : Rest day to relax and acclimatize at Namche Bazaar

Today, we will take a day of rest from our onward and upward journey. This day we will enjoy nature's surroundings of mountain views and majestic landscape. Additionally, we have an optional hike planned for people who wish to explore the Sagarmatha National Park visitor center and a spectacular hike to Khunde and Khumjung, Sherpa settlements an hour from Namche with a yak farm along the way. Additionally, we visit a famous hotel with astonishing views of Everest and more. Overnight in Lodge. Included Meals (B, L, D).

Day 5 : Trek to Tengboche (3,855 m/12,850 feet) - 5 Hours

We continue the trek to base camp today as we being with a climb out of Namche high above theDudhKosi River. We round a bend and on clear days we have views of Everest and the surrounding peaks. On this remote part of the trail, trekkers often have spotted the local wildlife. Eventually, the trail drops down to cross the DudhKoshi River and then makes a rigorous ascent through pine forests to the monastery of Tengbochein a meadow with surrounding lodges. The peak known as Ama-Dablam is especially beautiful from here. Overnight at Lodge. Included Meals (B, L, D).

Day 6 : Trek to Dingboche (4,360 m/14,290 feet) 5 Hours

After an optional visit for morning prayers at the monastery, we make our way down from the meadow and through some serene landscape of dense forests. We pass another monastery and then cross the river as we continue to Pangboche. The trailside shrines guide the way. The terrain becomes more arid and barren as we rise above the plant life. We have continued astonishing views on the way to Dingboche in an open valley. Overnight at Lodge. Included Meals (B, L,D).

Day 7:Rest day and Acclimatization at Dingboche

Another scheduled acclimatization day is at Dingboche. We are at a high elevation and we should not pressurize our body but instead give it time to adjust to the thin air. We will not be staying idle. We will have our acclimatization walk up the ridge above Dingbouche and we will slowly enjoy the breath taking panoramic close up view of the snow-capped peak Lhotse, back side of Ama Dablam and Island peak. Cho Oyu, and Makalu being one of the six of the world's highest mountains are also worth admiring. To the north, we observe more Himalaya peaks rising over the Khumbu Khola valley and the beautiful Dingboche village. Overnight at the lodge with included meals (B+L+D).

Day 8 : Trek to Lobuche (4,930 m/16,175 ft) - 5 Hours

Today our trek will be filled with great mountain views nearly the whole trek. The route begins with a short uphill near a ridge top shrine and then we follow up the wide valley to a crossing of the glacial moraine and a small collection of lodges. Again we climb and have stupendous views as we gain elevation. From a pass where memorials have been erected to climbers who passed away in this region, we have a pleasant hike to Lobuche. This large settlement has many shops and hotels in a magnificent setting. Overnight in Lodge. Included Meals (B, L,D).

Day 9 : Trek to Everest Base Camp and back to GorakShep (5,185 m, 17,010 ft)- 6-8 Hours

Today is a long awaited and rewarding day. From Lobuche, we follow the glacial moraine up and the views keep on getting better. Eventually we rise to the lodges of Gorak Shep our overnight point for today, but other than to leave our gear in our rooms and enjoy a lunch, we continue on to base . The terrain on the way to Everest Base Camp is otherworldly. Finally we reach the ultimate destination of this trek and we are as close as possible to the world's highest peak without being a climber. Savor the moment and our congratulations at the effort it took to make it here! We take inthe views including the renowned Khumbu Icefall. After some time, we head back to GorakShep for the evening. It's been a wonderful day after all! Overnight at Lodge. Included Meals (B, L, D).

Day 10 : Hike to Kala Patthar viewpoint and then Trek GorakShep to Pheriche (4,250m / 13,945 feet) 5 hrs

We wake up early today and enjoy a hot drink before a pre- dawn climb to the famous Kala Patthar viewpoint at 5550 m (18,208 ft). From Kala Patthar we can witness a marvelous sunrise on Mt. Everest and the surrounding peaks. After savoring the panorama, we trek return to Gorakshep for breakfast and to pick up our gear. We then descend back down the beautiful valley to Pheriche. Overnight at Lodge.Included Meals (B, L, D).

Day 11 : Trek to Namche Bazaar (3440 m/11,285 ft) 6-7 hrs

after breakfast we have a long day filled with mesmerizing views. We make a return journey to Tengboche and then drop down to cross the DudhKosi and climb and contour for a return to the town of Namche. Overnight at Lodge. Included Meals (B, L, D).

Day 12 : Trek to Lukla (2850 m/9,350 ft) 6-7 hrs

This will be our last day on the trekking trails and it will be a long but rewarding day as we make a return down the DudhKosi valley. From this direction the views will be entirely different. Eventually, we reach the large town of Lukla with airport where tomorrow we will have a flight back to Kathmandu. Overnight at Lodge. Included Meals (B, L, D).

Day 13 : Fly to Kathmandu

If all goes according to schedule, and we certainly expect it to (please see note below), then we take an early morning flight back to Kathmandu and the rest of the time will be yours to relax and refresh from your days on the trekking trail, and perhaps explore more of the city. Overnight at your selected hotel in Kathmandu.

Day 14 : Transfer to Kathmandu's Tribhuvan International Airport (TIA) for your international departure.

Our personal representative will accompany you by private vehicle to the international airport for your final departure home. We really hope that you've enjoyed the trekking holiday in Nepal's majestic hills with us. Please remember Discover World Trekking fondly and we hope that you will come back soon! Have a pleasant journey home!
Sleeping and meals

Accommodation
Two nights Accommodation in Kathmandu for Everest Base Camp Trek is required including before and after the trek, which has excluded in this package. The prime reason is that the Kathmandu has an excellent range of hotels for all budgets. You can find out the best hotel according to your interest and budget. The accommodations during the trekking are inclusive in this package. Tea houses on the trek are fairly basic, simple but perfectly comfortable lovely spacious lounge dining room, usually decorated with colorful traditional rugs and woods. Some of the places, toilets and washing facilities need to be shared; but will be a homely environment with warmth hospitality of local people. The bed rooms are almost twin sharing basis- bed with mattresses, blanket and pillows. Hot shower facility most of the tea houses is available for a price.

Meals
Meals in Kathmandu have excluded in the package as you will get chance to taste vast array of wonderful delicious Nepalese and international cuisine with your own choice and budget. Three meal items during the trekking are included in the package. The foods are given more emphasis on fresh, hygienic, tasty and nutritious with the best selective menu available on tea house or lodge. The menu are the blend of traditional local, Asian and western cuisine. You will have the best menu selection. We highly recommend liquids green tea, lemon tea, hot lemon, ginger tea and garlic soup(must) etc at high altitude for health benefit.
Restrictions

Person Age above 10 can join in this trip with his family. Pets are prohibited to bring during trekking. No restriction is imposed on joining trek on the basis of age, gender, smoking etc.

Cost Details

Cost Includes
 All airport and hotel transfer with private transportation.
 Kathmandu-Lukla-Kathmandu flight and airport departure taxes.
 Tea House/ Lodge accommodation including meals Breakfast, Lunch and Dinner during trek.
 Government License holder Discovery World Trekking experienced and qualified trek leader (guide), assistant trekking guide, (8 or above trekkers: 1 assistant guide) and porter to help trekkers luggage (2 trekkers: 1porter).
 Coverage of guides and porters meals, insurance, salary, lodging, transportation, flight and other necessary equipment.
 Sagarmatha National Park entry permit fee.
 Trekkers Information Management System (TIMS) card fee.
 Medical kit.
 Arrangement of Sleeping bags and Down Jacket for the Trek.
 Catering extra dietary requirements
 All Government and Local Taxes.
 Assistance in arranging rescue operation in case of complicated health condition (funded by travel insurance).
 Discovery World Trekking's appreciation of certificate after over the successfully trek.
 Farewell dinner.
Cost Excludes
 International Flight.
 Excess baggage charges.
 Accomodation,Breakfast,Lunch and Dinner in Kathmandu.
 Extra night accommodation in Kathmandu due to early arrival, late departure, early return from trekking (because of any reason) prior to the plan scheduled itinerary.
 Personal nature of expenses such as laundry, telephone call, battery recharge, shopping, laundry, extra porters, beverages etc.
 Personal clothing and gear.
 Travel insurance.
 Tips for guide and porters.
 Additional costs or delays caused by management out of control like landscape, bad weather condition, in case of itinerary modification with a view to safety concern, illness, change of government policy, political instability raises strike, moment etc.

Thank you for choosing DWT! We will do everything within our means to take care of you and ensure an enjoyable trip of a lifetime in Nepal!
Other Information

Everest Base Camp Trekking Useful Info

Please be advised: We recommend adding extra days in your itinerary as a safety margin for your return flight home. The air traffic from Kathmandu to Lukla, and then Lukla to Kathmandu is frequently behind schedule and this may cause onward delays. Sometimes flights get backed up for a days. In these circumstances, we will do our best to any problems, and re-schedule flights to and from Lukla as available. However, we must caution you about the possibility of postponements of flights and even cancellations. We recommend that you schedule at least an extra 2 days cushion in your itinerary to avoid problems with international flights from Nepal. In the event of delays, we can arrange a helicopter at your request at a cost of around USD 500-1000 per person, depending on demand and capacity. It is also very likely that no delays will be incurred. In any case, we can arrange additional activities with your extra time in Nepal.

Please Note: The Everest Base Camp trek includes fixed departure dates from Kathmandu and can be tailored to accommodate your specific requests and schedule. Please review our designated departure dates for this trek and if they do not suit your timeframe, then let us know how we can arrange a trek that is convenient for you.The itinerary listed above is a general guideline; please be advised that it might be necessary to modify it due to external factors beyond our means including and not limited to the following: unstable weather, accessibility and availability of lodging and campsites, unforeseen governmental, trail and ecological conditions and other circumstances beyond our control. Although, it is improbable that changes will occur that would significantly alter the original itinerary, we cannot be held accountable for the results of delays or changes beyond our control. In the event of an Itinerary adjustment or need to redirect to other trails and areas, the Leader Guide will ultimately make the final choice on the best rerouting after consulting with the group members and keeping in mind the interests of the party as a whole. If an alteration is necessary, then we will certainly do everything we can to diminish the effects.

We look forward to guiding you on the Everest Base Camp Trek and through some of the most dazzling landscape on the planet with unforgettable Himalayan panoramas along the way!
Travel Provider's Info

Paul Gurung

I'm Mr. Paul from Nepal-a licensed holder as well as wilderness first aid trekking guide. I have been leading the clients in the Himalayas from all over the world since 2000 A.D. I have very deep passion about sharing my expertise to all visitors about unique nature, culture, adventure and differe...

View Full Profile Everest Base Camp Trekking Paul Gurung

Discovery World Trekking

Thamel

Kathmandu

Kathmandu Nepal, 21576

Nepal

Reservations

Listing # RA-1285655
Also of Interest Near
Kathmandu, Nepal
Similar Nearby Listings (See All)
Featured Adventures Nearby (See All)
Featured Accommodations Nearby (See All)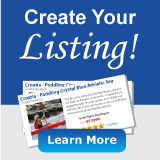 Add Your Travel Services and Accommodations
Add a multi-page listing promoting your accommodations, tours or travel services to customers on our network of travel sites. Your listing page includes an interactive map, availability calendar, reviews, photo-gallery and more.
Create Your Listing