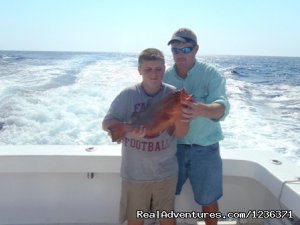 Starting at
USD $1,600.00
per trip
Deep sea fishing trips from 4 hours to 3 days
Orange Beach, Alabama | Fishing Trips
Welcome to Intimidator Sport Fishing charters in Orange Beach, Alabama. For Over 20 years now, we have offered year round deep sea fishing trips with a courteous, professional crew that is family owned and operated on the big 65' Intimidator.


Starting at USD $1,600.00 per trip
Availability & Reservations

Deep sea fishing trips from 4 hours to 3 days - Starting at USD $1,600.00 per trip
Active Adventure

Welcome to the world of Intimidator Sport fishing Inc. We are one of the most diverse and successful fishing operations along the entire Gulf of Mexico, in regards to our ability to offer so many different types of fishing trips and customer service by a friendly and polite crew that is unmatched. So, If you are looking to go deep sea fishing while on vacation in the Gulf Shores or Orange Beach, Alabama area or you are planing a Gulf Shores fishing trip for the avid angler then, you have found the right place. We are a local, family owned and operated charter business with base of repeat clientele that is unmatched anywhere.

Since 1996, we have run many different types of deep sea fishing trips for anglers of all ages. We are proud to offer you everything from family fun fishing trips to corporate entertainment or perhaps an adventure specializing in multi-day, offshore big game trip. We also serve as a platform for the discriminating sportsmen that demands the very best in a fishing experience plus a variety of amazing angling opportunities.

No matter if you want to catch and release all your fish, keep just a few for supper, or keep all of your bounty, then you will find comfort in knowing that we have been voted the best multi passenger charter fishing operation in town and have many tournament wins. We use only the very best tackle and are Pro-staff for Braid Products and Penn reels. We only use other high quality products from companies such as, Shimano Reels, Daiwa Reels and custom hand crafted fishing rods from J&M Tackle and the Rod Room.
Typical Day

One of the best kept secrets about Intimidator Sport fishing Charters is how good we are at half day fishing charters in Gulf Shores, Alabama. Half day charters are usually six hours in length and are mostly bottom fishing or reef fishing mixed with some trolling to and from the fishing area.

Large families with up to 20 members love how we take care of them while deep-sea fishing. You will be treated like family and we are gentle with you and your kids. These half day fishing trips are ideal for those who don't want to keep a lot of fish but want to experience all the action of a full day fishing charter.

We usually leave out just after daylight and head offshore from 12 to 20 miles on these half day fishing charters. You will usually be fishing within an hour to an hour and a half. We take you to the most abundant private and public reefs and allow you to catch Red Snapper, Triggerfish, Vermilion Snapper, White Snapper, Porgy, Ruby lips and possibly a Bull Shark.

The best thing about taking your family on a half day fishing charter is you get to be back and enjoy the rest of the day playing golf or laying on the beach. They are also ideal for those who want to keep a few fish for supper or release them to be caught again another day. Half day, deep-sea fishing charters are fast becoming our most popular vacation style trip.
Map & Directions

Points of Interest

Alabama Charter Fishing on the Intimidator

27075 Marina rd Orange Beach, AL 36561, USA
Rates & Availability

(All rates in USD $)

| From/To | Low | High | Notes |
| --- | --- | --- | --- |
| December to March | 1,350.00 | 1,500.00 | 6 hour fishing trip for up to 10 people |
| December to March | 700 | 800.00 | 4 hour Redfish trolling trip for up to 10 people. |

Bottom Fishing Prices

Half day 6 Hour $1,600

10 Hour $3,000

Full Day 12 Hour $3,600

Bottom Fishing / Offshore Trolling Combo

15 Hour $4,300

18 Hour $6,000

24 Hour $6,700

Overnight trips

2 day $6,700 plus $1500 gratuity ($8200 total for 10 people max)

3 day $10,000 plus $2250 grwtuity (10,250 total for 10 people max)

Eco Tours and cruises $300 per hour with a 2 hour minimum plus 20% tip for mates

*Please

contact advertiser

for rates & availability for your travel dates.
Age range, type of group

The benefits of choosing a short fishing charter in Gulf Shores is the cost. Our short fishing trips are half day excursions for the budget minded vacationers that want to have fun and spend some time on the water, near the beach. We are kid friendly and have lots of fun while fishing and looking at all of the wildlife in the area as we hunt for some fish to catch!

The winter fishing really kicks off during the month of November and continues through the end of February. At that time, we have lots of large Bull Redfish that school up right off the beach. During the Spring, Summer and Fall, we have plenty of fish like mackerel that move close to shore and follow the bait fish into shallow water.
Sleeping and meals

The Gulf Shores and Orange Beach area of the Alabama Gulf Coast is truly an amazing vacation destination that is made up of nine signature golf courses and 32 miles of pristine sugar white sandy beaches. The condos along the gulf coast stay booked all year round with angling opportunities awaiting for the true fisherman. The Gulf Shores, Alabama local atmosphere is family friendly and kid orientated with lots of diverse attractions for people of ages. However, there is a lot of night life in the area from fine dining, wine tasting and dancing for the adults to enjoy plus open air restaurants like Lulu's in Gulf Shores. There is a lot of things going on right now and you can find out even more by visiting the local tourism board. The Gulf Coast area from Perdido Key to Ft Morgan make up some of the most prime real estate anywhere to be found.
Policies & Restrictions

Additional costs: Please add gratuity of 20-25% of the price of the charter for your mates.

Free fish cleaning with 20% tip

On all trips of 12 hours or less a simple credit card number, through a verification process is all we need to make reservations

A $1000 per day deposit for all trips is required for any trip longer than 12 hours in length

A charter is not considered booked unless the deposit is in our hand. All deep-sea fishing trips are booked on a first come first serve basis.

Deposits are non refundable if canceled within 30 days of the charter.

We reserve the right to make necessary adjustments in fuel costs accordingly.

** This will be necessary if the cost of fuel goes up or down so we can make the changes to the price of the trip to make it fair to both parties.
Other Information

Gulf Shores Charters; Frequently Asked Questions
When is the best time to charter a boat in Gulf Shores?

Charter fishing is good all year round in Gulf Shores, Alabama. However, the Summer fishing season months are our busiest because of all of the people on vacation. The weather is usually more stable and we have fewer cancellations because of bad weather. Fall, Winter and Spring are also good fishing. The weather causes more frequent cancellations during these seasons, however, we do have a mild climate and we do get to make most of our charters. We also have a fishing definitions page to help you understand everything about charter fishing in Alabama.
Why does you pricing say from 1 to 10 people?

It is just a flexibility option that we can offer to you since our boat is so big and diverse. click here for more information on this
Do you offer walk on fishing trips?

NO - All of our charters are private. Only you and your group will be on the boat during that time. It is up to you to get others to join your group. We do not put you on a list and match you up. This is very difficult and not everyone calling wants to go or can go on the same day.
When do we need to book a fishing charter?

The urgency of booking a charter depends on you and the boats availability. Summer months, Holidays, Weekends and Fishing Tournaments create our biggest rush of charters. A lot of you plan months ahead for your vacation or weekend escape to ensure you get a room. Fishing is the same way. You need to plan early so you get the date of your choice. During the Fall, Winter and Spring, fishing slows a bit but we still experience high volumes of bookings during weekends.
How long of a charter do we need to book?

There are a lot of factors involved in this process. Our offshore trips range from a 4 hour trolling trip to a 6 hour bottom fishing trips for Red Snapper, Triggerfish, etc.. Our overnight to multi-day Tuna and Marlin trips are great for those who want to experience something unique. 8 hour trips or shorter are mostly for those who want to have fun and catch a few fish to release or catch a few for supper. 10 and 12 hour bottom fishing trips are for those who want to be on the water all day and or, keep a few fish for the freezer. Overnight trips are for more serious anglers and groups that want to fish for larger species of fish that live further offshore. If you have kids or you have never done it before, you might consider a 4 to 6 hour trip. If you have been deep sea fishing before, I would suggest an 8 to 12 hour trip or longer.
How far offshore will we go on our fishing trip?

Offshore fishing or deep-sea fishing is one of those things that the distance traveled is determined by the length of the trip. A 4 hour trip usually stays near shore for King Mackerel, Spanish Mackerel, Cobia and Winter Redfish or within 8 miles of land. This is dependent upon the fish bite. Yesterday we were catching fish right off the beach. Tomorrow, we may have to go further out to get them. These fish swim in schools and move around. 6 hour trips will usually get you from 12 to 18 miles offshore and catch Red Snapper, Triggerfish and Mackerel. 8 hour trips will get you from 15 to 25 miles offshore. 10 and 12 hour trips will get you 20 to 40 miles offshore and those are the trips where you can target Grouper and Amberjack. Overnight trips will get you from 60 to 100 miles offshore. Multi-day trips can get you out as far as 200 miles.
How long do we get to fish on a typical trip in Gulf Shores?

As a rule of thumb, bottom fishing in Gulf Shores consist of a ride from the port to the fishing reefs and back. This ride can be as short as an hour or longer, depending on the length of the trip. Most charters are usually divided into 50% ride (trolling fishing heading out and back) and 50% fishing. There is also time spent driving between reefs that counts as riding. We try to troll between spots that are further than 3 miles apart. However, most charter boats high speed troll while heading out to the reefs. High speed trolling produces fish frequently during the late Spring, Summer and Fall months.
Will we catch Tuna, Mahi-Mahi, Grouper and Amberjack on our fishing charter?

The reality of catching Tuna, Mahi-Mahi, Grouper and Amberjack is dependent upon the length of the fishing charter taken. In recent years, these species have been over fished and seasonal closures and increased size limits have been put in place to stop over harvesting of these species. With that being said, you can catch them on trips as short as 6 hours. The truth is that you need to take at least a 10 or 12 hour charter or longer to be able to have a chance to catch them. Then there is no guarantee. Fishing for Grouper and Amberjack is usually better during the Fall, Winter and Spring seasons. This is a time when these larger fish move closer to shore and there is less fishing pressure on them. In the Summer, plan on a full day charter to increase your odds. If you want to catch Yellowfin Tuna, Blackfin Tuna or Blue Marlin, you need to plan on an overnight fishing trip or longer.
Do we offer lodging while in town?

We do not offer lodging at this time. We do have plenty of hotels, motels, condos and beach houses that you can rent. Orange Beach has several local hotels to lodge at during your stay. We do have several condo rental agencies like Meyer Realty, Kaiser Realty and Brett-Robinson in town.
We have kids. Do you have life jackets for them?

All boats must have life saving equipment on board. All of our charter boats carry children's life jackets that are USCG approved for children. Alabama law requires children 8 years-old and younger to wear a PFD while on-board. If you have your own life jacket that is more comfortable for your child, you may bring it as long as it is USCG approved.
Do we have to buy a fishing license in Gulf Shores?

You do not need to buy an Alabama Saltwater Fishing License to fish on the Intimidator charter boat. Alabama Charter Boats provide your fishing license for you while on board. Each charter boat purchases the license annually and it covers those who fish on the boat. If you fish from shore or from a dock, you do need to purchase a license from a local tackle shop or go to the State of Alabama's Outdoor website here and purchase a license online.
Will I get sea sick?

Motion sickness is real and effects about 10 to 15 percent of all saltwater fishermen. Some of you use Dramamine. Dramamine makes people sleepy. We would suggest non-drowsy Dramamine or Bonine over the counter medicine and take as directed. Some people get a prescription patch from your local doctor.
Are Gulf Shores fishing charters safe?

All of our fishing charters have great safety records. Fishing is not an exact sport. There are hooks and we catch fish that have sharp teeth and needle like fins. We fish in waters where waves may cause you to hold on while moving around. We care about your safety. We do not want you to get hurt in any way.
Do all charter boats have restrooms?

Our Charter Boat has two private, air conditioned restrooms with real commodes.
May we bring our own fishing tackle?

Sure you may bring your own fishing tackle. However, saltwater fish fight hard and your gear may not be suited to handle the fight. We will not be held responsible if your tackle fails.
Do we offer a catch and release program?

Yes we do offer catch and release. We promote catch and release as part of our program. Not all species are catch and release friendly. However, we do have a lot of species that are a lot of fun to fight, photograph and release.
If I catch a nice fish, can I get it mounted?

Saltwater fish mounts are replicas which means you can either keep your fish to eat or release them to be caught another day. All we need is a 50% deposit, name of the fish, length to get your order started.
Do I have to pay for a rod if it breaks or I lose a lure or bait?

We use new tackle and well maintained fishing gear. If a rod and reel fails on it's own, you will not be charged. If you drop one overboard, you will be expected to replace it. We lose lures, hooks and gear all of the time while fishing. You will not be charged for the loss of lures or bait.
May we bring alcoholic beverages? Can we smoke?

Yes you may bring your favorite beverage with you. However, we do not allow glass bottles. We ask that you drink in moderation. Excessive drinking and intoxication may lead to accident or injury. We are safe operators and expect you to adhere to all safety rules and regulations. You may smoke outside, away from everyone else.
What do we need to bring on our fishing charter?

Depending on the length of your charter, you need to bring the basics: non-slip shoes, food, drink, snacks, hand towels, protective clothing ( hats, sunscreen, sunglasses, rain gear, etc) and camera.
Do you fish in bad weather or high seas?

We do fish in the rain. We try to avoid fishing in rough seas or high winds. We try to stay away from lightening storms at all times. Our offshore charter boats have state-of-art live satellite color radar on board to see storms coming. Inshore boats can fish on days when we can't get offshore. Our big boat can handle a 4 to 6 ft sea where our Hatteras handles a 3 to 4 ft sea comfortably.
Travel Provider's Info
Also of Interest Near
Orange Beach, Alabama
Similar Nearby Listings (See All)
Featured Adventures Nearby (See All)
Featured Accommodations Nearby (See All)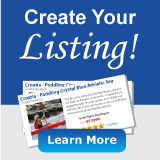 Add Your Travel Services and Accommodations
Add a multi-page listing promoting your accommodations, tours or travel services to customers on our network of travel sites. Your listing page includes an interactive map, availability calendar, reviews, photo-gallery and more.
Create Your Listing