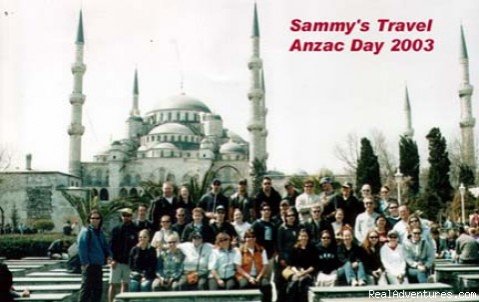 Aydin, Turkey Sight-Seeing Tours
ANZAC Tour....Includes all entrance fees, and many meals, three nights in a four star Resort Hotel near Gallipoli... No camping! No extra hidden costs. Don't wake up to Nightmares.
From $470 / trip
Activity/Tour

8 Day ANZAC Tours

7 nights 8 Days ANZAC Tour....Includes all entrance fees, and many meals, three nights in a four star Resort Hotel near Gallipoli... No camping! No extra hidden costs. Don't wake up to Nightmares. We did ANZAC day tours last year, check our web page for comments.


Typical Day

Day One : Wednesday 21st April - Arrival in Istanbul (D)
(Overnight in Istanbul)

Welcome to Turkey! You will be greeted at the Atatürk International Airport by a Sammy's Travel representative and driven to your hotel located in the heart of the old city. Tonight, at a welcome dinner, you will meet the Sammy's Travel crew including your tour guides and "Sammy". After Turkish food and hospitality you will get the chance to meet your tour group at a local night spot.



Day Two : Thursday 22nd April - Istanbul City Tour (Bed Breakfast)
(Overnight in Istanbul)

This morning we partake in a fully guided tour of the only city to span two continents. We will visit the Blue Mosque, St. Sophia Museum, Hippodrome and the underground cistern. This evening you may wish to view the wonders of Istanbul from the water on an optional Bosphorus cruise. Bellydancing & 1 beer included.



Day Three : Friday 23rd April Istanbul to Gallipoli (B + LB +D)
(Overnight in Ören)


After breakfast we drive for the World War I Battlefield of Gallipoli and arrive in time for lunch.(Lunchbox) Our coaches will screen Peter Weir's classic 1981 film "Gallipoli" as we make our way towards the peninsula. This afternoon on our fully guided tour, you will visit the Lone Pine and Chunuk Bair War Memorials, The nek, Johnston's Jolly, Anzac Cove and the ANZAC Museum. Our guide will reveal stories of battle woes and will bring alive the legend of the Anzac's. By visiting the peninsula on the 23rd we get to spend more time exploring without the crowds from other tours who will arrive on the 24th. This evening we will travel one and 1/2 hr. to our luxurious resort hotel, where an all-you-can-eat buffet dinner awaits. There will be a chance to let your hair down and party to live music after dinner.



Day Four : Saturday 24th. Relax at Artemis Resort Hotel (B +D)

Sleep late and rise to a full buffet breakfast. Then the day is yours to partake in any number of the many activities offered at this resort. Activities include: Bathing in the waters of the 25m outdoor pool. Relax at the beach. Play football, tennis, basketball, or volleyball. Or just stroll around the gardens and parks.You will have the possibilty to swim in the nearby thermalwater pool at Adramis Thermal Hotel. Make sure you get plenty of rest because ANZAC day will be a long busy day. A buffet dinner will be served at 6:00 pm so we can fill up before leaving for Gallipoli at 8:00 pm.



Day Five: Sunday 25th April - ANZAC Day at Gallipoli (LB + D)
(Overnight in Ören - Artemis Resort Hotel)

We arrive at Gallipoli early to get a good spot for the dawn service. Don't forget your sleeping bags, warm clothes, wet weather gear and torches because Gallipoli is still as dark and cold today as it was 89 years ago when our ancestors landed. The day begins with the Dawn Service held at the ANZAC Commemorative Site and will be followed by the Australian and New Zealander memorial services held at Lone Pine and Chunuk Bair respectively. Today is the reason we came to Turkey, to commemorate the sacrifice our forefathers made. Emotions run high and this evening we return to our luxurious resort hotel to recover.



Day Six : Monday 26th April - Gallipoli to Kusadasi (Bed Breakfast)
(Overnight in Kusadasi)

After waking feeling recharged we depart for the seaside town of Kusadasi. On the way we stop at Selcuk for a fashion parade and information on Turkey's famous leather production. Once checked in to our Kusadasi hotel there will be an opportunity to go to a traditional Turkish bath to be washed and massaged by a pair of expert hands. Tonight we have the chance of experiencing the local culture at a traditional Turkish night. We will sample Turkish cuisine and be entertained by beautiful belly dancers .



Day Seven : Tuesday 27th April - Ephesus Tour (B)
(Overnight in Kusadasi)

Today we we visit one of the best-preserved ruins in the world....Ephesus. We tour this amazing site and wonder at the people who built and walked through this ancient city. We will also visit the House of Virgin Mary, (supposedly where St. John brought her to live out her final days), Temple of Artemis ( one of the 7 ancient wonders of the world) and Cave of the Seven Sleepers. As this area boasts a reputation as one of the most important carpet weaving regions we will stop for a demonstration of this ancient and traditional craft. This evening we offer you an optional Sunset Boat cruise. BBQ and one bottle of wine included



Day Eight : Wednesday 28th April - End of Tour (Bed Breakfast)

After breakfast our tour finishes and we bid farewell to our new found friends. Wherever you are heading to next, you will take unforgettable memories and a new understanding of this country that plays such an important part in our history. If you would like us to arrange your onward travel from Kusadasi or return bus ticket to Istanbul we can do this for you.



Map & Directions




Liman Cad No 17, Aydin, Turkey 9400



Rates & Availability

Starts 21.04.04 Dbl.room p.p. Singl. room

GBP 259 299

Euro 370 427

*Please

contact advertiser

for rates & availability for your travel dates.