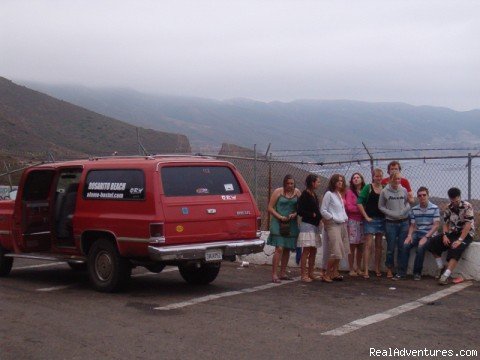 Rosarito, California Sight-Seeing Tours
Hosteling Tour through Northern Baja,see the No 1 party town on the entire west coast= Rosarito Beach, and enjoy a trip to Tijuana.
From $30 / trip
Activity/Tour

Tour starts every Tuesday and Thursday in downtown San Diego. From San Diego we head straight to Rosario,driving the scenic highway along the beautiful mexican pacific coast.At night you can mingle with other hostel guest or explore Rosarito's nightlife, see the famous " Papas and Beer " night club and many other's clubs.

Typical Day

ROSARITO: Surfing or sunbathing at the beach or our pool.
ENSENADA: Visit the famous Blowhole or Harbourcruise to see whales or sealions. ( Buses run several times a day)
TIJUANA; Visit Zona Rio, watch a movie or go to a museum.
We offer free transportation to and from Tj on Wednesday's.

Map & Directions

Calle de Alamo No 148, Rosarito, California 22710

Points of Interest

San Diego to Rosarito and back to the border!

Calle de Alamo No 148, Rosarito, California

Nearby Attractions and Services

| Distance | Description |
| --- | --- |
| 5 miles | Fox Film Studios ( Titanic Movie) |
| 40 mi Ensenada | National Park |
| 40 mi Ensenada | Laguna hanson |
| 50mi Ensenada | Mike's Sky Ranch |

Rates & Availability

We offer weekly rates, $ 75 gets you a bed in a dorm for a week!

*Please

contact advertiser

for rates & availability for your travel dates.