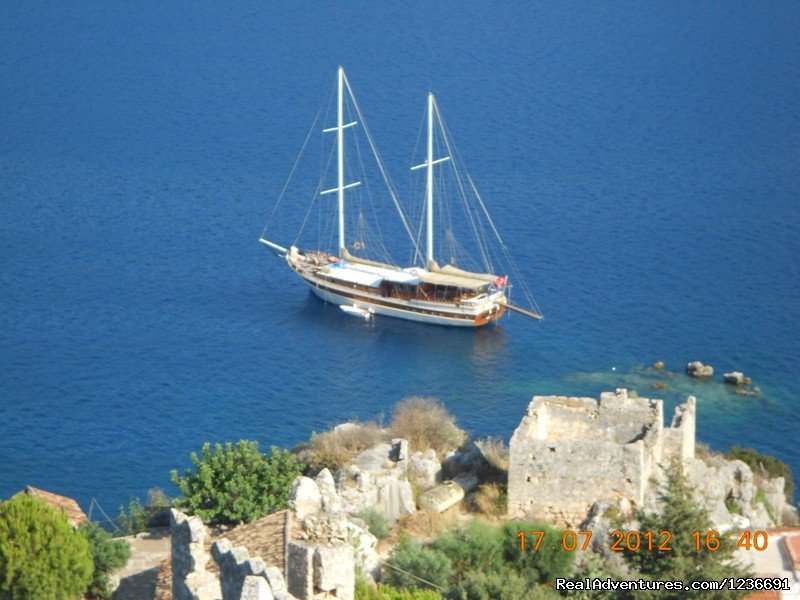 Fethiye, Turkey Archaeology
We are specialised in arranging Blue Cruises in Turkey with small groups.Our 1 week gulet cruises are offering archaeology,culture and gastronomy as well as swimming in Mediterranean.Discover ancient wonders of Mediterraenan on a gulet cruise.
From $1200 / week
Activity/Tour

CRUISING THE LYCIA - 1 WEEK GULET CRUISE
Archaeology-Gastronomy-Swimming-Culture
Cruise Dates:
Places to see: Gocek-St.Nicholaus Island-Oludeniz-Kas-Ucagiz Village-Simena Necropolis-Simena Castle-Kekova Island-Xhanthus-Patara-Rock-cut Tombs in Fethiye-Gocek
Arrival and Departure Airport: Dalaman Airport - Appromixately 30 minutes away

1 WEEK ESCORTED ARCHAEOLOGICAL GULET CRUISE IN TURKEY
Discover the ancient wonders of Mediterranean on a private gulet cruise

On this archaeological gulet cruise in Turkey, we cruise along the magnificent Lycian Coast of Turkey and explore the beautiful ancient sites with stunning landscape. Each day consists of several hours of cruising with the rest of the time being left for swimming, snorkeling, hiking and exploring on shore ruins. Meals are prepared on board and will give you a chance to experience the best of Turkish cuisine. Every day we anchor in a beautiful cove with stunning scenery and enjoy our swim or walk in land.

The southern coast of Turkey was called Lycia in ancient times. Ancient writers and historians mentioned Lycian people many times. The mediterranean Sea is one of the oldest sailing routes in the world and was the center of ancient maritime trade. The ruins and ancient sites situated in Lycia are among the most attractive antiquities on Anatolian soil. Here monuments dating from the 5th and 4th centuries BC. stand side by side with buildings, tombs and sancturies of Hellenisitc and Roman period. The archaeological sites are often in picturesque settings of great natural beauty. Especially fascinating are rock-cut tombs of various types, dating from the 5th century BC. to the Roman period.

Our archaeological gulet cruise in Turkey begins and ends in Gocek, famous yacht harbour in Turkey. We cruise along the Mediterranean coast and explore the fascinating civilization of ancient Lycia.This area consists of a rugged Mediterranean coastline with numerous bays and inlets. This coast is also called the "Turquoise Coast" due to the beauty of the water and scenery.

We drive inland to see Xanthus, (the great capital of ancient Lycia) and Patara (the birthplace of St. Nicholas). We see the sunken ruins of Kekova Island and walk up to medieval castle of ancient Simena. (Kale village). We also hike Gemiler Island (St. Nicholas Island) to see the Byzantine churches with frescoes. We visit Kas, a beautiful charming Mediterraean town with small harbour and white houses. Every day there are plenty of opportunities to swim in the blue waters of the Turquoise coast. One of the best ways to see the ancient Lycian sites is a private gulet cruise in Turkey.

Come and share this unique cultural and archaeological experience with us. Explore some of the ancient wonders of Turkey on our private gulet cruises.
If you are looking for a unique and private archaeological gulet cruise in Turkey,come and join one of our gulet tours.

CRUISING THE LYCIA 1 WEEK GULET CRUISE ITINERARY
Gocek - Kas - Kekova - Kalkan - Gocek (7 Nights)
Swimming-Archaeology-Snorkelling-Gastronomy

DAY 1: Fly to Dalaman Airport to join our yacht in Gocek.Then transfer from Dalaman Airport to the gulet boat in Gocek.Arrival to the boat around 15.00 PM.Departure for Manastir Bay. (30 minutes of cruising) Dinner will be served on gulet.

Day 2: After breakfast,we cruise to Oludeniz (Dead Sea), a beautiful inland bay with high mountains sweeping down to the shore and golden sands. (1 hour 45 minutes cruising). It is great place for nice swim and watersports. Late afternoon cruise to St.Nicholaus Island (Gemiler Island) with its superb Byzantine churches, pilgrimage centre for St Nicholas. On Gemiler Island, Byzantine ruins including a church with beautiful floor mosaics lie among the pine trees. We will hike up to the ruins on top of the island and enjoy the beautiful view.This region is also perfect for swimming and snorkeling. Dinner and overnight in Gemiler Island.

DAY 3:Early morning, departure from St.Nicholaus Island and cruise to Yesilkoy Bay. (3 hours 30 minutes of cruising)After breakfast,swimming and relaxing in crystal waters of Mediterranean. Afternoon we cruise to Kas, a charming mediterranean village with white covered houses. (1 hour 30 minutes cruising)Kas is on a beautiful bay with a backdrop of limestone cliffs and hillsides covered with forests of pine trees.

DAY 4: We will arrive Ucagiz village, old Theimiussa, one of the Lycian cities and today a small, pretty fishing village along the coast. The Lycian cemetery of Theimiussa consists of Lycian Sarcophagus and the best examples of Lycian funerary architecture. Kekova in ancient times is the name for this entire area of islands including numerous small picturesque islands and natural bays.

DAY 5: We will take a short walk to the small medieval castle of Simena and see the ancient necropolis with lots of sarcophagus. The view from the castle has got the most dramatic and romantic one in our trip.

DAY 6: After breakfast on gulet, cruise to Bayindir Bay. (1 hour 30 minutes of cruise).After lunch and swimming at Bayindir Bay, cruise to Kalkan, a small pretty coastal town set on a hillside overlooking the Mediterranean. An air-conditioned minibus will take us from Kalkan harbour for our daily land tour. We visit Xanthus, the former capital of Lycia. Then we drive to Patara, where according to mythology, Apollo was born. History also reveals that this town was the birthplace of St. Nicholas, our beloved, Santa Claus. We swim at world famous sandy beach of Patara which is one of the most beautiful one.

DAY 7: Early morning, departure for Fethiye. (3 hours 30 minutes of cruising). We visit massive rock carved tombs and magnificent Hellenistic theatre in Fethiye (Ancient Telmessos).Today also our last chance to shop. You can visit local market or traditional bazaar in Fethiye and experience the local culture.

DAY 8: After breakfast on gulet, transfer from our gulet back to Dalaman airport.

Typical Day

We are cruising along the Mediterranean Coast of Turkey on our traditional Turkish gulet boat. Every day we swim,snorkell and explore some of the best preserved anicent sites en route.We cruise along the beautiful Mediterranean and Aegean Coast of Turkey. We visit small fishing villages,coastal towns,best preserved ancient sites,walk into the deserted islands.Our gulet cruises starting from Gocek and Bodrum in Turkey. All meals are prepared by your own personal cook and served by the friendly gulet crew on boat. Land excursions on your gulet cruise are the real highlight of our escorted gulet cruises. You will explore and visit some of the most impressive archaeological sites of ancient Lycia and Caria regions with beautiful settings.We walk and hike into small islands on our gulet cruises. We offer the best archaeological and cultural adventure as well as the best cruising along the mediterranean coast of Turkey.Land excursions on your gulet cruise are the real highlight of our escorted gulet cruises.Every day will bring the opportunity to swim and explore the crystal clear waters of secluded coves along the stunning Turkish coast, or simply relax aboard the ship and soak in the impressive scenery that inspired some of the world's best-known myths and legends.When you travel to Turkey on our escorted gulet cruises and you will learn about the ancient civilisations and cultures of Mediterranean and Aegean.Your expert tour leader will travel with you and arrange land excursions and walks during your cruise.Fishing and snorkeling facilities are available on gulet boats. You can also bring your own mask and snorkel. Each of our gulet cruise is a life time and inspiring journey through history.

Map & Directions

Fethiye, Turkey

Points of Interest

Gulet Cruise in Turkey

Milas-Bodrum Yolu, 48400 Muğla, Türkiye

Nearby Attractions and Services

| Distance | Description |
| --- | --- |
| 3 hours | Ephesus |
| 3 hours | Pamukkale |

Rates & Availability

| Date | Low | High | Notes |
| --- | --- | --- | --- |
| Sat June 22 - Sat June 29, 2103 | 1300 | 1800 | Per person,per week,Full Board |
| Sat July 6 - Sat July 13, 2013 | 1300 | 1800 | Per person,per week,Full Board |
| Sat July 20 - Sat July 27, 2013 | 1300 | 1800 | Per person,per week,Full Board |
| Sat Aug 3-Sat Aug 10,2013 | 1300 | 1800 | Per person,per week,full board |
| Sat June 15-Sat June 22,2013 | 1300 | 1800 | Per person,per week,ull board |

See the rate card for more information..Payments can be made in other currencies like Euro or Pound.

If you are a group of 12 people, we offer 1 person half price.

Please read our recent customer review:

Hi Aykut,

THANK YOU THANK YOU THANK YOU!!! All of us had an incredible time on our gulet trip in Turkey. Thank you so much for such an amazing trip. We loved the boat, we loved the food, we loved your enthusiasm for the incredible and rich history of Turkey. We all learned so much and enjoyed all of the stories that you shared with us. Everything was so seamless and easy - from being picked up at the airport, to the van pick-ups that took us to some of the sites, to the fabulous food, wine, swimming, kayaking, to getting us back to the airport at the end. I know you were working, but I do hope that you had as much fun as we did.We all really enjoyed getting to know you and everyday was a real treat. The kids had a ball as well - especially swimming and the day that we went to the abandoned Greek village - they loved that! They also enjoyed all of the ice creams, tea, nutella, crepes and scarves that were sold on the boat! If anyone is considering a trip with you, I would be happy to speak with them and share more information about how great our experience was!!Tesekkür ederim.

Marie Hurabiell ,San Fransisco, USA- 1 week Cruising the Lycia Gulet Cruise-July 2012

*Please

contact advertiser

for rates & availability for your travel dates.