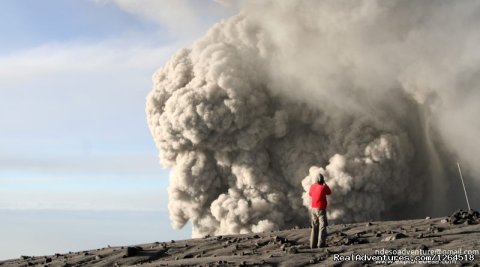 Banten, Indonesia Hiking & Trekking
Ndeso Adventure is specialization in Volcano Adventure, Volcano Tour, Volcano Trekking, Mountain Trekking, Mountain Hiking, Jungle Trekking and Photo Tour in Indonesia
5/5 Stars -- 1 Review
From $120 / night
Active Adventure

Customize for Volcano Adventure, Volcano Trekking, Volcano expedition, and Volcano Tour in Indonesia, feel free to contact us
some of Volcano Adventure Available with us

16 Days Java Volcano Walking Tour
9 Days North Sulawesi Volcanoes + 6 Days Halmahera Volcano expdition
East Java Volcano Trekking 9 Days
From Anak Krakatau to Mount Tambora, 24 Days
Mount Semeru Trekking and Bromo and Kawah Ijen Tour 5-6 days
Mount Rinjani and Mount Tambora Big Craters Expedition 7-9 days
Mount Semeru and Mount Welirang Volcano Trekking 7-8 Days
Volcano Tour Special Eruption
Volcano Trekking Indonesia High peak 14 days
22 days Volcano Adventure in Java
13 Days Volcanoes from Java to Bali
Discovery 19 days trip Java Active Volcanoes

Volcanoes in Indonesia are a part of the Pacific Ring of Fire. The 150 entries in the list below are grouped into six geographical regions, four of which belong to the volcanoes of the Sunda Arc trench system. The remaining two groups are volcanoes of Halmahera, including its surrounding volcanic islands, and volcanoes of Sulawesi and the Sangihe Islands. The latter group is in one volcanic arc together with the Philippine volcanoes.

The most active volcanoes are Mt Semeru and Merapi on Java island which have been responsible for thousands of deaths in the region. Since AD 1000, Kelut has erupted more than 30 times, of which the largest eruption was at scale 5 on the Volcanic Explosivity Index (VEI),[4] while Merapi has erupted more than 80 times.[5] The International Association of Volcanology and Chemistry of the Earth's Interior has named Merapi as a Decade Volcano since 1995 because of its high volcanic activity

Typical Day

Combination with Trekking, and Active Volcano tour.. and also you have rest day for climb Another Volcanoes and also possible combine with Cultural, Wildlife and Beach Tour

Map & Directions

Perumahan Tataka Puri Blok J5/72, Banten, Indonesia 15810

Points of Interest

Volcano Trekking Tour in Indonesia

Perumahan Tataka Puri Blok J5/72, Banten, Indonesia

Rates & Availability

| Date | Low | High | Notes |
| --- | --- | --- | --- |
| Best Visit is April to November | 100 | 150 | Per Person / Night |
| November to March | 75 | 100 | Per Person / Night |

start from USD 120 / Night..

*Please

contact advertiser

for rates & availability for your travel dates.